---
---
---
---
Roland VC-2 V-Card
Human-Vocal Designer for V-Synth / VariOS
Human-Vocal Construction, Manipulation, and Performance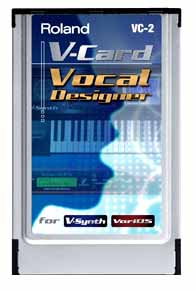 ---
euro 215,00

---

The VC-2 V-Card turns the V-Synth, V-Synth XT , and VariOS into an advanced vocal-modeling processor , rom vocoders to massive choir models with expression voice-processing algorithms.

Advanced vocal modeling;
create background vocals, large or small ensembles, authentic or synthetic

Choir Modeler
creates massive choral performances with words generated from your own voice

High-definition pitch detection algorithm
allows voice models to be played from the pitch of incoming audio, such as singing vocalist, no keyboard playing required

Poly-Voice Keyboard mode
allows vocal sounds to be played without audio input , no singing or mic input required

Available in PC Card format for V-Synth and VariOS

Pre-installed in the V-Synth XT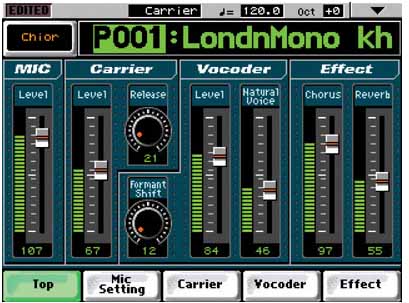 Build a Virtual Choir
Whether you need one voice or an authentic choir, the VC-2 can deliver the quality vocal backing you need. The VC-2's voice-processing modes allow the creation of realistic and expressive virtual vocals with words generated from your own voice. VC-2 is also equipped with Growl Modeling, which can turn the smoothest voice into audio sandpaper. The ultra high-resolution vocoder modeling imparts smooth synthetic backing that matches today's cutting-edge dance music, while the vocoder models can provide the perfect dose of retro "robot voice" charm.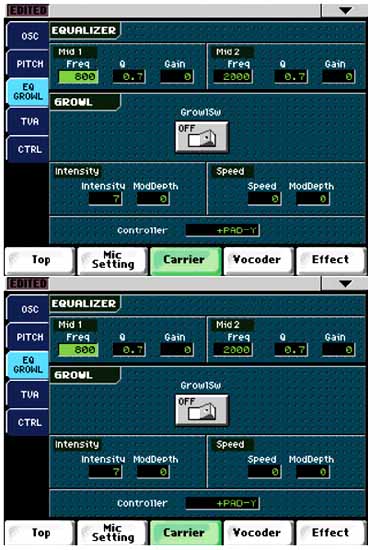 Hands-On/Hands-Off Vocals
As with traditional vocoders, the VC-2 processes incoming audio either from your vocals or other live audio input sources along with the notes you play on the keyboard to create a custom performance. In addition, there are two other input methods in which to "play" your virtual vocals. The VC-2's Poly-Voice Keyboard mode allows vocal sounds to be played without audio input, or you can do the opposite with the VC-2's voice-to-synth converter, which contains an advanced pitch-detection algorithm that enables the modeled vocal sound to follow the pitch of your voice in real time, no keyboard playing required.



---
---
---
---
---
Contacts
Roland Italy: tel.(++39)02937781 , info
Brasil e-mail, e-mail
Austria Tel.: 0512 264426 , Fax: 0512 266485 , e-mail
Canada phone: 604-270-6626, fax: 604-270-6552, e-mail
Finland e-mail
France Tel : 01.60.07.35.00 , Fax : 01.60.07.35.08 , e-mail
Germany 040 526 009 - 0 , e-mail
Hungary e-mail
Norway e-mail
Portugal Tel: 226 080 06, Fax: 226 080 075 , e-mail
Spain Tel: 933 081 000 , Fax: 933 074 503
Sweden e-mail


---