---
---

ROLAND V-Synth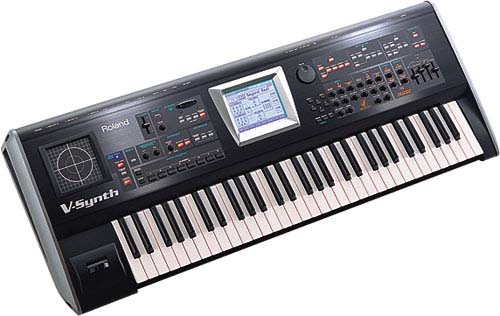 This 61-note instrument uses multiple oscillator technologies powered by VariPhrase technology including user sampling to create new sounds with independent control over a waveform pitch, time and formant. Flexible COSM filtering, an advanced arpeggiator and a host of realtime controllers including the TimeTrip Pad give musicians unlimited control over their sounds.

The V-Synth is based on two variable oscillators that use three sound generation techniques. The PCM oscillator uses Roland VariPhrase technology for independently manipulating the pitch, time and formant of the over 300 preset or user-sampled waveforms in a synthesizer. A new Time Trip functio gives users the freedom to experiment with a waveform time aspect in any way desired speeding a waveform up, slowing it down, or freezing it at any point.

Analog Modeling is the second oscillator type. It provides nine traditional waveforms, strengthened with Roland latest modeling technology to sound more fat and warm . The third oscillator type is External Audio Processing, which allows any external sound to be used as a synth waveform. All oscillator types can be mixed and layered in several ways, or modulated using FM, ring mod and hard sync.

The V-Synth ound engine can be configured in several different ways by choosing from preset Structure types just like a semi-modular synth. Front-panel Structure buttons make it easy to dive in, while a host of knobs, sliders and buttons offer direct access to vital sound parameters. More detailed parameters can be edited quickly using the large touchscreen, which even responds to dragging motions.

New COSM processors handle everything from modeled analog filtering to entirely new sound-shaping tools like polyphonic guitar amp modeling, a Wave Shaper, Resonator and unique Side Band Filter capable of pulling out the sharper, metallic content of sounds. V-Synth also provides a dedicated reverb, chorus, and 41 multi-effects algorithms for global effects processing.

With the TimeTrip Pad, players can use their fingertip to scan a waveform forward and backward. Twin D Beams make it easy to modify a range of controllers using infrared ight beams. A powerful arpeggiator creates instant phrases and motifs, and can even be used to modulate sound parameters.

With its choice of analog and digital I/O, the V-Synth makes it easy to sample custom waveforms for use in the variable oscillator (resampling is also supported). Users can also exchange .WAV/AIFF files via the built-in USB port, which also works for MIDI. All Preset Patches are fully re-writeable; sounds can also be saved via USB to a computer or to an optional PC card. And with Roland exclusive V-LINK technology, users can trigger and manipulate video clips using the V-Synth keyboard, bender and TimeTrip Pad when used with the Edirol DV-7PR Digital Video Workstation (sold separately). Twin D Beams provide expressive realtime control using infrared beams of light, great for performance. Connections to the V-Synth include a stereo Mic/Line input, stereo Main and Direct outputs, coaxial and optical digital I/O, a stereo Headphone jack, Hold Pedal jack, two Control Pedal jacks, MIDI In/Out/Thru, and a USB port.





---
---
---



V-Synth mette a disposizione una tecnologia di sintesi basata su oscillatori multipli con controlli in tempo reale di pitch, time e formant. Possibilità di campionare nuove forme d'onda, filtri con tecnologia COSM, potente arpeggiatore, sezione Variphrase, controlli realtime rivoluzionari come il nuovo TimeTrip Pad. Questo

Caratteristiche

Sintetizzatore a 61 note, oscillatori multipli, con possibilità di campionare e COSM filtering.

Oscillatori a modelli analogici, campioni user ed oltre 300 PCM waveform con polifonia fino a 24 voci

Possibilità di intervenire sul pitch il time e la formante di una forma d'onda campionata usando la tecnologia VariPhrase

Il controller TimeTrip Pad consente la manipolazione delle forme d'onda

Display tipo touchscreeen, oltre 20 manopole e sliders, 2 controller D-Beam

Processore di effetti COSM, filter modeling, resonator , Slide Band Filter, Chorus, Reverb e multi-effects

Arpeggiatore programmabile

Porta USB per importare files di tipo WAV/AIFF, possibilità di esportare files di tipo WAV, possibilità di connessioneanche di tipo midi via USB

2 uscite di linea stereofoniche, stereo mic/line input, S/PDIF input e output (opti, coax)

---
---
---
---
---
Contacts
Roland Italy: tel.(++39)02937781 , info
Brasil e-mail, e-mail
Austria Tel.: 0512 264426 , Fax: 0512 266485 , e-mail
Canada phone: 604-270-6626, fax: 604-270-6552, e-mail
Finland e-mail
France Tel : 01.60.07.35.00 , Fax : 01.60.07.35.08 , e-mail
Germany 040 526 009 - 0 , e-mail
Hungary e-mail
Norway e-mail
Portugal Tel: 226 080 06, Fax: 226 080 075 , e-mail
Spain Tel: 933 081 000 , Fax: 933 074 503
Sweden e-mail


---