---
---
MOTU
MARKOFTHEUNICORN
---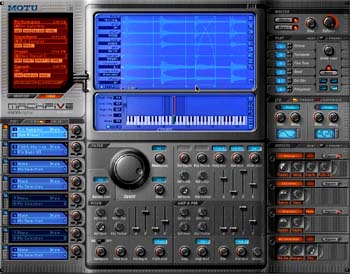 ---
_____ MachFive _____
Universal Sampler Plug-in for Macintosh and Windows
UVI-engine sounding sample playback
Support for 24-bit , 192kHz audio





---
---

Across platforms

Because MachFive supports every major audio production platform on both Macintosh and Windows (MAS, VST, Audio Units, HTDM, RTAS and DXi), you can move from one platform to another, or collaborate with colleagues who use different audio software. For example, you might write and track a project in Digital Performer or Logic, and then move to Pro Tools for mixing. Just save a MachFive performance in DP or Logic, load it into Pro Tools, along with your MIDI tracks, and you are ready to go.

File management: easy access to sound bank

MachFive always remembers where your sounds are located, and it has been optimized for browsing and loading libraries. Even multi-gigabyte libraries are quickly and scanned.

Saving your project in your host software everything about MachFive is saved with it. MachFive allows you to view all editing and performance parameters in one single window.

Compatibility with sample libraries

UVI-Xtract, an import utility included with MachFive, allows you to audition and load programs and samples from every major sampler format: Akai, SampleCell, HALion, EXS24 and even Gigasampler. Legacy formats are also supported: insert your Kurzweil™, E-mu or Roland CD-ROMs and convert programs (or the entire disc) in just a few clicks.

Multi-timbral performance

Each performance includes 16 parts. Each part has a choice of audio outputs, volume, pan, etc. Each part can receive MIDI data from any channel (for instant stacks) and send its output to unique audio outputs (depending on your host audio software). The Expert mode: keys to open and close multi parts in real time, mixing of several parts in real time using any MIDI controller, creation of splits with crossfades between keys.

Synthesis engine

The central section of the MachFive window shows the filter, three envelopes and every modulation tool. Six filter algorithms are provided and everything can be controlled and automated by MIDI. Modulation options are provided at every stage of the synth section. The UVI-Engine that powers MachFive delivers unlimited polyphony and ultra-low latency.

Multichannel waveform editor

MachFive accepts audio samples in all formats from mono to 5.1. The waveform display allows truncating, normalizing, fading and many other destructive DSP audio manipulations, all in real time. You can use the real-time DSP listening to your edits while listening to your full sequence.

Support for 24-bit 192kHz audio

MachFive takes advantage of high definition audio interfaces like the MOTU HD192.
The sound quality is apparent as soon as you transpose a sample on the keyboard. You don't need to keep low-res 'draft' versions of the same samples, either. High-resolution samples can be used at lower sample rates, so you can sample everything at 96kHz or 192kHz.

A surround-capable sampler

You can play and transpose 5.1 audio files in real time, add multi-channel effects and route the multi-channel preset to your host software's mixer with multiple outputs (if your host software supports these surround features.)

Analyze and tune

With tools such as a graphic spectrum analyzer and a built-in tuner with graphic display, when importing samples, you can even ask MachFive to analyze the waveform and guess the root note according to the pitch of the audio.

Drag & drop : creating keymaps

Simply drag samples from your desktop or host application to the MachFive keyboard. Drag multiple samples in one step to map chromatically, on white keys only, according to their name, or even according to their pitch, which MachFive can determine automatically. You can also audition samples when importing them, listening to each note as you stretch a keymap over a range of keys.

Modulation and tempo sync

Four LFOs are available per preset. Each LFO can be routed to an assortment of destinations including filter frequency, filter resonance, drive, pitch, pan and amplitude. Of course, MachFive can sync both the LFO and effects parameters to sequence tempo.

ntegrated multi-effects

Each multi-timbral part can have up to four unique effects. That's up to 64 effects per performance with instant recall, including reverb, tempo-synced delay, tremolo, chorus (and other modulation effects), filter, BitCrusher, and many others. All settings are saved with the multi for total recall. You can also save effects with each preset to build your ideal sound library. The effect section allows you to leave a part's effects in place while you audition other parts.
---
Specifications
32-bit UVI Engine
Up to 24-bit/192kHz
Drag and drop import of SampleCell samples/banks, GigaSampler files and all other major sampler formats.
Drag and drop import of all major audio file formats including Wave, AIFF, SDII, REX and more.
Sound quality: MachFive uses the UVI Engine
Surround support : true multichannel, 24-bit/192kHz design with support for separate outputs.
Fast operation : instant access to all parameters in one window.
Unlimited polyphony and ultra-low software latency.
Zone-edit, dynamic mode.
Large selection of built-in effects with four effect slots for each part.
Soundbank import formats
Akai S1000 / S3000
Akai S5000 / S6000
Akai MPC2000 / MPC3000
Roland S7
EMU III / ESI / IV / EOS
Tascam GigaSampler/GigaStudio
Emagic EXS24
Digidesign SampleCell
Creamware Pulsar STS
Steinberg HALion
Compatible audio formats
AIFF - mono, interleaved (2, 4, 6 channels)
AIFF - Separate files: 2 (stereo), 4 (quad), and 6 (5.1) channels
SDII - mono, stereo interleaved
SDII - Separate files: 2 (stereo), 4 (quad) and 6 (5.1) channels
WAVE - mono, stereo interleaved
WAVE - Separate files: 2 (stereo), 4 (quad) and 6 (5.1) channels
Sample import formats
Kurzweil K2
Akai MPC .snd
Creamware Pulsar .s
WAV/ACID
AIFF
SDII
REX
Channel formats
mono to stereo
mono to quad
mono to 5.1
stereo
stereo to quad
stereo to 5.1
quad to 5.1
Plug-in formats
MAS
VST (Mac & PC)
RTAS
HTDM
Audio Units
DXi
---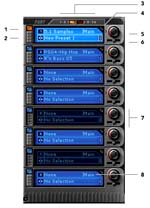 1 - Selected part - this enables editing of part in the MachFive window.
2 - Enable/disable - part can be disabled by clicking this "grip" panel. Disabling a loaded library can ease CPU load.
3 - 1-8/9-16 toggle - displays next/previous eight parts (individual instruments). Each instantiation of MachFive supports up to 16 parts. You can open as many MachFive plug-ins as your CPU resources permit.
4 - MIDI indicator - when lit, this part is receiving MIDI.
5 - Part volume knob - each part can receive MIDI automation data.
6 - Pan slider - can be automated with MIDI pan data.
7 - A disabled part - conserves CPU resources
8 - Output assignment - each MachFive part can be routed to its own output, including surround output bundles (in host applications that support them).

1 - Sample parameters (key range, base note)
2 - Scroll bar
3 - Sample slices. Individual samples can be velocity crossswitched or layered. Individual samples can be dragged with the mouse. Drag the edges of the sample velocity or key range. Samples can be imported by dragging into this window from your computer desktop, or from your host software. In Digital Performer, you can drop multiple soundbites at one time and automatically keymap them chromatically, diatonically, etc. MachFive can even guess the pitch and assign it to the corresponding key.
4 - Window navigation - zoom in, out... The top button enlarges the keymap window to fill the entire sampler screen.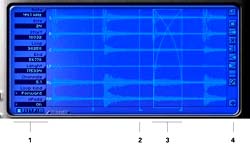 1 - Individual sample parameters - sample rate, bit depth, sample start & end points, loop points, total length, channels, loop type (forward, backward, alternate) and crossfade.
2 - Loop start marker. Drag this to change the loop region.
3 - Loop crossfade. Drag crossfade markers to adjust - crossfaded waveform updates in real time.
4 - Navigation parameters and DSP (fade in, fade out, normalize, etc.) Clicking the top button expands the sample editing window to fill the sampler screen.
The MachFive Effects Section includes four effects 'slots' so you can apply a sophsiticated effects chain to your sampler presets. Because effects are so critical to sound design, up to four of these high-quality built-in effects can be saved with each preset, allowing them to become part of the saved preset sound itself.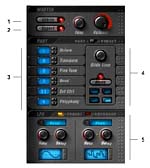 1 - 32-bit mode button - Samples are converted from 16 or 24 bits to 32 bits for more efficient operation at the expense of requiring slightly more memory.
2 - Expert mode - Provides advanced key-switching and layering features for live performance.
3 - Part parameters - Octave, Transposition, Fine Tune, Bend Range, External Control and Polyphony.
4 - Part can be put into mono mode with adjustable glide time (portamento) Four glide response curves are supplied.
5 - LFO parameters - Up to four LFOs can be applied to each preset. Two are applied across all samples in the keygroup, while two more can be applied individually to each sample. Multiple LFO shapes are available. Adjustable onset delay plus rate. LFOs can be synchronized to host application tempo.
---
---
Motu
Mark of the Unicorn contacts:
Mark of the Unicorn -1280 Massachusetts Avenue- Cambridge, MA 02138
tel. 617.576.2760, fax 617.576.3609, e-mail

Italy Backline - tel. +39 02 6901 5709
Argentina Sonido Professional tel. +5411 4375 0116 E-mail
Austria Klemm Music tel. +49 55 0493 590 - E-mail
Australia Intelliware tel. +61 88277 1722
Belgium Ampco - tel. +32 3 844 67 97 - E-mail
China Eastern Edison - tel. +8610 6253 4613 - E-mail
France UM Distribution - tel +33 1 48 05 83 71
Germany Klemm Music - tel. +49 55 0493 590 - E-mail
India S.U.N. Media - tel. 91-22-8843772
Japan Musetex/Orbit Ltd - tel. +813 5486 7021 - E-mail
Mexico Audio Sistemas - tel. +525 531 2992 - E-mail
Switzerland PEK AG - tel. +411 431 8282 - E-mail

---