---
---

Mark of the Unicorn Motu HD 192
24-bit, 192-kHz analog XLR Input and Output

for Mac and Windows systems
Operating systems supported:
MacOS 9, soon MacOS X 10.2, Windows 98SE, 2K, Me, XP

---

The HD192 can be purchased as an
expander for an existing PCI-424-based MOTU Audio System,
or as a core system which includes the PCI-424 card and Audiodesk workstation software

---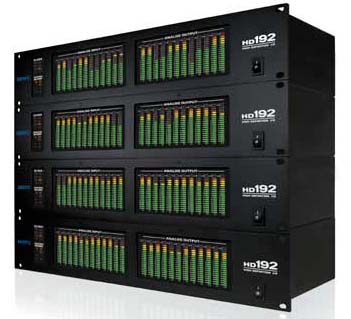 MOTU HD192 high- definition 192-kHz audio interface is designed for a better audio quality. Equipped with the latest generation 24-bit, enhanced multi-bit 128x oversampling 192-kHz converters, the HD192 achieves remarkable signal-to-noise ratio of 120 dB with balanced XLR connectors throughout. Ideal for surround applications, the HD192's 12 inputs and 12 outputs can support two simultaneous 5.1 mixes. And the HD192 is full of advanced features, like AES/EBU I/O with sample rate conversion both in and out.
The PCI-424 card introduced with the 2408mk3 is 192-kHz ready. Just connect the HD192 expansion interface to record 192-kHz audio.

Converters



Important link in the digital recording chain is the A/D converter. It is the critical component that converts your analog input signal into digital information. The higher the quality of the A/D converter, the better your recordings will sound. The 192-kHz converters in the HD192 are the very same used in more expensive HD systems, with 120dB A-weighted dynamic range and a THD+N of 0.0005%.

The HD192's front panel provides dedicated 19-segment level meters for all 12 inputs and outputs. Two over meters are included, a temporary over meter and an over/hold meter that is resettable via software. Comprehensive clock status LEDs are also included so you can see at a glance the current sampling rate and clock source.
An interesting fact about MOTU Audio interfaces is that they are hot swappable. This means you can power off, plug-in, add and remove interfaces without turning your computer off or restarting.

All 12 analog inputs and outputs of the HD192 are professiona XLR connectors operating at +4 dB.
The HD192 features stereo AES/EBU digital I/O with built in sample rate conversion and the ability to integrate external digital audio sources, no matter what the sample rate, while recording audio at higher sample rates on the analog I/O of the HD192.

Word Clock I/O: HD192 audio interface provides industry standard word clock input and output to synchronize smoothly with today's digital audio studio. The word clock output can be used as a master clock to drive other digital devices in your studio, such as a digital mixer. The AES digital I/O can be driven separately via a dedicated word clock input. You can even slave to a 48kHz clock source, even when the HD192 is operating at 192-kHz.

Audio Wire

The HD192 uses the second generation Audio Wire introduced with the 2408mk3. It is a high-bandwidth digital audio format capable of carrying up to 24 channels of 96-kHz or 12 channels of 192-kHz digital audio in and out of the computer at the same time.

Expansions

The HD192 uses the same PCI-424 card as the 2408mk3. You can connect up to four audio interfaces to a PCI-424 in any combination to create a system that fits your needs.
The PCI-424 card included with HD192 core systems is fully compatible with legacy MOTU interfaces originally designed for the PCI-324 card. Any MOTU PCI interface, including the 2408mk3, 2408mkII, 2408, 1296, 1224, 1296, and 308 could be connected.
All connected interfaces can take full advantage of the PCI-424's CueMix DSP features.

Cue Mix DSP, monitor mix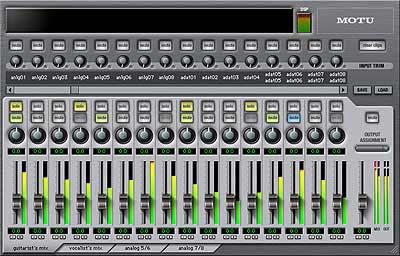 The PCI-424 card features CuemixDSP, a processor dedicated to creating a custom monitor mix of up to 96 channels of audio. Because the mixing takes place on the card itself, instead of making the round trip from the PCI bus to the host processor, the system provides the same near-zero latency performance as today's latest digital mixers. CueMix DSP completely eliminates the buffer latency associated with monitoring on host-based systems. Because the DSP is mixing, the computer's CPU is free for other tasks.
Cuemix DSP allows to mix multiple channels into multiple mix busses or directly assigned outputs. You can manage the monitor mix with the enhanced Cuemix Console software included with the HD192. The CuemixDSP console provides independent level and pan controls for each input on every mix. Also, CuemixDSP does not limit you to four stereo mixes. You can configure a unique mix for every physical stereo output you have available. This means you can have up to 48 separate stereo mixes on a 96 output system.
WIZARD
HD192 includes a setup wizard for both Mac and Windows based systems. The Setup Wizard is an interactive application that helps you connect everything together. It even configures the HD192 driver for you when you're done.



---

Specifications

Twelve channels of +4, balanced, 192-kHz 24-bit analog inputs and outputs using XLR jacks.

AES/EBU digital I/O

19-segment LED meters on every input and output

16, 20 and 24-bit recording at 44.1, 48, 88.2, 96, 176.4 or 192-kHz

Word clock in and out

Dedicated word clock input for AES/EBU I/O

AudioWire connector for PCI-424 audio card

A-weighted dynamic range 120dB

THD+N of 0.00056% (-106dB)

R/CORE transformers for efficient, low-heat operation with virtually no magnetic interference or acoustic hum


protocol: AudioWire

rack spaces:2U

expandable: yes

core system price : Us $1895

expansion I/O price: Us $1595



---





HD 192 rear panel


---
FA Questions
How do I use effects such as EQ or reverb on live inputs I'm monitoring with CueMix DSP?
CueMix DSP itself does not provide effects processing, so you have several choices:
1) bus the live signal to your host audio software and apply a plug-in effect or
2) bus the live signal to a hardware reverb or other effects unit that is connected to your 24I/O as a send/return loop. With CueMix DSP, this loop has the same near-zero latency performance as one of today's latest digital mixers. With plug-in effects such as reverb, you can actually combine a little of the dry CueMix signal together with the processed wet signal.
Can I use my original 2408 with the PCI-424 card included with the HD192 core system?
Yes, older legacy MOTU Audiowire interfaces (2408, 2408mkII, 1224, 308, 24i, 1296) are fully compatible with the PCI-424. Even the new Cuemix DSP and synchronization features can be used with legacy interfaces.
Can I buy a HD192 expander to use with my PCI-324 card?
No, the HD192 only works with the latest generation design of the PCI-424.
What operating systems are supported by the HD192?
MacOS 9, Windows 98SE, 2K, Me, XP
Will the HD192 support OS X?
Yes, OS X drivers for the HD192 are in development. You'll be able to download OS X drivers from the MOTU web site.
What is the difference between a core system and an expander?
A core system includes the PCI-424 card and Audiodesk software.
Can I plug my MOTU 828 or 896 Firewire interfaces into the PCI-424 card?
No. Like the PCI-324, the PCI-424 is an AudioWire interface only.
---
Motu
Mark of the Unicorn contacts:
Mark of the Unicorn -1280 Massachusetts Avenue- Cambridge, MA 02138
tel. 617.576.2760, fax 617.576.3609, e-mail

Italy Backline - tel. +39 02 6901 5709
Argentina Sonido Professional tel. +5411 4375 0116 E-mail
Austria Klemm Music tel. +49 55 0493 590 - E-mail
Australia Intelliware tel. +61 88277 1722
Belgium Ampco - tel. +32 3 844 67 97 - E-mail
China Eastern Edison - tel. +8610 6253 4613 - E-mail
France UM Distribution - tel +33 1 48 05 83 71
Germany Klemm Music - tel. +49 55 0493 590 - E-mail
India S.U.N. Media - tel. 91-22-8843772
Japan Musetex/Orbit Ltd - tel. +813 5486 7021 - E-mail
Mexico Audio Sistemas - tel. +525 531 2992 - E-mail
Switzerland PEK AG - tel. +411 431 8282 - E-mail

---