---
---
---

Mark of the Unicorn
AudioDesk 2408
software for Power Mac

The software AudioDesk 2408 gives features to record, edit, mix, process and master an audio project in Power Macintosh computer. It also includes MOTU's ground-breaking PureDSP time-stretching and pitch-shifting technology and dozens of real-time, 32-bit effects plug-ins.

AudioDesk is a full-featured audio workstation software package for MacOS. This is not a watered-down "recording-only" version of another company's software. Instead, the 2408 software provides features like 24-bit recording and real-time, 32-bit effects processing. The software includes multi-track waveform editing, sample-accurate placement of audio, a complete virtual mixing environment with up to 64 stereo busses, automated mixing, graphic editing of mix automation, scrubbing, trimming, spotting, crossfades, support for third-party effects plug-ins (in the MOTU Audio System and Adobe Premier formats), unlimited digital track bouncing (including effects and automation), and much more.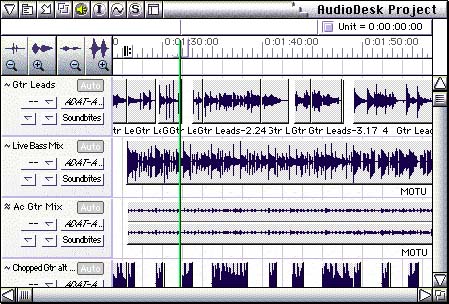 AudioDesk provides a host of real-time effects. While other systems are limited to 24-bit processing by their DSP hardware, all effects in the 2408 are processed with 32-bit, floating-point calculations in the host Macintosh; the faster your Mac, the more simultaneous effects you can use. AudioDesk's effects include up to 40 bands of parametric EQ per track, dynamics processing (expander, compressor, limiter, gate), MOTU's remarkable eVerb plug-in (includes acoustic modeling), new PreAmp-1 tube pre-amp simulator (simulates tube warmth and presence, as well as wild distortion effects), chorus, echo, flange, autopan, tremolo, and more. You can add more real time effects to AudioDesk from third party companies like DUY and Waves and also supports the Adobe Premiere plug in format.

As an audio editor, AudioDesk has View and Edit digital audio tracks in a single, intuitive window. Graphically draw volume automation curves, Pan sounds left to right, Loop recordings , all as your music plays. Select only the tracks you want to see or show them all. Zoom in to work on fine details or zoom out for a wide overview. Re-size soundbites by dragging their edges. Scrub digital audio to find exact start and end points for edits. Split and trim soundbites to work with smaller regions. Strip Silence works just like a noise gate with adjustable threshold, attack & release. The crossfade feature eliminates unwanted clicks and pops. Copy and paste regions to repeat verses or sound effects. "Drag and drop" audio regions from the soundbites window to any editing window for intuitive placement. All of these operations are nondestructive so you can always revert back to your original recording. Record and insert volume and pan effects. Import material from your favorite sample CD-ROMs .....



AudioDesk's Mixing Board window gives you a virtual mixing console on your computer screen. Ride faders and knobs during playback to record automated mixes. Create snapshots of the entire mixer - or any portion of it - anywhere in your sequence with the click of a button. Save your fully automated mixdown for instant recall at any time, and then create an unlimited number of alternate mixdowns - all available from this menu for instant recall. AudioDesk's on-screen mixing board is very flexible. Each track has its own solo, mute and automation enable/disable buttons. Instantly create customized board layouts: drag track strips anywhere you like, and show or hide any combination of tracks - or mixer sections (like the inserts section) - with a mouse click. Then save and recall any number of custom Mixing Board configurations. Assign tracks to plug-ins for real-time output processing. Faders can respond to any MIDI controller such as a volume slider or pedal, modulation wheel or any data slider.




AudioDesk gives control over any MMC-compatible recorders, such as the Tascam DA-88, Alesis ADAT and many others. Auto punch-in and preroll times.




AudioDesk includes built in OMF integration tools which allow to export your project to a ProTools environment. OMF export does more than just copy audio data - critical information such as session offset, audio region placement, and crossfades (either rendered as audio regions or transferred as editable crossfades) is preserved. The 2408 is a cost effective alternative to add additional editing suites.



---

Mark of the Unicorn -1280 Massachusetts Avenue- Cambridge, MA 02138
tel. 617.576.2760, fax 617.576.3609, e-mail

Italy Backline Srl - tel. +39 02 6901 5709
Argentina Sonido Professional tel. +5411 4375 0116 E-mail
Austria Klemm Music tel. +49 55 0493 590 - E-mail
Australia Intelliware tel. +61 88277 1722
Belgium Ampco - tel. +32 3 844 67 97 - E-mail
China Eastern Edison - tel. +8610 6253 4613 - E-mail
France UM Distribution - tel +33 1 48 05 83 71
Germany Klemm Music - tel. +49 55 0493 590 - E-mail
India S.U.N. Media - tel. 91-22-8843772
Japan Musetex/Orbit Ltd - tel. +813 5486 7021 - E-mail
Mexico Audio Sistemas - tel. +525 531 2992 - E-mail
Switzerland PEK AG - tel. +411 431 8282 - E-mail

---