---
---
MOTU
MARKOFTHEUNICORN
Power Mac G5 Compatibility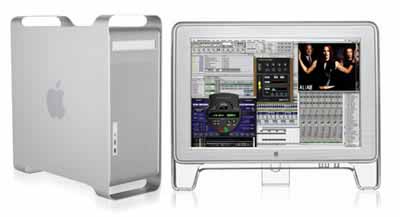 ---
Apple's new Power Mac G5 computers deliver extreme speed increases that enhance both MOTU hardware and software.
MOTU has been working with Apple over the summer to ensure compatibility with the new G5 machines.

DP4, AudioDesk 2 and MachFive

DP version 4.1 (a free update that will be available soon), AudioDesk 2 and MachFive 1.0 all run on the new G5's. DP4 takes full advantage of the multi-processor models, as does MachFive when running with DP4 or other multi-processor-savvy hosts.

MOTU FireWire interfaces

A new MOTU FireWire OS X CoreAudio driver (Version 1.05) is now available. This driver makes all MOTU FireWire interfaces fully compatible with the G5 computers. This includes the 828, 828mkII and 896 interfaces. (Note: It's worth getting this update, even if you don't have a G5.)

PCI gets even better
The G5 introduces significant enhancements to the PCI architecture, along with a required 3.3-volt card format. As a result, existing PCI-424 cards do not fit in the G5's new PCI slots. MOTU has developed a modified 3-volt PCI-424 card that is fully compatible with the new G5 computers. In addition, an affordable trade-in program is now available . This new card is the PCI-424/G5 card, and it works in the new G5's, as well as any earlier PCI-424 compatible Power Mac (G4, G3, etc.)

Multiple PCI busses
The two fastest G5's now supply two independent PCI busses, so that you can separate video cards and other high-bandwidth PCI products from your PCI-424/G5 card. This will further ensure that the PCI-424 has all the PCI bandwidth it needs to deliver as many high-definition audio channels as the G5/424 system can handle. From the beginning, the PCI-424 card was designed to deliver a theoretical maximum of 48 simultaneous channels of 24-bit, 192kHz digital audio input and output (that's 96 channels total). Motu is still testing the fastest G5 models and will let know soon just how many channels of 192kHz audio they can handle. While dual-processor G4's can record up to 36 channels of 192kHz at a time, Motu expects the new G5's will be able to handle more.


---
---


PCI-424/G5 trade-in program
Existing PCI-424 owners can trade in their PCI-424 card for a new PCI-424/G5 card for $69, plus shipping. This program is available to registered owners of a PCI-424 core system:
2408mk3 core system
24I/O core system
HD192 core system
PCI-324 owners are not eligible for this trade-in.

If you purchased your PCI-424 core system on or after July 1, 2003, there is no charge for the PCI-424/G5 trade-in. Proof of purchase is required for the waiving of the trade-in fee.

PCI-424/G5 cards should be available by early September.
Trade-in orders are now being taken.
To place PCI-424/G5 trade-in order:
international customers ---> contact a MOTU distributor / dealer in your country.



---
---
---
---
---


contacts:
Mark of the Unicorn -1280 Massachusetts Avenue- Cambridge, MA 02138
tel. 617.576.2760, fax 617.576.3609, e-mail

Italy Backline - tel. +39 02 6901 5709
Argentina Sonido Professional tel. +5411 4375 0116 E-mail
Austria Klemm Music tel. +49 55 0493 590 - E-mail
Australia Intelliware tel. +61 88277 1722
Belgium Ampco - tel. +32 3 844 67 97 - E-mail
China Eastern Edison - tel. +8610 6253 4613 - E-mail
France UM Distribution - tel +33 1 48 05 83 71
Germany Klemm Music - tel. +49 55 0493 590 - E-mail
India S.U.N. Media - tel. 91-22-8843772
Japan Musetex/Orbit Ltd - tel. +813 5486 7021 - E-mail
Mexico Audio Sistemas - tel. +525 531 2992 - E-mail
Switzerland PEK AG - tel. +411 431 8282 - E-mail

---
---