Coda Music Technology


Macintosh OSX v. 10.3 (Panther) supported
Finale 2004 is "Carbonized" to run under Mac OS X and Mac OS 9



notation software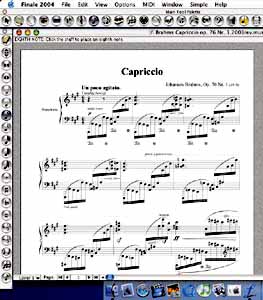 larger size
---
---

The advancements that went into 2004 were based on two principles: natural ease and enhanced musicality
taking full advantage of Mac OS X's functionality

Finale 2004 will run in "native mode" under Mac OS X
Native Mode provides many benefits, such as:
-Crash Protection: If a program crashes, it will not affect other programs running at the same time, and the system does not need to be restarted.
-Real Virtual Memory: Users do not need to set up memory partitions, and the system will handle virtual memory intelligently.
-Aqua Interface: The standard appearance of Mac OS X

Several major tasks were accomplished to Carbonize Finale:
General Carbon Conversion
-Carbonization. All obsolete toolbox API's were converted to the Carbon equivalent.
-Performance Tuning. Ensures that performance has not been degraded for the new Carbon application both under Mac OS X and Mac OS 9.
-Third Party Libraries and Tools are Carbonized
-PDK and All Plug-Ins are Carbonized
-Printing Code is Carbonized

MIDI Code Rewritten to Support CoreMIDI
The Mac OS X MIDI drivers (provided by Apple or the interface vendor) will fully support USB interfaces. This eliminates the common complaint of having to set up FreeMIDI or OMS just to use a basic MIDI keyboard with Finale. FreeMIDI and OMS are still required for Mac OS 9 systems.

Application Packaging/Icons
-Finale is now a "packaged" application. This allows you to hide support files like resources and other program files in an application "package".
-New Mac OS X icons were created by a graphic designer and implemented in the Finale application.



---
---
Windows versin avalilable now
download

Mac version for Macintosh OS X expected to be released no earlier than December 15, 2003
In order to minimize the delay, and to respond to the strong demand for OSX, the first version released will only run on Macintosh OS X. A version that runs on OS X and OS 9 will follow shortly thereafter.


---
---

Features available by upgrading from ANY version of Finale.

Automatic score set-up - just click the instruments or voices you want, Finale does the rest.
Create Custom Lessons and Warmups - Combine and print any combination of 56,000 exercises without entering a single note.
SmartScore Lite Scanning - turn any piece of sheet music into a Finale file in seconds
Automatic music and lyric spacing - Give your score a finished look right from the beginning.
Easy editing - With the new Selection Tool, just click to move, edit or delete
Sequencing function- play notes in with midi keyboard as other staves play back
Web publishing - save as your own web page or post to a free web site; Finale Showcase.
Smart Slurs - that always snap to the proper position.
Automatic Harmonizing - powered by Band-in-a-Box. Write a melody, Finale automatically writes multi-part harmonies.
Time-saving Templates - for worksheets, tests, bands, choirs, orchestras, chamber music ensembles and more.
Free Technical Support - for registered users.
Graphics tool - create worksheets, tests, dissertations by placing portions of your music into a word processing program.
Check Instrument Ranges - see if transpositions will create problems for your performers.
Simple Note Entry - cursor displays note value and plays the pitch as you click onto the staff.
Notate as you play with MicNotator - play your notes into Finale with a single voice acoustic instrument like a trumpet.
Color views for layers - makes editing of individual voices easy.
Percussion Mapping - notes appear automatically on the correct lines and spaces of the staff and playback correctly.
Customize guitar fretboards - create your own chords; they'll even transpose.
Create SmartMusic Accompaniments - for your students to rehearse with at home.
Automatic Staff Styles - One click changes staff to rhythmic, 1-line percussion, hidden notes, mid-piece transpositions for woodwind doublers, etc.
Eight music fonts - determine the look of your notes and musical characters.
On-Screen video Training - Hate reading manuals? Quickstart Videos give you answers right on the screen. Watch the short videos you want, then pause and go directly to your score.




---
---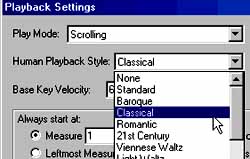 full size image


The new Human Playback feature will play your music as you would want it to be performed, even if you enter notes manually. And you can choose a variety of musical styles and customize the playback parameters, articulations, range, and much more.

Listen to the difference:
Listen to this excerpt as played through Finale 2003 with no Human Playback and no SmartMusic SoundFont
Listen to the same excerpt using Finale 2004's new Human Playback and SmartMusic SoundFont.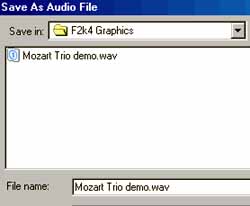 full size image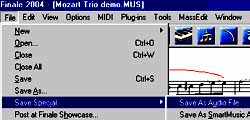 full size image


Save As .WAV, .AIFF. Even compressed file formats.
Pressing one button now you can turn your Finale file into an audio CD.



Speed.
This tool has been transformed. It is all the function of Simple Note as previous updates, plus the power of Speedy Note Entry, with additional control. It may become the way you get most things done in Finale.
Click notes onto the staff or use MIDI to indicate pitch. Or input notes with the numeric pad and keys 'A' 'B' 'C' 'D' 'E' 'F' and 'G.' Change octave. Enter rests. Add accidentals. Add notes in a chord to an existing note. Create triplets. Now add grace notes. Break and join beams.
But entering notes is just the start. Enter articulations on the fly or 'lock-in' an articulation to place on several notes. Change the key or time signature simply with key commands. Re-pitch existing notes, regardless of their durations, using any of the note-entry methods to re-pitch these rhythms. Change layers or create multiple voice lines on the staff as you write or edit. And if you prefer certain key commands, change the defaults in Finale to whatever you like.




Edits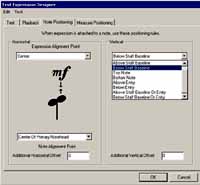 full size image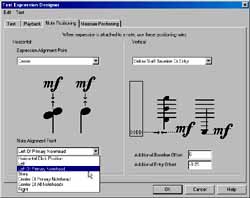 full size image





Expression Customization
Create tempo markings. Many options for expressions have also been added permitting alignment based on either measure or note.
Finale 2004's new expression interface allows you to use multiple fonts for the same expression, align expressions with automatic placement options and add a description for each expression.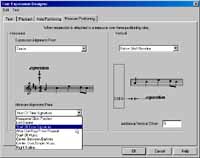 full size image


Expression Placement
Expressions are automatically placed above or below the staff, and can be centered or justified left or right.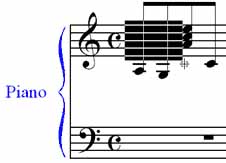 Cross-staff beaming Improvements
Creating cross-staff beaming used to be a multi-click process. Not any more. Just select the notes you want to move to the bass staff.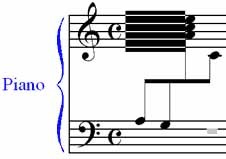 Type ALT- down arrow key.






FinaleScript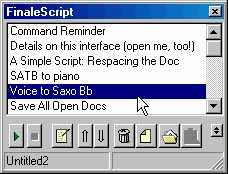 Easily create your own set of commands that Finale will perform with a simple mouse click. Mix several repeated actions into one. Batch file process.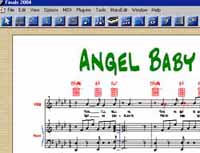 full size image

Example: You have a number of Finale files for voice and piano, and you want them to be for Bb saxophone and piano.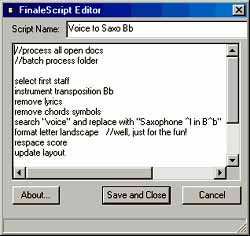 Create a script that:
1. Selects top staff.
2. Searches and replaces "Voice" to "Saxophone".
3. Removes lyrics.
4. Removes chord symbols.
5. Lays out the page in Landscape.
6. Respaces the music.
7. Updates the layout.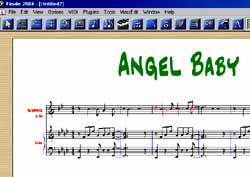 full size image


Finished result.
Finale 2004 comes loaded with dozens of FinaleScripts that are ready to go and guaranteed to save you time.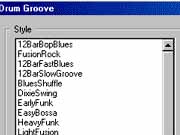 full size image


Creating custom drum parts has never been easier. Select any region and apply a pre-created drum groove in the style and feel you want.
Choose any MIDI file drum groove and add it to your list instantly. In fact, add any MIDI file, period and access it/enter it from this new plug-in.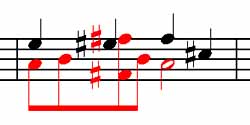 AUTOMATIC Word Extensions
Word extensions actually flow into the score automatically and also wrap to the next staff system. If the music expands or contracts, the extensions stretch or shrink to fit.


Easier to enter and edit.
SMART Hyphens
Lyric hyphens now wrap to the next staff system automatically. And how lyrics are copied from verse to verse has been improved.

No more Layer Collisions
You've put notes in different layers, but the noteheads or accidentals overlap? Not now.





SmartMusic Enhancements

SmartMusic Accompaniment Enhancements.
Last year, Coda provided the ability to save a Finale file as a SmartMusic accompaniment. Now you can also add wait for note, reset Intelligent Accompaniment mid-song, display repeats, rehearsal marks and more. The solo can also now display in SmartMusic for the soloist to read. Or use this feature to practice a part within an ensemble piece. Improved interface.

Multitimbral SmartMusic Accompaniment Generation.
Create SmartMusic Accompaniments containing many instruments primed for SoundFont playback in SmartMusic.

Create SmartMusic Accompaniments with Performance Markers.
Now, you can use expressions to indicate performance markers such as pauses, rehearsal marks and repeats, for SmartMusic Accompaniments saved from Finale.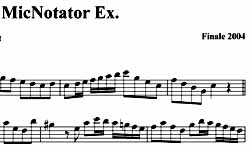 full size image


No MIDI required.

This technology allows you to enter notation into Finale simply by playing your brass or woodwind instrument. Finale 2004's new generation of MicNotator is now much more accurate and even easier . Pick up your clarinet and start making music.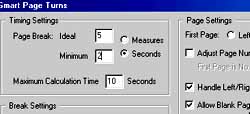 full size image


Everyone's on the same page - Smart Page Turns.

Getting the music aligned in individual parts for natural page turns used to take careful evaluation and a fair amount of re-positioning measures and staff systems. Now, just tell Finale what to consider, and it does the page turn formatting for you.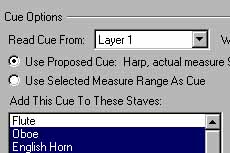 full size image


Never miss an entrance - Smart Cue Notes.

Give your performers an easier way to recognize their entrances after long multi-bar rests by having Finale automatically create cue notes. Tell Finale what decisions to use in creating cue note entrances, and it does all the work for you.









-Improved Redraw — Less need for manual redraws
-Search and Replace Text
-Select Multiple Articulations At Once . Drag and edit any number of articulations simultaneously.
- Regional Clef Change Selection. Apply a clef change to a highlighted a region of your score.
-Copy Between Layers. Copy notes in one layer to another, without changing the original notes.
-Easily Beam Across Barlines


Miscellaneous Features Implemented
-Application Services support.
-Long/Unicode Filename support.
-Save as PDF support.



---
---
---
---
---
---

System requirements

Finale 2004 for Windows
-Windows 98/2000/NT/Me/XP (import and export of EPS files supported under Windows 98, NT, and Me only. MicNotator, Save As Audio, and SmartMusic SoftSynth are not supported under Windows NT)
-CD-ROM drive
-800x600 minimum monitor resolution
-128MB RAM minimum (depending on OS)
-200MB hard drive space required for software and user manual

Finale 2004 for Macintosh
-OS 10.1.5 and higher (some features require OS 10.2) or 9.0.4 - 9.2.2
-CD-ROM drive
-800x600 minimum monitor resolution
-128MB RAM minimum (depending on OS)
-200MB hard drive space required for software and user manual

Optional
-MIDI interface
-MIDI input and/or playback device
-Printer
-Scanner
-Higher-quality computer microphone



---
---
---
---
---
---
---
Finale pricelist
---
---
---
---
---
---
Finale 2001
Finale 2003
---
---
---
---
---
---