Coda Music Technology

notation software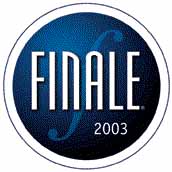 ---
---

EASY SCORE SET-UP
Select your instruments or voices and the key and time signatures and the score is set-up automatically. Or use one over 50 professional templates.

6 WAYS TO ENTER NOTES
Select a note. Click it onto the staff. Notes space automatically.
Notate as you play a solo acoustic instrument.
Type notes on your computer keyboard with or without MIDI.
Notate as you play using a MIDI keyboard.
Scan printed sheet music. It opens automatically with SmartScore Lite.
Import MIDI or Internet files. Also imports Encore files.

PRINT OR PUBLISH
Print the full score or parts; publish on the Internet. Save as a web page or to Finale Showcase.


---
---
---
---
---
---

System requirements

Finale 2003 for Windows
Windows 98/2000/NT/Me/XP
CD-ROM drive
64MB RAM Minimum
128MB RAM Recommended
70MB hard drive space required for software and user manual

Finale 2003 for Macintosh
OS 8.6 through the latest version of OS 9 (9.2.2)
Works under OSX in classic mode provided that your MIDI and printing hardware (and associated software drivers) are compatible with the OSX classic mode.
CD-ROM drive
64MB RAM Minimum
128MB RAM Recommended
70MB hard drive space required for software and user manual

Optional
MIDI interface
MIDI input and/or playback device
Printer
Scanner
Higher-quality computer microphone



---
---
---
---
---
---
---
---
---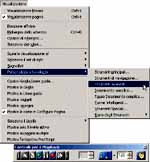 ---
---


New Interface


Choose from over 14 various interface designs. Large, medium or small icons. Even keep the Traditional look if you want. Also, choose from 25 different background graphics or create your own. In total over 1700 graphic improvements added.


New document and Program Option
Finale 2003's new Document and Program Options let you easily customize your Finale default settings, save them as a Library and apply those settings anywhere, anytime.



New spacing option
Now you can set the number of systems for one page, a range of pages or all pages.

Score Set-up
Finale's Set-Up Wizard lets you select the instruments you need, then sets up your score on any page size you specify — staff names, transpositions, groupings, clefs, key and time signatures, fonts, pick-up measures and tempo markings are all automatic.
Note Entry Ever
Universal Selection Tool - Editing
Click on almost anything on the screen and move, change or delete it.



Now Provides:
Secondary voice recognition - counterpoint
Correct transposed instrumentrecognition
Multiple page scans
Correct page formatting including system and staff sizes.
Up to 32nd note resolution
Substantially increased accuracy

SmartScore 2 and SharpEye
If you want to bring in slurs, text, expressions and articulations, Coda offer you direct translation of the two stand-alone scanning programs: SmartScore 2 and SharpEye (currently Windows only. Uses free Music XML Lite plug-in to convert SharpEye files.


Ready-to-use templates for Worksheets, Kodaly and Auto-Stick Notation .

Improved
Exercise Wizard- Instantly fit all your exercises on to one page —o ver 56,000 to choose from.
For a limited time, buy new versions of Finale for $75
Finale site licenses are only $75 per station when you buy the minimum of 16 units and only $55 when you upgrade.
If your school, church or institution has multiple singleversions of Finale, nowyou can combine them into a site license. (For example: if you have 7 units of Finale, buy 9 more at $75 each to add up to 16 units)

New rhythm section generator
Harmonizes your melody and creates your piano, bass and drum accompaniments instantly. Choose from four styles—Swing, Ballad, Bebop and Bossa Nova.

26

Rhyming Dictionary comesfree with Finale 2003. Type in any word and most English rhymes appear.




TAB

New Selection of Fretted Instruments
Choose your instrument from the Setup Wizard and enter your music.



Finale 2003 can handle notation for an array of fretted instruments.
Enter notes directly into TAB staves. Or copy from a companion Standard Notation Staff to a TAB staff and vice-versa. Specify thelowest fret to use as you paste.

Once the music is in the tab staff, it is easy and intuitive to edit. For example, to change a fret number from '2' to '3', just select the note and type '3'.

Up and Down arrow keys move a selected number to other strings. Numbers appear in orange when out of fret range.


Various stem styles are easily applied. Use the "Tab Styles" library that comes with Finale 2003 or create your own.

Bends and shapes automatically convert when you paste between Standard and TAB staves.
Notation of hammer-ons, Pull-offs, bends and releases.
User-defined defaults for Guitar bends are standard.
Custom Smart Shapes now contain an expanded list of Guitar Specific lines.
Bends can do stair steps and double bends.

Realtime TAB
Play your guitar and notate TAB as you play with or without a MIDI guitar ... TAB instantly appears. Each string notates intelligently and automatically. With a non-MIDI guitar, it is possible to notate single line melodies using Finale's MicNotator function.





Academic/Theological Price
Available to qualifying institutions, educators, students, and music ministers: $300.00

Suggested Retail Price: $600.00
Finale Lab Packs (5 users): $695.00

If you are upgrading online from Finale versions 1.0 - 2001: $159.95
If you are upgrading online from Finale 2002: $109.95

Finale Instrumental Microphone for use with Finale's MicNotator feature. : $10.00
Finale Macintosh Microphone Pre-Amp Adaptor. For Macintosh users who have an older Mac that has a PlainTalk port: $10.00
Finale Macintosh USB Microphone Adaptor: $35.00

Upgrading from Allegro or MusicProse: $400.00
Upgrading from Finale Guitar: $475.00
Upgrading from PrintMusic: $500.00
Upgrading from NotePad Plus: $550.00
Upgrading from NotePad: $575.00
If you are upgrading from a qualifying competitor's notation program !!! ..... info


---
---
---
---
---
---
Finale 2001
---
---
---
---
---
---