---
---

ARBORETUM
Montage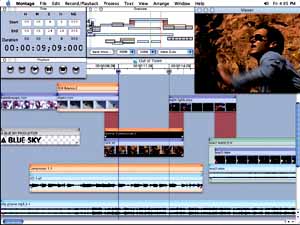 Video, pictures, audio and text multimedia tool

Built natively for Mac OS X, Montage allows creators of multimedia content to organize, edit and process their media with high flexibility.
For professionals, hobbyists, novice digital moviemakers

Us $149


Requirements




An Apple Macintosh computer with a G4 processor (500MHz or faster recommended)
512MB of RAM, 10GB of free hard drive space
A FireWire port for video transfer
a CD-ROM
Mac OS X v10.2 or later
A color monitor that supports at least 800 X 600 resolution is recommended

---
---
---
---

Montage features a groundbreaking "trackless" workspace that allows the free manipulation of video, audio, stills, and text in an infinitely expandable window.

Montage and Audio
Audio clips can be edited, arranged, stacked, and processed to generate soundtracks. There is no track limit because there are no tracks.
The program comes with a wide variety of studio-quality effects from Arboretum's Hyperprism suite of processors and more can be added via a flexible plug-in architecture, including the popular Ray Gun and Ray Gun Pro for cleaning up scratchy vinyl, tape hiss, hum, and other problem recordings.
Montage will also come with over 70 royalty-free audio clips from sound designer Frank Serafine (Star Trek, TRON, Poltergeist, Hunt for Red October, Virtuosity). Users of video programs who want to enhance their final movie with audio will find Montage an ideal complement to their current software.
Both audio and video can be easily time-stretched to accomplish anything from filling out a few seconds of a scene to creating awesome slow motion effects. Clips can be nudged frame by frame, and locked to the timeline to prevent accidental shifts. And the Overview window makes it extremely simple to zoom in on any portion of a movie, plus move individual clips and even entire scenes at once.

Montage and Text and Titles
Text features to display credits, section titles or even karaoke lyrics, font, size, type, color, style, alignment, scroll direction and auto clip duration, text against transparent background (for use on video) or user-defined background color.
Text boxes can be placed over video clips or keyed against an editable background with adjustable duration for scrolling.


Features

Built-in video transitions include
Alpha Compositor
Channel Compositor
Chroma Key (compositors)
Crossfade
Explode
Implode
Zoom (transitions)
Gradient Wipe
Iris
Matrix Wipe
Push
Radial
Slide and Wipes

Built-in video effects include :
Alpha Gain
Brightness
ColorSync
HSL Balance
RGB Balance (adjustments)
Blur
Edge Detection
Emboss
General Convolution
Sharpen (filters)
Color Style
Color Tint with
B&W/Sepia/X-Ray/Cobalt settings
Film Noise
Lens Flare (special effects)

Free Hyperprism built-in audio effect processors include :
Auto Pan
Band Pass
Band Reject
Hi Pass
Flanger
Lo Pass
More Stereo
Ring Modulator
Tremolo
Vibrato
The remaining Hyperprism range of audio effect processors (Bass Maximizer, Chorus, Compressor, Doppler, Double Chorus, Echo, EchoTranz, Formant Pitch Shifter, Frequency Shifter, Hall Reverb , Harmonic Exciter, High Shelf , HyperPhaser, HyperVerb, Limiter, Low Shelf, M-S Matrix, Multi Delay, Multi Phaser, Noise Gate, Noise Generator, Parametric EQ, Phaser, Quasi Stereo, Single Delay, Sonic Decimator, Stereo Dynamics, Tube/Tape Saturator) as well as Ray Gun and Ray Gun Pro are available as separate plug-in products with the Montage 1.0 release. Apple's Audio Unit format will be supported with the first 1.1 upgrade.

Montage imports all commonly accepted Mac formats including:
AIFF, Audio CD, AVI, BMP, DLS, DV, FLC*, GIF, JPEG/JFIF, MPEG-1, MP3, M3U (MP3 Playlist files), MPEG-4 (MP4), Photoshop (some limitations may apply), PICS, PICT, PNG, QuickTime, SF2 (SoundFont 2), Sound, Text, TIFF*, and WAV.

Montage exports movies and audio as: AIFF, AVI, BMP, DV Stream, FLC, JPEG/JFIF, JPEG 2000 (Mac OS X only), MPEG-4, PICT, PNG, QuickTime, System 7 Sound, Text, TIFF, and WAV.




---
---
---
---
Contacts
Company office and sales department
Arboretum Systems, Inc. - 2 Moonstone - Irvine, CA 92602, Usa
Tel. 1-714-389-4983 , Fax: 1-714-389-4984
Toll Free (Order Phone): 1 800 700 7390
info

Technical support
Arboretum Systems, Inc. - 131 W. 138th St, #3B - New York, NY 10030 , Usa
Tel. 1-212-234-2650 - Fax: 1-212-234-7548
, info


---