---
---

ARBORETUM
Hyperprism

Hyperprism as a stand-alone software or with your favorite audio applications for Mac and PC:
-Hyperprism OS X ($299) developed for OS X. This new version plugs in a free limited version of Aboretum new software Montage.
- Hyperprism Stand-Alone 2.5 OS9 For Power Mac. The"stand-alone" version of Hyperprism now has 42 different effects, parameter automation editing and new live multi-processing features. Includes Arboretum's HyperEngine real time sound editing and signal processing application. ($299)
-Hyperprism Plug-In-Pack 2.5 OS9 For Power Mac. Includes more than 30 different effects for VST, Premiere and AudioSuite plug-in formats, for use with any of the popular Mac audio editing programs. ($329)
- Hyperprism-TDM 2.5 OS9. For Digidesign Pro Tools24 and Mix systems with TDM hardware. Includes 25 different real-time non-destructive effects with Pro Tools parameter automation support. ($499)
-Hyperprism-DirectX 2.5 For Windows. Includes more than 30 different effects for the- DirectX plug-in format, for use with most of the popular Windows audio editing programs. ($199)


---


Hyperprism
for Mac OSX (v10.2 or later)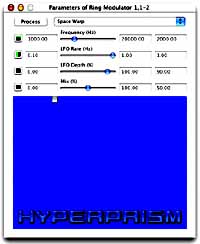 Softwre based 'rack audio effect processsor'

Us $299


"Hyperprism is a wonderful invention." Brian Eno


Hyperprism is a standalone program offering more than 40 audio processes, a virtual, rack of effects that can be "played" much like any musical instrument. Built for electronic, music production, film/video, broadcast, and multimedia sound design.



---
---
---
---

Hyperprism audio effect processsors for OS X includes: Auto Pan, Band Pass, Band Reject, Bass Maximizer, Chorus, Compressor, Doppler, Double Chorus, Echo, EchoTranz, Flanger, Formant Pitch Shifter, Frequency Shifter, Hall Reverb, Harmonic Exciter, High Pass, High Shelf , HyperPhaser, HyperVerb, Limiter, Low Pass, Low Shelf, More Stereo, M-S Matrix, Multi Delay, Multi Phaser, Noise Gate, Noise Generator, Parametric, EQ, Phaser, Quasi Stereo, Ring Modulator, Single Delay, Sonic Decimator, Stereo Dynamics, Tremolo, Tube/Tape Saturator, and Vibrato

Some Effects Featured In Hyperprism OS X




Formant Pitch Shifter
A technology entirely different from time-based pitch shifting, offering a more natural sounding result. Real time formant shifting also creates some very unusual effects, allowing you to virtually change the size of the singer's head and throat. Pitch shift and formant shift are adjusted in semitones.

HyperPhaser
This "modulated filtering" effect has six separate resonant filters, configurable as either band pass or band reject, all under LFO control. A wide variety of results are possible, from slow filter sweeps to intense resonant phasing. The ability of the effect to create either spectral notches or peaks allows the user high control over the character of the phasing/flanging effect.

Bass Maximizer
Offers an assortment of bass enhancement and maximization effects, ranging from subtle bass enhancement to extreme bass generation. Increase the perceived amount of bass.

EchoTranz
One of Hyperprism's most unusual effects, the EchoTranz creates dramatic, undulating pitch transpositions that result from rapid changes in delay time. Using a combination of varying time delays and positive and negative attenuation gestures, you can create effects reminiscent of the classic tape-delay feedback sounds used in electronic studios of the 1960's.

Frequency Shifter
Create unique bell tones or unearthly voices by shifting the frequency components up or down. Similar to ring modulation but without the lower side bands so the sound is less distorted. To on drum loops.

HyperVerb
The HyperVerb is the realistic-sounding software reverb . New set of algorithms that create startling, life-like emulations of familiar physical spaces. Discrete control over early and late reflections, room size, diffusion, brightness and more, with just a single mouse move.

Sonic Decimator
Sample rate and bit depth reduction. Just a sweep of your hand causes degeneration, transforming signals from slightly grungy to overwhelmingly clipped and aliased.


Tube/Tape Saturator
Designed to accurately model the non-linear saturation characteristics in a wide range of high-end tube amplifiers and pre-amplifiers, as well as analog reel-to-reel tape recorders, to give you warm, smooth tube and tape characteristics, all while staying within the digital domain.





Hyperprism Blue Window to control multiple effect parameters simultaneously and get settings dialed in fast. Then switch on the automation features to record, edit and play back parameter changes in real-time. Design subtle, evolving mutations, or make radical sweeps through the effect parameters, creating outrageous new sounds and effects. Multiple Hyperprism windows going in real-time for complex multi-effects.




---
---
---
---
Contacts
Company office and sales department
Arboretum Systems, Inc. - 2 Moonstone - Irvine, CA 92602, Usa
Tel. 1-714-389-4983 , Fax: 1-714-389-4984
Toll Free (Order Phone): 1 800 700 7390
info

Technical support
Arboretum Systems, Inc. - 131 W. 138th St, #3B - New York, NY 10030 , Usa
Tel. 1-212-234-2650 - Fax: 1-212-234-7548
, info


---