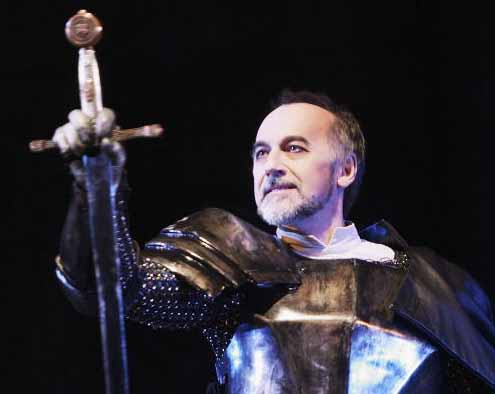 Graham Pushee was born in Australia. He studied with the tenor David Parker in Sydney.
"Midsummer night's dream" was his debut stage (1973) as Oberon. At the 1977 'Churchill Fellowship Award' he was awarded the Special prize and went to London to study with Paul Esswood. After that he went to study at the Schola Cantorum Basiliensis with Kurt Widmer and Rene Jacobs. He is regularly on stage as opera performer throughout Europe, Usa, Australia. He has been described : "powerful, slightly harsh tone; very, very agile; very confident and commanding in performance; opera seria actor. Also capable of very moving tone in quiet ballads that shut up the coughers in the audience...Truly magical singing and theatre...". Pushee's repertoire is huge, encompassing: from Handelian opera (having starred in Giulio Cesare, Serse, Alcina, Orlando, Poro, Rinaldo, Agrippina, Tamerlano, Admeto, Scipione...) to Baroque and comtemporary opera..
source:
Angelfire fans club
---
Background: Born, Australia. Studied voice with David Parker. Received the Churchill Fellowship Special Award, 1977 and studied in London with Paul Esswood, and in Basel at the Schola Cantorum Basiliensis 1978-83. Received a MO Award, 1995, for "Operatic performer of the Year" and Green Room Award
OA repertoire: Ruggiero in Alcina, Arsamenes in Xerxes, title roles in Giulio Cesare and Rinaldo, Oberon in A Midsummer Night's Dream, Goffredo in Rinaldo, Apollo in Death in Venice
Other Companies: Paris Opera, Berlin Staatsoper and Komische Oper, Le Monnaie Brussels, La Scala Milan, Grand Théâtre de Geneve, Los Angeles Opera, Houston Grand Opera, Teatro Regio Turin, Frankfurt Opera, Bavarian State Opera Munich, Cologne Opera, Opera de Lyon, Opera Montpellier, Vienna Festwochen, Salzburg Festival, Innsbruck Early Music Festival, Karlsruhe, Göttingen, Maryland and Halle Händel Festivals, Holland Festival, Théâtre de Champs Elysées, Opera North, Opera Queensland
Recordings/Videos: Telemann Cantatas; Händel Te Deum and Birthday Ode; Händel Arias; Vivaldi Sacred Works; Cavalli La Calisto; Keiser Croesus; Rossi St Alessio; Giulio Cesare (AO); Lübeck Cantatas; Colonna Psalms; Bach and Pachelbel Motets; Händel Tamerlano
Graham Pushee also appearing in: Rinaldo - Opera Theatre Sydney Opera House
source:
Opera Australia

ORLANDO DI LASSO "Prophetiae Sibyllarum" (2002)

HANDEL "Tamerlano" (2002)
HANDEL "Tamerlano" (2002) (DVD)

HANDEL Aias (1995)

VIVALDI - Stabat Mater; Nisi Dominus; Longe mala.

HANDEL - Julius Caesar
HANDEL - Julius Caesar (DVD)

CAMILLA DE ROSSI - Oratorio "San Alessio"

FRANCESCO CAVALLI: La Calisto

REINHARD KEISER: Croesus (2000)

LUDWIG SENFL : Motette / Lieder / Oden

ERIC WOOLFSON - Freudiana
( also known as "black Freudiana")

ALESSANDRO SCARLATTI: Passio Secundum Ioannem

TELEMANN: Hamburger Admiralitatsmusik

HANDEL: Funeral Anthem, Caroline Te Deum

TELEMANN: Magnificat in C

GIOVANNI PAOLO COLONNA: Salmi da Vespro

VONCENT LUBECK - "Samtliche Kantaten" (1986)

HANDEL, PURCELL, VIVALDI, JS BACH , GLUCK ...
" The Australian Brandenburg Orchestra Collection"



Handel "Giulio Cesare in Egitto" , 'Non e' si vago e bello'
Graham Pushee as Giulio Cesare
Yvonne Kenny as Cleopatra
Handel "Giulio Cesare in Egitto" , 'Va tacito e nascosto'
Graham Pushee as Giulio Cesare
Handel "Giulio Cesare in Egitto" ,
'Viva viva il nostro Alcide', 'Presti omai l'egizia terra'
Graham Pushee as Giulio Cesare

Graham Pushee : "For me, I'm actually prepared to sacrifice vocal – a little bit – but I'm always prepared to go right to the limit dramatically, even if it means I can't quite do everything vocally that I might be able to do if it were a concert performance …
"That's the challenge in opera, I think, for a singer. That's why we do opera. It's not just meant to be a concert in a fancy frock,"
"For my level of ambition and drive, I've done almost everything that I've wanted to do… you think yes, it's fabulous, it's La Scala, Milan, then at the end of it you think it's just another opera house, really. I mean, it's dreadful!" (Source: interview by Tim Benzie , oct 2003)

Graham Pushee: "There are so many facets to learning a role and being able to sing it ... There's so many levels it operates on. There's the language, there's the technical level, the vocal, the musical side, trying to make it express something; you have to try and work on the language. You've also got the technical side, the acting side. There are so many things going on ... That's why opera interests me more than concert work." (source: Sun Herald)

Graham Pushee talks about what it's like to be in performing in an opera directed by Baz Luhrmann.
Graham Pushee: "Exciting. It's nice to see there's a very clear concept, there's a very clear idea as to what the goal of the production is, what it wants to achieve, what it wants to say, how it wants to look. It's very well thought out, it's very consistent within itself, and that's the most important thing. Very often directors look at the actual play, and don't actual realise that when it's been turned into an opera, it has gone through a sort of metamorphosis. But this doesn't happen here. There's a really clear idea going through the whole thing. The concept's very easy to understand and consistent and that's really great, actually, terrific". (source : Sydney Morning Herald)


Graham Pushee: "..... I don't think there's any countertenors who sound like women"
Future Style

Angelfire fans club


Opera Australia
eMail
Arts Management
eMail