Ewa Podles
contralto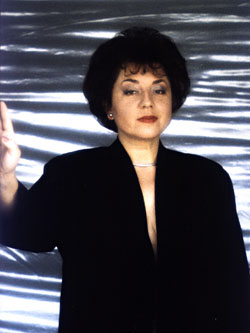 ---
"Is there anything this formidable artist cannot do ? Dissecting her performances is nearly impossible, and it is difficult to imagine any other interpretation than hers, so profound is her musicality. So what if the establishment just doesn't get it? Podles is a force of nature which I, for one, am happy to abandon myself." - (by Judith Malafronte, aug. 2002)
---
With her distinctive, dramatic voice of staggering range, agility and amplitude, Ewa Podles is widely regarded as the world's foremost contralto. Featured on the cover of the February 2004 Opera News, her engagements include returns to the Seattle Opera (Handel's Giulio Cesare and Wagner's Ring cycle); San Diego Opera (Cesare), Canadian Opera Company (title role of Rossini's Tancredi, Klytamnestra in Strauss' Elektra); two roles at the Houston Grand Opera: Ulrica in Ballo and the Marquise in Donizetti's La fille du Régiment; Isabella in Rossini's L'Italiana in Algeri at Puerto Rico's Teatro de la Opera, Bertarido in Handel's Rodelinda at the Dallas Opera and Gluck's Orphée at Carnegie Hall with the Oratorio Society of New York. Verdi has figured prominently of late, including rapturously received performances of Il Trovatore (Azucena) at Milwaukee's Florentine Opera, Un ballo in maschera (Ulrica) at Michigan Opera Theatre and with the Collegiate Chorale at Carnegie Hall, and especially as Eboli in the Opera Company of Philadelphia's Don Carlo. Her stellar 2005-2006 season also includes recitals at Boston's Jordan Hall, Vancouver's Chan Centre and on the Philadelphia Chamber Music Society series, as well as concerts with the Moscow Chamber Orchestra in Pittsburgh and at Lincoln Center's Avery Fisher Hall, and Tancredi in concert under the auspices of the University Musical Society in Ann Arbor, Michigan, which previously presented her as Orfeo.
Mme. Podles has also sung a Rossini concert, Giulio Cesare and Jocasta in Stravinsky's Oedipus Rex with the Canadian Opera Company; Adalgisa in the Seattle Opera's Norma; and Erda in the Dallas Opera's Siegfried. She appeared with the San Francisco Symphony (Verdi Requiem and Prokofiev's Alexander Nevsky), Detroit Symphony (Mahler's Second Symphony and Das Lied von der Erde), Philadelphia Orchestra (Das Lied von der Erde), Orchestre National de France and Seattle Symphony (both in Mahler's Third Symphony), Montreal Symphony (Mahler's Kindertotenlieder); Moscow Chamber Orchestra (baroque and Rossini arias at Carnegie Hall); and been guest soloist with the Maggio Musicale Fiorentino and National Arts Centre Orchestras; National Orchestra of Spain; Pittsburgh, American, Toronto, NHK Tokyo and New World Symphonies; Saint Paul Chamber Orchestra; Hong Kong and Dresden Philharmonics; under such conductors as David Atherton, Leon Botstein, Myung-Whun Chung, Neeme Järvi, Armin Jordan, Lorin Maazel, Nicholas McGegan, Constantine Orbelian, Libor Pe‰ek, Donald Runnicles, Gerard Schwarz, Alberto Zedda and Pinchas Zukerman. A particularly acclaimed recitalist, she has been on the major art-song series of Cleveland, Atlanta, St. Paul, Chicago, Paris, Amsterdam, London, Toronto, Moscow, Warsaw, Montreal, San Juan, Québec and New York (Alice Tully Hall and the 92nd Street Y). She has sung principal roles at the Metropolitan and Vancouver and Operas; Deutsche Staatsoper Berlin and Deutsche Oper Berlin; Frankfurt Alte Oper; Gran Teatre del Liceu; Teatro Bellini; La Scala; La Fenice; Teatro San Carlo; Warsaw's National Theatre; Théâtre Châtelet and Opéra Bastille. Festival invitations include New York's Bard Festival, Aix-en-Provence, Flanders, Montpellier and Lanaudière. Her many collaborations with Marc Minkowski and Les Musiciens du Louvre includes two Deutsche Grammophon recordings: Handel's Ariodante and Gluck's Armide. Other recent issues include two acclaimed Delos recordings: Handel Arias and Russian Arias and on Arabesque a CD of Chopin songs with pianist Garrick Ohlsson, with whom she often appears in recital. Source: dec 2004
Podles website
---
Discography
---

'
Venti turbini
'- Handel's "Rinaldo"

Borodin Prince Igor - "
Konchakovna's Cavatina
"

Mussorgsky -
Trepak
Songs and Dances of Death No. 1

Rossini - L' italiana in Algeri - "
Cruda Sorte! Amor Tiranno!
"

Handel Arias from Rinaldo and Orlando - A
Delos
radio
selection
---

,

,

,

,

---
Ewa Podles: "People don't know my type of voice, a true contralto. At the start of my career, people called me a mezzo-soprano, but I am not a mezzo like other mezzos, I am a contralto.."
Culture Kiosque, 9/1998
Et maintenant, si on vous demandait de choisir quelques rôles ?
Ewa Podles: J'adore Azucena que je viens de chanter pour la première fois à Milwaukee. Bien sûr Rossini : Semiramide, Tancrède... Ça, c'est mon répertoire. Mais je préfère les rôles tragiques... Pas les "ta ... ra ta ta" Non : la tragédie ! Quand il se passe quelque chose d'important, de dramatique. Je préfère quand il faut faire du théâtre, vraiment. J'aime beaucoup Ulrica du Bal masqué. C'est une seule scène, mais importante. J'aime beaucoup la chanter... De toutes façons, j'aime chanter ce que je chante au moment où je le chante, même si au début je n'aimais pas...
Il y aussi le répertoire plus moderne ?
Ewa Podles: Je n'aime pas tellement la musique contemporaine. Se traîner par terre et faire : â, ô, â, û ... C'est bon pour les jeunes chanteurs qui veulent se faire connaître.
Forum Opera , Brigitte Cormier 3/2005

---
agenda


---
Ewa Podles

Jerzy Marchwi®Ωski
fax: (48-22) 872 14 99

eMail
,
eMail
GENERAL MANAGER:
MATTHEW SPRIZZO
477 DURANT AVENUE
STATEN ISLAND, New York 10308
PHONE: 718-948 5402
FAX: 718-984 8996
eMail
---