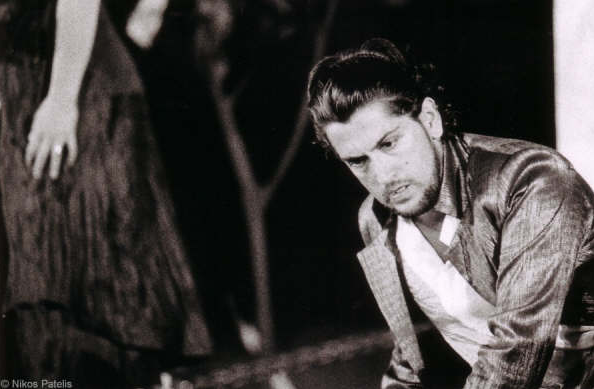 Florin Cezar Ouatu
controtenore

(biography update June 2008)


Florin Cezar Ouatu was born in Romania in 1980. Grown in a musicians' family, he began his musical studies at the Academy of Art and Music in his home town, where he obtained the piano and choral direction diploma. In 1998 he began the study of singing, immediately distinguishing himself as a rare "falsettista". In 2001 he was admitted at the Conservatory of Milan, where he graduated with special mention in 2004, under the guidance of Margaret Hayward. He attended masterclasses with Jordi Savall, Sara Mingardo, René Clemencic and Mariana Nicolesco.

He won several prestigious international competitions, including "Francisco Viñas" of Barcelona (Best Countertenor), "Competizione dell'Opera" of Dresden (First Prize), "Riccardo Zandonai" of Riva del Garda (Jury Special Prize), Voice Competition "Renata Tebaldi" of San Marino (Baroque Prize) and "Spiros Argiris" Prize of Sarzana.

In 2006/2007 season he debuted at the Teatro La Fenice in Venice singing the role of Armando d'Orville (title role) in Meyerbeer's Il crociato in Egitto with Emmanuel Villaume conductor and Pierluigi Pizzi director.

He has performed in concert in Italy and abroad and has frequently appeared with La Cappella Musicale of Lodi and Claudio Monteverdi Choir of Crema. His concert repertoire includes Händel's Dixit Dominus, Purcell's Te Deum, Vivaldi's Nisi Dominus and Stabat Mater, Cavalli's Requiem. In august 2007 he was the protagonist of a successful recital with arias by Händel and Vivaldi in San Marino, with the Baroque ensemble "Venti, turbini", led by Sergio Ciomei.

His operatic repertoire also includes the role of Nerone in L'incoronazione di Poppea, the role of Nerone in Agrippina by Händel, the roles of Goffredo and Rinaldo in Rinaldo by Händel. He has just sang the role of Nireno in Händel's Giulio Cesare at the Opéra de Lausanne under the baton of Ottavio Dantone andthe role of Caio in Vivaldi's Ottone in Villa at the teatro Olimpico in Vicenza, with l'Arte dell'Arco and Federico Guglielmo.

He recorded the Requiem and Two Voices Motets by Cavalli (Tactus), Vespero delli Cinque Laudate by Cavalli (Dynamic), Bizzarrie, follie, stravaganze (Amadeus).

His future projects include Monteverdi's Vespro della Beata Vergine at the Théâtre du Châtelet in Paris, conducted by Jean-Christophe Spinosi and L'Incoronazione di Poppea at the Corinth Festival.









Florin Cezar Ouatu
Contratenor

(biography update October 2006)


Nascut in 1980 la Ploiesti intr-o familie de muzicieni, Florin Cezar Ouatu a inceput sa studieze pianul la varsta de sase ani si a absolvit sectiile de pian si cor la Liceul de specialitate din orasul natal.
Solistul va debuta in ianuarie 2007 la Teatro la Fenice din Venezia in rolul principal Armando d'Orville din opera "ll crociato in Egitto" de G.Meyerbeer.
Ca pianist a sustinut numeroase recitaluri alaturi de tatal sau, flautistul Florian Stefan Ouatu si a cantat acompaniat de orchestra Filarmonicii din Ploiesti concertul in do minor de Wolfgang Amadeus Mozart.Pregatirea clasica a fost urmata de cea de jazz instrumental.
In 1998 a inceput sa aprofundeze canto si muzica baroca, si s-a facut remarcat datorita vocii sale de contratenor si datorita agilitatii naturale si extensiei vocale putin obisnuite.
Tot anul 1998 i-a adus primele recunoasteri in lumea de specialitate si anume Marele premiu al Concursului National de Canto Orpheus (Tg.Jiu) si premiul special al Concursului International pentru Tineri Interpreti de la Tulcea.
In anul 2001 a fost acceptat la Conservatorul Giuseppe Verdi din Milano, la clasa de canto a sopranei Margaret Hayward,institut de prestigiu pe care l-a absolvit cu nota maxima in vara anului 2004.
In 2002 debuteaza in rolul principal al operei comice"Nina et Lindor" de E.R.Duni, in cadrul festivalului DUNI 2002 e la Matera(Italia).
S-a specializat la numeroase clase de maiestrie indrumate de nume mari ale artei lirice si baroce:Jordi Savall, Sara Mingardo,
Rene Clemencic, Magda Olivero.
In 2003 inregistreaza in colaborare cu casa de discuri TACTUS un CD cu Recviemul (Missa pro defunctis) si un motet la doua voci de Pier Francesco Cavalli.
O alta aparitie discografica de exceptie este CD-ul realizat pentru numarul aniversar al revistei Amadeus (aprilie 2005) pe tema "Follie,bizzarie e stravaganze in musica de la "500 la "800, in mai 2006 inregistreaza ca solist CD-ul cu mottete la 6 si 8 voci de Pier Francesco Cavalli in collaborare cu casa de discuri Dynamic si tot in 2006 inregistreaza ca solist CD-ul "Musica sacra nella Napoli del '700".

Palmaresul contratenorului este unul de exceptie:
- Premiul pentru cel mai bun contratenor la Concursul international de canto "Francisco Vinas" din Barcelona (Spania), competitie care a reunit in anul 2003 peste 300 de cantareti, respectiv 22 de contratenori din intreaga lume.
- Premiul 1 absolut la Concursul international de canto"Competizione dell Opera" de la Dresda (2004), la care au participat 500 de cantareti din 47 tari.
- Premiul 3 si premiul special la Concursul international de canto "Riccardo Zandonai" de la Riva del Garda (Italia-2005).
-Premiul special al juriului la Concursul International de canto "Hariclea Darclee" de la Braila (2005).
- Premiul baroc pentru cel mai bun interpret baroc la Concursul International de canto "Renata Tebaldi" (2005),acest concurs fiind considerat unul din primele patru concursuri internationale de canto din Europa.
- Premiul 1 absolut la Concursul international de canto Premio Sprios Argiris de la Sarzana 2006(Italia)

Solistul a sustinult recitaluri si concerte in Romania si totodata
pe scene importante din Italia, Spania, Germania precum Grand Teatre de Liceu
din Barcelona si Semperoper de la Dresda.A cantat sub bagheta dirijoriilor Claudio Abbado
Gunter Neuhold,Gustav Kuhn, Massimo Zanetti,Bruno Gini,Marco Balderi si Vlad Conta.
Florin Cezar Ouatu colaboreaza frecvent cu Cappella Musicale din Lodi,unde s-a impus ca solist in concerte de muzica sacra ( G.F.Haendel -Dixit Dominus si Mesiah,Henry Purcell - Te Deum, Antonio Vivaldi - Nisi Dominus si Stabat Mater, G.B.Pergolesi - Stabat Mater, Marc Antoine Charpentier - Te Deum si Messe de Minuit,Magnificat de A.Caldara, Cimarosa si J.S.Bach).

Pier Francesco Cavalli - Vespero delli Cinque Laudate - (Dynamic)
"Follie, Bizzarie e stravaganze in musica dal '500 al '800 " (Amadeus) - (2005)
Pier Francesco Cavalli -
Missa pro Defunctis, Motetti e Sonate
- (Tactus) (2004)
Listen to Florin Cezar Ouatu
2007 January
La Fenice
-
Venezia
- Italy
Giacomo Meyerbeer - Il crociato in Egitto (Armando d'Orville)
(Emmanuel Villaume conductor and Pierluigi Pizzi director)
StageDoor
Via S. Giorgio, 4
40121 Bologna - Italy
tel. (+39) 051 262126 , Fax (+39) 051 271452
info@stagedoor.it