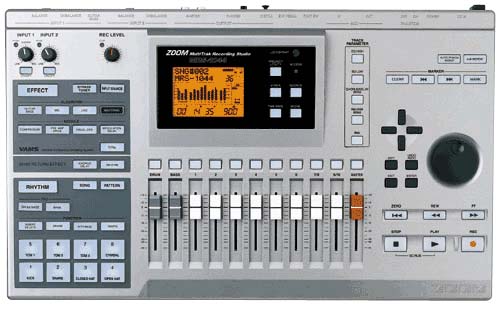 The 15GB Hard Disk provides over 44 hours of recording time. The MRS-1044 comes equipped with phantom-powered XLR inputs, 24-bit A/D-D/A converters, 24-bit data processing, 44.1kHz non-compressed 16bit linear recording data format, and S/PDIF digital output. Built-in rhythm machine and multi-effects An optional USB interface allows the transfer of recorded data to PC for further editing work or for backup, as well as burning onto CD-R/RW media.
In addition to the common line-level phone jack, this HD multitrack recording studio Zoom MRS-1044 also has a Hi-Z input that directly handles the signal from electric guitars or bass. The built-in tuning function is useful as well. Available two phantom powered XLR inputs for recording vocals and acoustic instruments. Condenser microphones can be used without pre-amplifier, letting you capture, for example, all the details of virtuoso acoustic guitar solo. On the output side, in addition to stereo RCA jacks, S/PDIF optical output allows you to feed the digital signal to DAT or MD recorder directly and MIDI In/Out connectors to synchronized operation and Note data transmission and reception.
Multi Effects With VAMS (for Insert, Send/Return, or Mastering)
Up to 6 insert effects such as Distortion, Flanger, Phaser, Wah, Pitch Shifter, Cabinet Simulator etc. can be used simultaneously. Available a total of 84 effect types, all based on sophisticated technology such as the VAMS (Variable Architecture Modeling System) for realistic amplifier simulation. Of course, you can also edit the effects as you wish. Whether you want that 70's British sound, 90's grunge sound, or 21 century's ultra high gain sound, the MRS-1044 lets you shape any guitar or bass. Mastering effects can also be routed as insert effects, allowing use not only for the master track but also for any individual track. This lets you apply effects such as Multi-Band Compressor / Equalizer, Lo-Fi, Dimension or Resonance Filter after recording. In an entirely separate routine, Reverb, Chorus and Delay are available as Send / Return effects.
Rhythm Machine
400 preset of realistic sound and advanced editing capabilities.
The MRS-1044 provides 24 drum sounds for each of the 30 drum kits. Plus you get 15 bass sounds and can create up to 250 original user patterns . Eight touch-sensitive pads are handy when creating drum phrases for real-time pattern recording. MIDI based note-on triggering is also possible, for those strong bass patterns.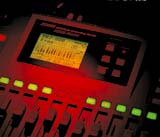 Mixer
Up to 13 tracks (10 audio tracks, one stereo drum track and one mono bass track) can be played back simultaneously, and individual faders control the drum and bass tracks as well. Because tracks 7/8 and 9/10 are linked as stereo you can quickly record and edit stereo sources or compare the results of your mastering decisions. Since faders are for mixing purposes only, vertical layout track parameters and simple layout function buttons, the color of the lit buttons indicates their status, such as logical user interface will never confuse you. Also the display shows all detailed data, and the encoder and cursor keys make input quick and easy. For each track, EQ, reverb send, chorus/delay send, and panning can be selected with the track buttons easily. The semi-parametric type 2 bands EQ allows tone adjustments.
Digital Recorder
10 virtual takes for each physical track = 100 virtual takes / tracks
For musical convenience, you can repeatedly record a phrase and then select the best take to add to your composition. Or, you can create a phrase with different parameters and effects and then choose one take considering the blend within the song. It's like having access to a recording studio and a mixing studio rolled into one. You can select a recorded track as a source for insert effects (including mastering effects) and then record the results on another track. You can repeat the process with various settings without recording repeatedly, compare the different takes, or take up the project again at a later stage.
Digital editing functions
Fully digital, non-compressed format.
Favorite takes can be linked with the copy and paste function. Completed tracks can be bounced onto a stereo track for later use. Up to 100 markers can be set for a project, to enable smooth cutting and pasting. You can opt for manual punch-in / punch-out with a foot switch, or use the markers to automate the process. If you make a mistake, Undo / Redo are available at the touch of a key.
100 scene memory settings per project, plus Scrub / Preview function
The sequencing capability includes not only mixing-level control but supports advanced techniques such as switching effects automatically during recording, or setting Lo-Fi for a portion of a recorded passage. The Scrub / Preview allow queuing with perfect timing, A-B repeat functions and a host of other user support functions help to make editing a breeze.
FOR BEGINNERS...
Even if you have never used a Hard-Disk Recorder before, you can use MRS-1044 without complex setup procedures. Creating multi-tracks is as easy as using a cassette MTR, but the fully digital design of the MRS-1044 ensures CD-quality sound. To begin composing, select a track number and assign a preset backing pattern by just pressing REC. Simply choose the effects you prefer, and create the song you've been hearing in your head. After completing a recording, it is still possible to switch rhythm patterns or effects. This allows you to try out various possibilities and gives you the freedom to explore your musical ideas.


---
RECORDER

Physical Track : 10

Virtual Track : 100 (10 Virtual Takes per Track)

Drum Track : 1(Stereo)

Bass Track : 1(Mono)

Simultaneous Recording Track : 2 Tracks

Recording Data Format : 16Bit Linear with NO compression

Recording Time : Over 44 hours (Monaural track conversion)

Marker : 100 Marking points per project

Location Display : Hour / Min / Sec / mSec or Measure / Beat / Tick

Track Edit : Copy, Move, Paste, Erase, Exchange

Punch In / Out : Manual, Auto

Other Functions : Bounce, Scrub / Preview, A-B repeat, Undo / Redo

RHYTHM

Polyphony : Drum 8 voices and Bass 1 voice

Sound Data Format : 16bit linear PCM

Drum Kit : 30 drum kits

Drum Sound : 24(8 Pad Çò 3 Bank)per drum kit

Bass Sound : 15(5 octave per sound)

Pad : 8 Velocity Sensitive Pads

Resolution : 48 PPQN

Odd Meter : 1/4-8/4

Factory Preset Pattern : Over 400(Programmable)

Maximum Patterns : 255 patterns per song (Programmable)

Maximum Bars : 999 bars per song, 255 bars per pattern

Maximum Notes / Events : Approx. 10,000notes / events per song

Tempo : 40.0-250.0(1/10 Resolution)

EFFECT

Algorithm : 4types(Guitar / Bass, Mic, Line, Mastering)

Modeling System : VAMS(Variable Architecture Modeling System)

Insert Effect Patch : 220(Guitar / Bass 100 + Mic 50 + Line 50 + Mastering 20)

Insert Effect Module : 4(Compressor, Pre-Amp / Drive, Equalizer, Modulation / Delay)

Send / Return Effect Module : 2(Chorus / Delay, Reverb)

Send / Return Effect Patch : 40(Chorus / Delay 20 + Reverb 20)

Tuner System : Chromatic Auto Tuner

Tuner Calibration : 435-445Hz(1Hz resolution)


MIXER

Simultaneous Playback Track : 13 (10Audio Tracks + Stereo Drum Track + Monaural Bass Track)

Fader : 11 (1-6 Mono, 7/8-9/10 Stereo, Drum, Bass, Stereo Master)

Level Display : Post Fader, Pre Fader or Fader Value Monitor

Track Parameter : Equalizer, Effects Send, Pan (Balance at Stereo Link)

Equalizer(High) : f:500Hz-18kHz Gain+-:12dB

Equalizer(Low) : f:40Hz-1.6kHz Gain+-:12dB

Effect Send : Chorus/Delay Send, Reverb Send

Stereo Link : 1/2, 3/4, 5/6 Track assignable, 7/8, 9/10 Track fixed

Scene Function : 100 scenes per project (Assignable on Marker)
TOTAL
Hard Disk: E-IDE 3.5Inch, 15GB
Project:Max.1,000 projects
A/D Converter: 24bit 64times Oversampling
D/A Converter:24bit 128times Oversampling
Sampling Frequency:44.1kHz
Signal Processing:24bit
Frequency Response:20Hz~20KHz +-1dB (At 10Kohms Load Impedance)
S/N Ratio:93dB (IHF-A)
Dynamic Range:97dB (IHF-A)
THD+N:0.02% (400Hz 10kohms AT LOAD)
Display:60x42mm Original LCD (With Back-lit)
Guitar/Bass Input (Hi-Z) :1 x 1/4" Monaural Phone Jack, Input Impedance 500kohms
Unbalance Input:2 x 1/4" Monaural Phone Jack, Input Impedance Over 50Kohms Unbalance
Balance Input:2 x XLR-3-31 type, Input Impedance 1kohms Balance, 2nd Hot
Phantom Power:48v (with On/Off Switch)
Input Level:-50dBm<Variable<+4dBm
Master Out:RCA PIN Jack (L/R)
Output Impedance:1kohms
Rated Output Level:-10dBm
Headphone Out:1/4" Stereo Phone Jack, 50mW (at 32ohms Load impedance)
Digital Out:S/P DIF Optical (20bit)
MIDI:In/Out
Control Input:FP-02 Input, FS-01 Input
Optional Board Slot:1
Dimensions:430 (W) x260 (D) x 77 (H) mm
Weight:3.4kg
Power Requirement:DC-12V 2A (Supplied AC Adaptor AD-0009)
Power Consumption:20W (12V 1A) Typical
Supplied Accessories: Universal AC Adapter (AD-0009) , AC Cable
Optional Accessories: FS-01 (Foot Switch) FP-02 (Expression Pedal)
Optional Board: UIB-01 (USB interface board) , SIB-01 (SCSI interface board) 0dBm=0.775Vrms


---
UIB-01 USB Interface Board
This is a Windows compatible USB interface, which allows accessing the built-in hard disk from a PC. Copying WAV files to a PC is useful for storage or further editing. Note: The Mac OS is not supported.

SIB-01 SCSI Interface Board
This is a SCSI interface with a 50-pin, D-sub connector
---
---
Zoom Italy : Mogar Music + 39 02935961 e-mail