Zero G
ASL - ANALOGUE SEQUENCER LOOPS
Virtual instrument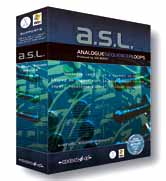 ASL, (ANALOGUE SEQUENCER LOOPS) is 100% pure analogue, using only classic analogue synths and hardware analogue sequencers - and captured at 24bit sampling resolution.



---

Requirements: ecommended System
- Windows XP, Pentium III/ Athlon 700 MHz, 512 MB
- Mac OS 10.2.6 or higher, G4 733, 512 MB

Supported Interfaces:
- VST 2.0, DXi, ASIO, Audio Units, Core Audio, RTAS, Mac & PC


---
euro 180,00

---
larger size

---
demo 1 mp3
demo2 mp3
---


X-TThis virtual instrument, developed by ZERO-G and XFonic, is designed to complement the 'Morphology' instrument. ASL is based around a new sample library from IAN BODDY, one of Europe's leading synthesists, featuring 1,000 loops and over 1.5 Gb of brand new material sourced entirely from analogue modular systems and vintage analogue synths and performed solely on hardware analogue sequencers.

ANALOGUE SEQUENCER LOOPS features the following sound categories:
Analogue Drums
Bass Sequences
Electronic Percussion
FX Loops
Hi-Hat & Noise Loops
Melodic Sequences
Sine & Pure Sequences
These are further subdivided into 7 tempo groups ranging from 90 - 150 BPM. With the INTAKT interface's ability to play back loops at varying tempos these are provided purely to conveniently divide the library into easily digestible chunks.
Ian Boddy's extensive arsenal of vintage and modern analogue synths and analogue sequencers has been extensively plundered to create the new library that you will find within this powerful virtual instrument.

List of Equipment Used.

Sound Sources :
Moog IIIC (extended) modular
Roland System 100M modular
Doepfer A100 modular
Analogue Systems modular
Analogue Solutions Concussor percussion modules
ARP 2600
Minimoog
Moog Voyager
Oberheim Xpander
VCS 3

Sequencing :
Moog 960 sequential controller x 2
Roland 100M 182 sequencer
Roalnd 100M 184 polyphonic keyboard arpeggiator
Analogue Systems RS-200 sequential controller
Analogue Solutions CV8 - 8 step CV sequencer x 2
Analogue Solutions GT8 - 8 step gate sequencer x 2
Analogue Solutions MC01- Master Clock with clock dividers
Analogue Solutions FS01 - Fill In / Quad Switcher
Doepfer A100 - various Seq Switch/Clock Dividers/Clock Sequencers

Not only can you sync, stretch, and pitch the loops, but also filter, effect and modulate them as we. A sound-shaping filter, envelopes, syncable LFOs, and distortion, syncable delay, and lo-fi effects can be used into the loops. Since the software interface is based on the KONTAKT audio engine.


FEATURES

Library Content:
- Loops created entirely with HARDWARE ANALOGUE sequencers,
- All samples recorded at 24 Bit sample resolution for hi-fidelity,
- All loops presented in 3 convenient forms, preview mode, sliced mode & global pitched mode,
- Loops can be played back at varying tempos / pitches in real time,
- Access to, and editability of, each individual slice of every loop,
- Loops split into 7 categories for ease of use : Analogue Drums, Bass Sequences, Electronic Percussion, FX Loops, HiHat/Noise Loops, Melodic Sequences, and Sine/Pure Sequences,
- MIDI files for all loops for optimal rhythmic control,

Features of the Native Instruments INTAKT User Interface:
- Access to individual hits (slices) within loops,
- User interface is a version of Native Instruments' INTAKT, based on KONTAKT, the software sampling engine,
- Loops use one or more of the three sampler-modes: Beat Machine with ISE (Individual Slice Edit), Time Machine or standard Sampler mode,
- Easy synchronization of loops to MIDI tempo,
- MIDI file export permits groove, accent, and feel manipulation in any host sequencer,
- Integrated effects: Group filter including low-pass, high-pass, band-reject or band-pass modes, global filter, lo-fi, distortion, syncable delay,
- Modulation section provides AHDSR envelope, two individual syncable LFOs, envelope follower and a DBD pitch envelope,
- Total Recall
- Sound Library can also be loaded into other Native Instruments samplers including INTAKT and KONTAKT (version 1.5 or later), for even greater flexibility and more options for working with the material.

N.B:
To avoid confusion: the Native Instruments software powering ASL is not a "PLAYER" but an INSTRUMENT. The software included is a complete Virtual Instrument called INTAKT INSTRUMENT, which is a specialized and streamlined version of the NI KONTAKT sampler and also use the KONTAKT audio engine. The INTAKT INSTRUMENT interface should not be confused with the much more basic "KONTAKT PLAYER" interface as included with some other companies' products, which is simply a 'player' of libraries in Kontakt format and has little editing functionality. That is different from the INTAKT INSTRUMENT, which includes the most used controls from KONTAKT and even many powerful new features, and allow massive editing of the included sound library. The INTAKT INSTRUMENT which powers the Zero-G "ASL" Virtual Sound Module, is a much more powerful tool than the "KONTAKT PLAYER".


---
---