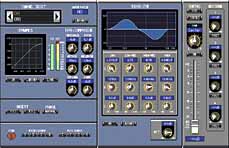 Control
Functions which can be controlled directly from the 01X include track arming, transport control, plug in editing, mixing, window selection and many more using existing and popular control protocols. This means you have support straight out of the box for Cubase SX, Nuendo, Sonar, Logic, Digital Performer and many more software products besides.
As well as being the remote control partner for your sequencer or digital audio workstation software, 01X will also control a wide range of parameters with many of your favourite software synthesisers and as the 01X also works as a multi-port MIDI interface, your existing hardware MIDI devices can be connected directly to the 01X.





Mixing
Built on renowned 96kHz DSP technologies, found in Yamaha's flagship DM2000, 02R96 and 01V96 professional digital mixers, the 01X not onlyworks as a professional digital mixing interface for your computer but also works as a total recall, stand-alone digital mixer, ideally suited for live performances.
With Yamaha's new high quality microphone pre-amps, 48V phantom power on balanced XLR and TRS, line inputs you can plug in guitars, microphones or indeed any musical instrument and the quality of your signal is maintained throughout.
DSP
Full dynamics processing, including compressors, gates and limiters as well as 4 band parametric equalisation on every one of the 28 digital mixing channels, and two 32-bit effects processors means that the 01X puts no strain on your host computer for mixing or audio processing.
Expansion
Being based on mLAN, Yamaha's 01X can be expanded to add more channels with optional mLAN channel expansion units, meaning that the system can grow with your needs. Up to 16 extra analogue inputs can be added to 01X over mLAN with the 01X internal digital processors and mixing channels handling the routing/effects/EQ and dynamics.




Network
Yamaha's 01X is the first product to feature Yamaha's mLAN technology offering high speed audio and MIDI networking between computers, synthesizers and other mLAN compatible products.
As Yamaha's mLAN technology is based on the industry standard IEEE1394 (FireWire) buss, connecting up your 01X is as simple as plugging in a single cable. Perfect for any environment, the 01X is as connected to a laptop as to a desktop computer.
mLAN allows for up to 63 mLAN compatible devices to be linked together, using a single cable to send multichannel audio and MIDI.






Support
01X comes with low latency 24bit 96kHz audio driver support for Windows XP and Macintosh (OS9/OSX) computers as well as full MIDI capability. Bundled with the 01X is a user interface control software and commercially available VST effects plug-ins . Whilst 01X itself has an intuitive user interfaces yet designed, using 01X in conjunction with Yamaha's acclaimed Studio Manager, you can also instantly see and control every parameter directly from a computer screen. 01X comes with a VST compatible 01X channel module which mimics the hardware DSP and functions of the console, and lets you copy parameters from Studio Manager directly into your VST hosting application.
Also with 01X are three VST plug-ins offering enhanced vocal processing, final mastering and studio quality, formant-accurate pitch correction.


Rear panel


larger size





---
---
---
Yamaha Corporation of America, Pro Audio & Combo Division, Professional Audio
P.O. Box 6600, Buena Park, CA 90622; telephone (714) 522-9011
info e-mail