---
---

WAVE IDEA
Bitstream 3X
MIDI controller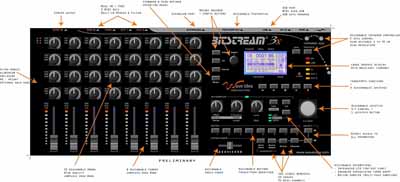 larger size



"3X" stands for "3 Axis"
A screen adapted to users performing lives.

---
available from Q4 - 2004

---

The Bitstream 3X features a full control over the 3 axis X, Y and Z.
A joystick allows to control the axis X and Y, while an infrared controller is used for the Z axis.

35 knobs - 8 sliders - 16 buttons
Dual axis analog joystick
Infrared controller - Cross-fader
Endless encoder - Footswitch input
7 curve models per control
(lin, inv lin, log, inv log, random, users 0 & 1)
Sync24 output - Expansion port
Built-in programmable LFO
Built-in enhanced arpeggiator
Built-in motion sampler
MIDI IN / THRU / OUT 1 / OUT 2
USB compatible
Transport functions
Fully programmable
Large graphic display (backlight LCD, 128 x 64 pixels)
Dedicated configuration software
100 snapshot scenes
23 fully programmable groups
Jump-less potentiometer mode
Built-in MIDI merger & filter
4U metalic enclosure (optional rack ears)



---
---
---
Bitstream Pro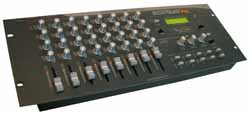 larger size





Useful for live performances requirements.
Backlight LCD, scenes memories, direct access to all 16 MIDI channels, built-in MIDI merger,
Configuration software included
Mac and PC software version available


Bitstream Pro is a MIDI controller that offers professional controls to any software and synthesizer responding to MIDI.
With its large amount of knobs, sliders and buttons, Bitstream Pro is well suited for studio applications and new synthesizers software generation requiring a lot of controls. Delivered with a user-friendly configuration software, Bitstream Pro let the users to assign to each potentiometer, button, and LFO any MIDI event.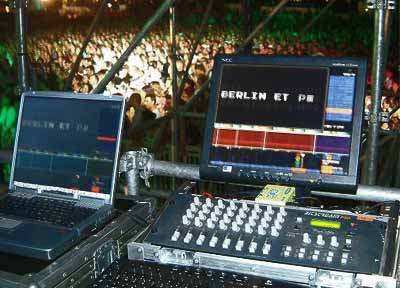 On stage (Massive Attack gig)



Fully programmable
Dedicated configuration software
Direct access to all 16 MIDI channels
Integrated programmable LFO
19 inches - 4U metalic rack enclosure

Hardware
- 35 Programmable Rotary Knobs
- 8 Programmable 30mm Sliders
- 8 Programmable Push-buttons
- 3 Groups
- MIDI channel Up & Down
- MIDI In / Out
- Built-in MIDI Merger / Filter


Bitstream Pro is able to generate 3 different MIDI events per control, on all 16 MIDI channels .
This results in more than 2,000 MIDI events without programming.


Configuration software included



___________



Mac and PC software version available for free via Wave Idea .
Requirements
This Software requires a PC or a Mac, with a Soundcard featuring MIDI Input/Output, Windows 95 or later, and the BitStream MIDI controller connected to the computer (MIDI In & Out).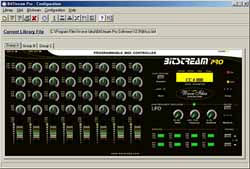 larger size


This software allows to easily access to all the advanced parameters of the Bitstream Pro: musicians can create libraries for the Bitstream Pro with a dynamic up and down communication between the software and the controller using Sysex (additional connectors are not required for the unit programming.)
In addition, this also means that the unit can be re-programmed using Sysex while playing music.
More than 13,000 presets have been developed for the most common synthesizers, samplers, software etc.
Simply select the gear and parameter to control, and download it to the Bitstream.The software also offers the user an in-depth configuration of each control (programmable Min & Max values, MIDI delay, etc)


Backlight LCD

The LCD provides the user all the information required. It is real-time updated and displays current MIDI channel, control value, control number, as well as MIDI channel selected. It also displays a user-defined text, up to 16 characters can be individually assigned to each knob, slider and switch, allowing the user to retrieve the controlled parameter.

Built-in programmable LFO

Bitstream Pro features a unique LFO, fully programmable. With this powerful functionality, any MIDI event can be generated by the LFO automatically. The LFO can be synchronized to the Bitstream Pro internal time base, as well as from an external MIDI clock for the most advanced users.

Programmable-chained controls & cross faders

Bitstream Pro has been also developed for people performing gigs, offering the opportunity to create linked controls (for instance, when slider 1 is tweaked, then slider 3 sends the same value than slider 1 (chained controls) with a different MIDI event). All controls can be linked together, with or without cross faders.

Built-in MIDI Merger & filter

Bitstream Pro features a MIDI merger, (i.e. all incoming MIDI events are merged with events generated by the Bitstream Pro), allowing the user to integrate Bitstream in his existing MIDI setup.




---

Bit Stream PRO FA Questions


What is MIDI ?
MIDI stands for Musical Interface for Digital Instruments. It is a common language spoken by most synths, samplers, virtual instruments and others digital effects.When you play the keyboards, MIDI OUT sends "This note must be played on this channel, with the given velocity", or "Change control number xxx to the value xxx", etc ...


What is a SYSEX ?
A SYSEX is a MIDI message that enables machines to send whatever they want to other stuff : presets, samples, special parameters, etc ... It starts with F0h and ends with F7h. Most SYSEX are not longer than 127 bytes.

What is Bit Stream PRO designed for ?
Bitstream Pro is a fully programmable MIDI controller that enables you to control every parameter of your MIDI gear in real time. You can configure every knob, slider, and button to control your prefered software (Reason, Reaktor, Fruity loops, ..) or synth.

Do I need a computer to use it ?
No. Bitstream PRO is a stand alone MIDI controller. However, you need a computer (Mac or PC) to configure the programmable mode.
Using the Bitstream Pro to control all software synths does not require any programming, indeed, all soft can be fully controlled using the
CC mode which is already programmed. Once set to fit your needs, you can use it where you want.


Is there a Mac version of the configuration software ?
The Mac version is not so enhanced as the PC version, anyway, it allows to access to all parameters of the Bitstream Pro.


Do I really need to know that to use Bitstream ?
No. Wave Idea developed an user friendly configuration software featuring more than 13000 presets for the most common synths, soft etc.
You will surely find the parameter you want to control without entering any hexadecimal MIDI code


I've a Master keyboard and I use software to create Music, How can Bitstream be inserted into my Bitstream Pro features MIDI In & Out connectors, as well as an "intelligent" MIDI merger.
MIDI out contains incoming MIDI events from MIDI in plus MIDI events generated by the Bitstream.
You simply have to connect your keyboard MIDI out to the Bitstream MIDI in, and the Bitstream MIDI out to your computer MIDI in ...
For most complicated MIDI setups, let WaveIdea know your troubles and they will help you to integrate the Bitstream in your existing setup.


---
---
---
---
---
Contacts
Wave Idea - 1300, route des cretes , BP 255 - 06905 - Sophia Antipolis Cedex - France
T el : +33 (0)616 552 335 - Fax : +33 (0)492 388 080 , info
info worldwide distribution,



---