Preview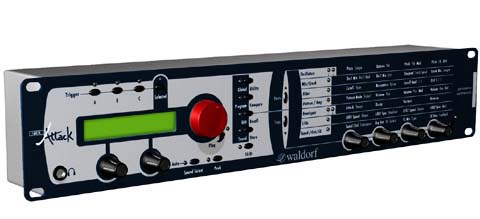 The VST software instrument is now available in a real hardware box. RackAttack integrates classic analog sounds of the 80's with the electronic club drums of the 90´s.century. The Attack´s virtual modeled circuitry synthesis is optimized for drums and percussion. Beyond those, leads, basses and effect sounds are possible too. The RackAttack has the same editing user interface found in the microQ series.
Features
Virtual modeled circuitry synthesis
up to 25 voices
50 programs
24 sounds per program (1200 sounds)
7 rotary encoders
14 buttons for editing
Pattern Play Mode
Attack VST compatibility mode
2x20 character display
6 analog outputs (configurable as 3 stereo outs)
2 analog inputs (1 stereo in)
1 headphone output
MIDI In/Out/Thru
19"/2u, rack mountable
Per sound (editable):
2 oscillators optimized for drum sound synthesis
waves: triangle, sine, square, saw, s&h, noise, 3 samples + external audio signal
FM
Ring Modulation
'Crack'-module for authentic analog hand claps
1 multimode filter per sound with different types and overdrive
4 effects including Mod Delay, Reverb, Chorus, Flanger, 5FX etc.
2 LFO per sounds
2 very fast envelopes with diffrent slopes
color: classic blue


---
---
---
Waldorf Contacts

Italy - SoundWave / Mognol Virgilio e-mail
Austria - KS music - Kindler & Stiegler e-mail
Australia - Music Technology e-mail
China - Central Music e-mail
France - UM Distribution e-mail
Germany - TSi e-mail
UK - Arbiter Music Technology e-mail
Greece - Nakas Music House - tel: ++30-210 6686000 - e-mail
Hungaria - Absolute! e-mail
Iceland - Tonastodin e-mail
Indonesia - Soul Music e-mail
Japan - Mega Fusion e-mail
New Zealand - C-Sound Distribution e-mail
Poland - Mono e-mail
Portugal - Daniel Ruvina e-mail
Russia - Binar ProSound + Light e-mail
South Africa - Network 77 Music Evolution e-mail
Spain - Ventamatic e-mail
Switzerland - Sinec e-mail
Usa - GSF Agency e-mail