Features

Easily accessible Quick Buttons allow you to instantly shape and transform your audio files

Record musical instrument samples and set loop ranges for use in sequencers and audio samplers.

Use volume scaling, normalizing and DC offset to maximize the sound quality of your audio files.

Use the zoom in and zoom out functions to edit even the smallest nuances of your file.

Multiple levels of undo and redo allow you to maintain the integrity of your sound file&emdash;even if you make mistakes.

The highly customizable mixer lets you create your own mixers.

Level meters let you visually adjust your signal to help you determine the best recording levels.

Ruler function lets you measure time in units of samples, seconds:hundredths, or hours:minutes:seconds:hundredths.

Loop Controls let you concentrate on a particular section of your file for fine editing control.

Optional split screen lets you edit two different sections of the song at the some time

Insert markers to quickly jump between specific locations and Split large files into smaller files for CD tracks or individual listening.

Benefits

Easily transform music and sounds into digital audio .WAV files for use on your PC.

Mix voice, sounds and music from different sources into one CD-quality audio file.

Turn your valuable LPs, cassettes and CDs into digital audio files, then use AudioSurgeon's tools to remove pops, clicks, and hiss from the original recordings.

Cut and paste song sections to remove unwanted applause from live recordings or create medleys of your favorite songs.

Create and edit audio clips for web pages.

Customize your desktop with your own .WAV sound effects.

Create voice over and music backgrounds for multimedia presentations.

Record CD-quality solo instrumentals of piano, guitar, etc. for theatrical presentations and other professional purposes.

Record and edit greeting messages for PC answering machine software.

Master audio recordings for duplication on CD or cassette.

Create dynamic sound clips by using effects like echo, reverse and fades to add excitement to your audio files.




---
AudioSurgeon Panel Controls







These work the same as a standard CD player to let you stop, play, record, jump to the beginning or the end, etc.



These quick button tools let you shape every nuance of your music file, including crop, cut and paste, mix paste, delete and more. There are also multiple levels of undo and redo to make sure you get your clip just right.



Add sound effects such as echo, reverse, and mor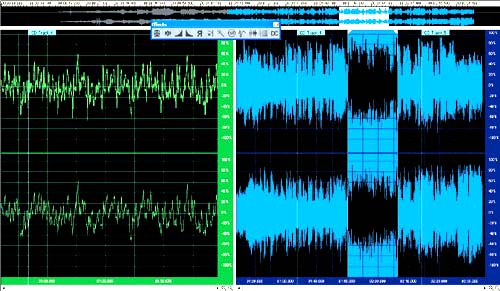 -Optional split screen allows you to edit two different selections of the song at the same time
- Zoom in to view the selection and edit the finest details
- Insert markers to quickly jump between specific locations
- Easily locate any section of the song using the overview screen
- Click and drag to define a section for editin
---
Requirements
Computer
IBM PC or compatible, with Windows-compatible SVGA display and 16-bit sound card
Processor
Pentium-class 233MHz processor with MMX™ or better (400MHz for Windows 2000 / XP)
RAM: 64 MB for Windows 98/ME ; 128 MB for Windows 2000 / XP
Hard Drive: program requires 16MB of hard drive space. You also need sufficient hard disk space to store your media files (one minute of CD-quality WAV music will typically use 10 MB of hard disk space)
Display: 800x600 High Color (16-bit)
Operating System
Windows 98
Windows Millennium Edition
Windows 2000 Professional
Windows XP Home and Professional
CD-ROM Drive
A 16X or faster CD-ROM or DVD-ROM drive capable of reading both data and audio Compact Discs.
Other
- Internet Access is required.
- A CD-R (CD Recordable) drive is needed for CD burning features. Supported CD-R models.
Recommended Setup:
PROCESSOR: Pentium II class 400 MHz processor (700 MHz for Windows 2000/XP)
RAM: Windows 98/Me 128 MB RAM, Windows 2000/XP 256 MB RAM


---
---
---

Voyetra Turtle Beach, 5 Odell Plaza, Yonkers, NY 10701, Usa
e-mail, Usa fax 914-966-1102, Usa tel. 914-966-0600

Voyetra Italy: ALBATROS Multimedia, Crespellano, Tel.: 051 96 96 79, Fax: 051 672 13 01, e-mail
---------------------
Argentina

PC MIDI Center
Ave. Santa Fe 1670. Local 67
1060 - Buenos Aires
Argentina
Telephone: 54-114-815-3568
Fax: 54-114-815-3567

Belgium

Computer 2000 2000 N.V./S.A.
Assesteenweg 117/1
1740 Ternat
Telephone: [32] 2 583 83 11
Fax: [32] 2 583 83 33
E-mail


Canada

TRIAD Distribution
20 Barnes Court, Building G
Concord, Ontario,
Canada L4K 4L4
Telephone: 1-905-738-5262
Fax: 1-905-738-9964

Croatia

Amecon under the Czech Republic listing.

Cyprus

Technosound
1 Rega Fereou Str.
1087 Cyprus
Telephone: [357] 2-499971
Fax: [357] 2-499986

Czech Republic

US Headquarters:
AMECON, Inc.
10 Ferry Wharf
Newburyport, MA 01950
Telephone: (508) 463-7469
Fax: (508) 463-7480

Czech Republic Headquarters:UniMedia
Amecon Multimedia Group Member
Attn. Igor Smerda - Managing Director
Address:
U Vystaviste 9-11
17000 Praha 7
Czech Republic
Phone: + 420 2 3338 1198
Fax: + 420 2 2431 2715
Email


Denmark

PC Industry

COMART
Brams Sidevej 1
DK-2920
Charlottenlundq
Denmark
Telephone: 39-63-66-48
Fax: 39-63-66-48

Ecuador

RGM Microsistemas C.A.
Centro Comercial La Tienda Local 001-A
Frente al C.C. Alban Borja
Guayaquil - Ecuador
Telephone: 593-207899
Fax: 593-4-202995

France

SONAMIX
Wave Systems
39 rue Louis Rouquier
92300 Levallois Perret
France
Telephone: 1-475-74506
Fax: 1-408-90595

Germany

CDV Software
Neureuter STraße 37b
76185 Karlsruhe
Telephone: 721 97224-0
Fax: 721 97224-24
E-mail


Germany

M3C Systemtechnik GmbH
Grossbeerenstr. 51
10965 Berlin, Germany
Telephone: 30 789 079-0
Fax: 30-785-68-49
E-mail:


Hong Kong / China

Dragontek International Ltd.
G.P.O Box 13512
Central Hong Kong
Telephone: 276-58873
Fax: 233-44565

Hungary

Amecon under the Czech Republic listing.

Indonesia

Express Utama
Jl. Pintu Besar Selatan No. 71-D
Jakarta 11110
Indonesia
Telephone: 21 6322332
Fax: 21 6303134

Israel

Marom Musical Instruments
68, Pinsker Street
Tel Aviv 63568
Telephone: 362-98236
Fax: 3-620-0760

Japan

(located in USA)

Grow Up Japan
1731 BuchananStreet
San Francisco, CA 94115ib
USA
Telephone: 415-771-4093
Fax: 415-771-4837

The Netherlands (Holland)

Computer 2000 B.V.
Computerweg 10-12
3606 Maarssen
The Netherlands
Telephone: [31] 34-65-85-000
Fax: [31] 34-65-85-001

New Zealand

SOLSTAT
32 Sheffield Crescent, Burnside 8005
Christchurch, New Zealand
Telephone: 3-358-7079
Fax: 3-358-7277

Poland

PMC &endash; Personal Multimedia Computers Sp. z o.o.
Emilii Plater 47 Str.
00-118, Warszawa, Poland
Telephone: 22-826-1889
Fax: 22-827-9572

Portugal

NIPOSOM, J. Nabais, LDA.
Rua Humberto Cruz, 4
1900 Lisboa
Portugal
Telephone: 351-1-848-7677
Fax: 351-1-840-95-17

Romania

SPRiNT Computers
28-30 Romana Street
2000 Ploiesti &endash; ROMANIA
Telephone: [40] 64 193 213
Web: http://www.sprint.ro

Russia

OPTIMA (name in US)
Multimedia Club (name in Russia)
80/2 Leningradsky Ave.
Moscow, Russia
Telephone: (095) 158-5386
Fax: (095) 158-5386
Web: www.online.ru./sp/mpc/digest

Saudi Arabia

Future Computer Systems (FCS)
City Center &endash; Medina Road
P.O. Box 435, Jeddah 21411
Kingdom of Saudi Arabia
Telephone: 996-2-6673120
Fax: 966-2-6675289

TRIWEF Corporation / Triad Sales International
200 Valley Road, Suite 204
Mt. Arlington, NJ 07856
Telephone: 973-770-2800
Fax: 973-770-2808

Slovakia

Amecon under the Czech Republic listing.

Slovenia

Amecon under the Czech Republic listing.

Spain

VENTAMATIC
Corcega 89, entl.
08029 Barcelona &endash; ESPANA
Spain
Telephone: (93) 430-97-90
Fax: (93) 321-31-73

Sweden

EKAB Distribution
LINKOPING AB
Molijns Vag 8
589 41 Linkoping
Telephone: 46 8 36 93 00
Fax: 13 36 93 20

Switzerland

STG Distribution
48 Chemin Naville
CH &endash; 1231 Geneva
Switzerland
Telephone: (22) 830-04-84
Fax: (22) 830-04-88

United Kingdom

Et Cetera
Valley House
2 Bradwood Court
St. Crispin Way,
Haslingden
Lancashire, BB4 4PW
Telephone: 01706-228-039
Fax: 01706-222-989
E-mail


Uruguay

Sigma Delta
Art Music Corporation
3030 Royal Palm Ave.
Miami Beach, FL 33140-4604
Telephone: (305) 672-7146
Fax: (305) 672-4604