JIMI TENOR
Lassi Letho, detto Jimi Tenor (Tenor dal suo strumento preferito, il sax tenore; Jimi da Jimmi Osmond popstar degli anni '70) alias musicista, compositore, produttore, fotografo, stilista, regista .... I suoi interessi spaziano nella varie discipline nelle quali si cimenta realizzando costantemente prodotti 'non concenzionali'. Tra l'89 e il 92 ha realizzato quattro album con la sua industrial band Shamans, ma non era ancora il tempo di essere capiti. Quando si spostò dalla Finlandia (suo Paese d'origine) a Berlino incise l'ultimo album con gli Shamans. Proseguì per New York dove fu attratto dall'arte fotografica e dove produsse dei cortometraggi veramente particolari con il suo amico Jusu Lounela. Anche il suo stile musicale si muove in diverse direzioni: jazz ironico e rilassato, prodotto nel suo home studio, che sfocia nel primo album solo "Shakomies" per la label Shako di mr.Gronlund. Nel 95 Steve Beckett rimase affascinato da una performance di Jimi: lo portò alla WARP Records e uscì l'album "Intervision". Per la stessa etichetta sono poi usciti "Organism" (99) e Out of Nowhere" (2000) registrato in Polonia con una orchestra sinfonica. Cosa dice di se stesso Jimi Tenor ? "Il mio più grande talento risiede nella mistificazione, falsificazione, nel far credere alla gente che sono un genio anche se non lo sono affatto". Comunque, qualunque cosa dica di sé, il suo saper miscelare vari ingredienti musicali che vanno dal jazz al funk, al soul, alla techno e il modo di proorli dal vivo gli hanno garantito un buon seguito di fan 'alternativi' amanti del non convenzionale, desiderosi di provare emozioni camminando su sentieri poco frequentati. Alla fine del 99 Jimi ha sposato Nicole Willis a New York. Ora risiede a Londra, dopo aver vissuto diversi anni a Barcellona.
L'ultima sua "stravaganza" è il suo attuale tour (Sahko Night) in Italia con artisti della Sahko Recordings durante il quale presenta brani da "Impostor Orchestra" e da "City of Women" (Sahko Recordings, 2000). Sua moglie Nicole (voce) e la sua band (Chris Dawkins, chitarra; Simon Pearson, percussioni; Peter Shand, bass; Jimi Tenor, keyboard "beats" del DJ d'avanguardia (finlandese) Esko Routamaa.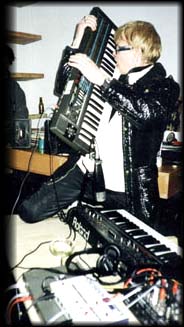 Tour
Evento speciale LIVE WEBCAST:
01 Nov 00: Tenax, Firenze, Italy (www.dada.it/tenax)
02 Nov 00: Teatro Nuovo, Turin, Italy
03 Nov 00: Tunnel, Milan, Italy
04 Nov 00: Link, Bologna, Italy
05 Nov 00: Times Zones, Bari, Italy
09 Nov 00: Theatro, Graz, Austria
10 Nov 00: Posthof, Linz, Austria
11 Nov 00: The audioroom 5 party, Casanova, Vienna, Austria
25 Nov 00: Nordik Y2K Festival, Caen, France
08 Dec 00: Spot Festival, Arhus, Denmark

Jimi Tenor Gear

Akai S20
Alesis ADAT
Boss DSD-2 delay/sampling pedal
Casio CZ-101
Digitech rack effects
Eko Rimini (Italian synth)
Fostex Spring Reverb 3180
Hammond organ
Korg KMX62 keyboard mixer
Korg MS20
Korg Poly 6
Korg Poly 800
Korg Super Percussion


Novation BassStation
Oberheim DX
Rockman Delay
Rockman Distortion
Roland RS-09
Roland S-550
Roland TR-606
Roland TR-808
Tama Techstar
Yamaha MIDI keybord
Yamaha NS10s
Yamaha QY20
Yamaha SU10


L'rgano Hammond con, sopra, una Midi keyboard Yamaha MIDI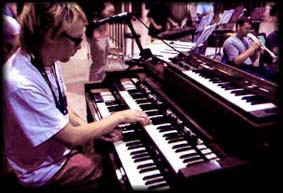 Discography - albums

2000 - Con Nicole Willis: Soul Makeover, Sähkö Recordings

2000 - City of Women 1, Sähkö Recordings

2000 - Impostor Orchestra: Heliopause, Sähkö Recordings

2000 Out Of Nowhere (songs: Out Of Nowhere, Hypnotic Drugstore, Paint The Stars, Pylon, Blood On Borscht, Backbone Of Night, Spell, Better Than Ever, Night In Loimaa, Call Of The Wild) , Warp Records

1999 Organism, Warp Records

1998 Venera EP, Warp Records

1997 Intervision, Sähkö Recordings

1995 Europa, Sähkö Recordings / Warp Records 1999

1994 Sähkömies, Sähkö Recordings

Discography - Singles

Spell: 2000, WARP Records

Total Devastation : 1999, WARP Records

Year of the Apocalypse: 1999, WARP Records

Sugardaddy / Take Me Baby: 1997, WARP Records (1. Take Me Baby, 2. Take Me Baby , 3. Sugardaddy, 4. House of the Beloved)

Sugardadd / Take Me Baby: 1997, WARP Records (1. Sugardaddy, 2. Take Me Baby , 3. Salo, 4. Outta Space)

Sugardaddy /T ake Me Baby 12" 1997, WARP Records (A1: Take Me Baby. The Swag, A2: Take Me Baby, AA1: Sugardaddy , AA2: House of the Beloved)

Sugardaddy: 1997, WARP/Rough Trade Records, RTD 126.3257.3

Sugardaddy / Part 2: 1997, WARP/Rough Trade Records

Outta Space 10" : 1997, WARP Records

Outta Space: 1997, WARP/Rough Trade Records, RTD 126.3254.3

Can't Stay With You Baby: 1996, WARP

Take Me Baby: 1996, WARP/Rough Trade Records

Jimi Tenor / Shamans:
1992 Fear of a Black Jesus
1990 Mekanoid
1989 Diktafon
1988 Total Capacity of 216,5 Litres

Filmography (regia, co-star etc.)

Dictaphone 1989

Television 1990

Diana 1991

Vera 1991

Unknown Gender 1992

promo video per Warp Records

Midsummer Night (con Tiina Shulezcy) 1997

script: Jimi Tenor; cinematography & directing: Sökö Kaukoranta

Painimies I 1992; co-directed con Jusu Lounela.

Dr. Abortenstein ; co-directed con Jusu Lounela.

Painimies II 1993; co-directed con Jusu Lounela.

Urinator 1994 30 min; co-directed con Jusu Lounela.

Sähkö The Movie1995; 45 min.