Tascam US-224
USB
AUDIO / MIDI - interface / controller
for Mac and Windows

24-bit AD and DA conversion
44.1 or 48 kHz sampling rates


The US-224 is anaffordable PC / Macintosh DAW controller and USB audio interface. Like its upmarket US-428, the US-244 offers XLR balanced and unbalanced 24-bit audio I/Os, and stereo digital I/O. The US-244 does not require the use of a sound card or any hardware installation but simply connects to the host computer with a single USB cable, via which it transmits and receives digital audio and MIDI control data; it also draws its power from the USB connection and does no require an external power supply, making it idea for use with laptop audio systems.
The unit also run in US-428 emulation mode, providing support for existing US-428 users
wishing to transfer material across from a second workstation operating with aUS-244
Four hardware faders, a jog wheel and assignable buttons provide hardware control
over any number of software faders (in banks of four), transport controls, mutes and
solos, panning, etc.. The unit supports the simultaneous use of two inputs and two
outputs at 16 or 24 bit audio resolution and 44.1 or 48 kHz sampling rates.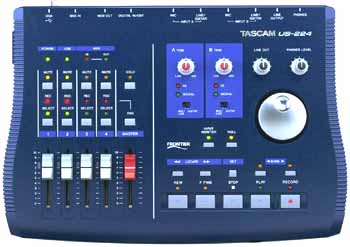 larger size




Main Features

2 XLR balanced MIC input
2 TRS balanced LINE/GUITAR input (lin/ mic/ hi-Z)
RCA unbalanced stereo LINE outputs
COAXIAL digital input and output
1 MIDI IN and 1 MIDI OUT
Headphone output
4 channel fader control, record function, 4 mute switches with BANK switches
SOLO control
Transport control
2 points locate memory control
Supports INPUT monitor
Power supply via USB (Vbus)
Bundled software: Cubasis for US-224
USB cable included (2m)




---


System requirement:






Macintosh:
CPU: Power Mac G3/266MHz or higher
OS: MacOS 8.6 or higher (Power Mac G4 or iMac with MacOS 9)

Memory: 64MB (128MB recommended)
I/F protocol: ASIO, OMS, Sound Manager

Windows:



CPU: Pentium II/266MHz or higher
OS: Windows 98SE, Windows Me, Windows 2000, Windows XP
Memory: 96MB (128MB recommended)

Host controller:
Intel 82371 AB/EB PCI to USB Universal Host
Controller
Intel 82371 SB PCI to USB Universal Host Controller
Intel 82801 AA PCI to USB Universal Host Controller
AL1 PCI to USB Open Host Controller


---

larger size
---
---
---
---

TASCAM (Parts Department)
7733 Telegraph Rd.
Montebello, CA 90640-Usa
Tel: 323-727-4840
E-mail

Tascam Italy contac: TEAC tel.(++39) 0266010500 - fax.(++30) 0266010484


---
---
---
---