Tascam US-122
USB
AUDIO / MIDI --- interface / controller
for Mac and Windows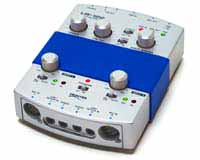 Ultra compact, portable, easy to use, professional recording capabilities for Mac and Windows laptop or desktop recording/ production systems. The tiny USB audio / MIDI interface controller is powered entirely via its USB data connection, provides two XLR phantom powered mic inputs, two 1/ 4 inch balanced line/ guitar level inputs, high quality mic pre-amp circuitry and 24 bit AD and DA conversion.
Discrete level control is provided for both left and right input channels, stereo line level monitor outputs and the headphone output. Analogue inserts are also provided for connection of processors, such as a compressor / limiter, across the inputs. MIDI IN and OUT connectors are located on the rear panel with the USB connector.
Requiring no power supply or batteries, the US-122 provides a professional alternative to installing a sound card. The US-122 enables audio and MIDI data to be processed at the same time and simultaneous recording and playback, via a single USB connection.
The US-122 is bundled with a special version of Steinberg Cubasis VST and TASCAM's
GigaStudio 24 sampling workstation, and is supplied with a USB cable.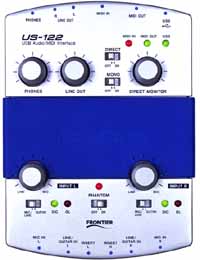 larger size




Specifications
Windows PC and Macintosh compatible USB Audio/MIDI Interface :
ASIO and MME compatibility for Windows 98SE/ ME / 2000 / XP ASIO, Sound Manager and Core Audio for Mac OS V8.6/ 9/ OS X (not supported by bundled Cubasis VST software
A/D converter: 24 Bit (Group delay; 17 samples)
D/A converter: 24 Bit (Group delay; 15.4 samples)
Sampling Frequency: 44.1kHz, 48kHz
USB Ver1.1 USB Down stream (transmission rate up to 12Mbps)
Dimensions: 145 x 62 x 98 mm
MIDI IN / OUT : Connector 5pin DIN 24bit AD/DA resolution
2 channel audio inputs and outputs
1 MIDI IN and 1 MIDI OUT
2 XLR balanced MIC inputs with volume control
2 1/4inch balanced LINE/GUITAR inputs with volume controls
2 phono unbalanced LINE outputs with volume control
2 1/4 inch balanced INSERTS
Power supply via USB
Phantom power (48V) for microphones
Input source selector between MIC/LINE and Guitar
Direct Monitoring function with a dedicated level control, On/Off switch, and Mono switch
Headphone output with volume control
Power requirement: USB Vbus (5V)
Power consumption: 2.5W
Weight: 925 grams


---


System requirement:






Macintosh:
CPU: Power Mac, iMac, G3, G4 / 266MHz or higher
OS: Mac OS 8.6 or higher (Bundled Cubasis doesn't support OS X)
Memory: 64MB
I/F protocol: ASIO, Sound Manager, Core Audio (OS X), OMS, Free

Windows:



CPU: Pentium 300MHz or higher
OS: 98SE / ME / 2000 / XP (Windows messenger should be updated in order to support XP)
Memory:128MB
I/F protocol: ASIO, MME
USB port


---
Compatible applications:
Bundled Cubasis VST / Cubasis VST
Cubase VST / SX
Digital Performer
Logic
Sonar
Any other applications supporting ASIO driver

---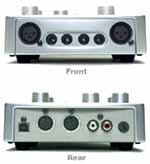 larger size
---
---
---
---

TASCAM (Parts Department)
7733 Telegraph Rd.
Montebello, CA 90640-Usa
Tel: 323-727-4840
E-mail

Tascam Italy contac: TEAC tel.(++39) 0266010500 - fax.(++30) 0266010484


---
---
---
---