TASCAM GigaStudio is a sample/ playback system that uses the power of your Windows PC to create audio productions, complete with mixing and effects.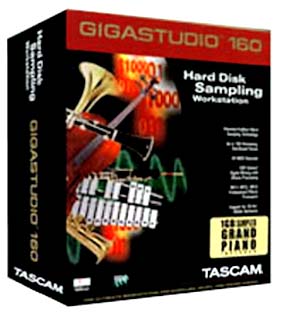 GigaStudio is based on the TASCAM GigaSampler and its Endless Wave technology, a patented system which allows samples to be streamed off the hard drive, instead of from RAM like less-advanced samplers. Instead of relatively small sample sizes that need to be looped, the Giga platform lets you work with large sample sizes: up to 4.3 gigabytes. These enormous samples may be triggered with extremely low latency on all voices using approved GSIF interfaces.
GigaStudio 160 delivers 64 MIDI channels over four unique ports, as well as dedicated MIDI input for real-time effects and mixer automation, allowing the creation of massive performances with dynamically controllable effects. Plus, GigaStudio provides up to 160 disk-based, streaming voices of polyphony in real-time.
High-quality, 32-bit effects are also available for GigaStudio. The NFX real-time signal processing series includes the NFX1 Reverb/Multi-Effects, the NFX2 Chorus/Flanger, the NFX3 Tap Delay/Auto Pan and the NFX4 EQ. Also, unlike most plug-in effects, the NFX series operates with true zero-latency performance with GigaStudio.
While dozens of sample libraries have been specifically developed for the Giga platform, GigaStudio introduces enhanced compatibility with CD-ROM libraries, as well as WAVE format samples. GigaStudio's DSP Station Mixing Console includes Volume, Pan, Effect Sends and Insert points that enable professional quality mixing without the need for additional plug-ins or hardware. All parameters can be automated via MIDI and employ a 32-bit signal path to maintain pristine digital clarity.
GigaStudio's unique QuickSound technology enables instant location and previewing of samples, waves, and instruments in real-time via an intuitive, database-assisted technology for cataloging instruments and sound samples using plain language. Just type in the type of sound you need -- piano, drums, french horn and so on -- and QuickSound will pull up all the samples that fit the description. Plus, Giga-compatible instruments don't have to be resident on the client hard drive. Users of 100-baseT or better networks can easily access mapped drives in real-time, allowing instant access to Giga-compatible systems and instruments via standard LAN connectivity. Additional professional features are: capture-to-wave (which records entire performances, including effects, faders, pan, and MIDI automation directly to disk), support for 24bit/96kHz hardware, help tools, and an advanced instrument editor (featuring advanced synthesis tools like multi-mode resonant filters, multiple envelopes and LFOs, drag and drop sample assignment, and up to 32 samples per key).


GigaStudio Comparison Chart

Features

GigaStudio 160

GigaStudio 96

Polyphony

160 streaming voices

96 streaming voices

MIDI channels

64

32

Included NFX Effects

NFX1, NFX2, NFX3

NFX1
| | |
| --- | --- |
| | Expandable sampling workstation |
| | Patented EndlessWave technology allows use of HUGE samples up to 4.3GB |
| | Ultra-low latency (3-10 millisecond) performance via GSIF interface |
| | Up to 160 streaming, disk-based voices |
| | 64 MIDI channels |
| | Supports GSIF-compatible hardware with up to 32 audio channels (GSIF compatible soundcard required) |
| | NFX professional effects processors: includes NFX1 Reverb/Multieffects, NFX2 Chorus/Flanger, and NFX3 Tap Delay/Auto-Pan |
| | 32-bit audio signal processing |
| | Mixing Console with level, pan and effects controls |
| | Support for 24-bit/96kHz hardware |
| | Enhanced sample format conversion utilities: Akai S1000/S3000, GigaSampler, SoundFont, DLS, WAVE (additional conversion tools available from third party developers) |
| | Network streaming capability |
| | QuickSound real-time interactive sound database |
| | Instrument Editor with multi-mode resonant filters (low-pass, band-pass, high-pass, notch) |
| | Behavioral Sampling and Dimensions performance sampling technologies |
| | Release triggered sampling for natural instrument resonances |
| | Embedded Help System |
| | Enhanced support for GigaSampler file formats: intelligent auditioning, up-to-500% faster load times, extended instrument information |
| | DirectSound compatible |
| | Bundled Sounds Include: GigaPiano 1GB sampled grand piano, RetroDrums Analog/Digital Percussion Set, Soundware Demo #1 |
| | $699 USD |
---
Tascam Italy contac: TEAC tel.(++39) 0266010500 - fax.(++30) 0266010484