Tascam CD 302
Dual DJ CD Decks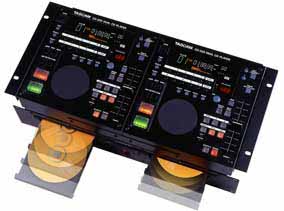 The TASCAM CD-302 dual-controller deck DJ-CD system provides a very physical degree of control over playback and mixing of the independent CD drives, housed in a 2U 19-inch rackmount enclosure. Two large rubberised rocker controls and full throw 100 mm pitch sliders are the
immediate features of the controller, while colour coded illuminated buttons and a quick glance LCD readout and separate BPM counter, make for an intelligible and intuitive control. The controller is housed in a horizontally configured 5U rack, for integration within console assemblies; the individual controllers can be separated.
Other CD-302 features include +32% pitch control, automatic Tempo sync and Beat sync. Tempo can be altered independently of any change in pitch, or together with pitch, as on analogue turntables. Likewise, the pitch of a track can be altered without any change in the tempo. Pitch can also be altered in semitone increments. There is also a BPM Tap function and a Tempo Bend function for aligning beats when mixing.
A 10 second sample function on each deck can be spun into the mix, even when the sampled CD is removed, and there's a seamless 'loop' capability and a 10 second shock and knock proof memory to prevent 'jumping'. The instant start function allows the frame accurate cuing-up of tracks from the jog wheel controls. A 1000 track memory, enables the recall of cue points, loop points, sampling points, BPM, pitch, etc).
Other features: Program Play of up to 30 tracks, Auto Cue and Auto Ready functions, End of Message function, Timer play and Relay play, Event Start and fader Start functions, a Sleep function that stops the transport motor automatically if left idle for more than 30 minutes and a transport auto-close function that automatically closes the CD tray after 30 seconds. The CD-302's high quality analogue convertors put out 98 dB dynamic range.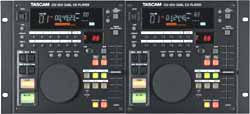 larger size
---
---
---
---
---

TASCAM (Parts Department)
7733 Telegraph Rd.
Montebello, CA 90640-Usa
Tel: 323-727-4840
E-mail

Tascam Italy contac: TEAC tel.(++39) 0266010500 - fax.(++30) 0266010484


---
---
---
---