Synful Orchestra
It is not only a sample library. It's a way to create orchestral music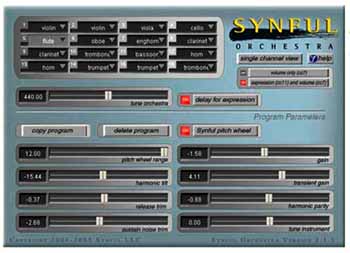 ---
euro 416,00

---
Synful Orchestra (available as VST/DXi Plugin) is now available
on MAC OS X in VST and AU formats by July 2005

Requirements
Mac OSX 10.3.9 Panther or higher or Windows 2000, XP or higher


Features
Smart articulation for staccato, legato, portamento, and accents.

RPM instruments include Piccolo , Flute, Oboe, English Horn, Clarinet, Bass Clarinet , Bassoon, French Horn, Trumpet, Trombone, Tuba , Violin, Viola, Cello, Contrabass.

Realism and expressivity using Synful RPM Technology: RPM note transition modeling, intelligent phrase fragment search and splice, RPM additive synthesis, infinite note extend without loops.

Entire orchestra fits in 32M of memory.

80-150 real-time voices on Windows P4 1.5 GHz.
70-140 real-time voices on Mac G4 PowerBook 1.5 GHz. .
Easily uses Dual Processors on the Dual G5 for more voices.

Runs on MAC OSX 10.3.9 or higher, Windows 2000,XP.

AU, VST and DXi plugins included.

Innovative RPM controls include Harmonic Tilt, Harmonic Parity, Transient Noise Trim, Sustain Noise Trim, Gain, Tune, Pitch Wheel Range, Delay for Expression, Synful Pitch Wheel mode for realistic portamento and pitch slide effects.

Natural timbral vibrato controlled with Mod Wheel.

Simple standard MIDI usage.


Synful Orchestra on Mac OS X
Mac OSX 10.3.9 Panther or higher it will work with eMagic Logic 7.x and MOTU Digital Performer as well as many other Mac sequencer programs. Any purchase of a Synful Orchestra for Windows license will be usable on the Mac version at no additional cost.


---

Demo songs: O , O , O , O , O (Paganini by Guido from SoundFonts. Italy).


---
Download a Free Trial

---
---