---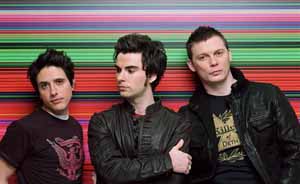 Stereophonics formed in Cwmaman, south Wales in 1996. They immediately marked themselves out as songwriters of distinction with singles like 'Local Boy In The Photograph' (1998), 'Hurry Up And Wait' (1999), 'Mr Writer' (2001) and 'Maybe Tomorrow' (2003).
They have released five albums: Word Gets Around (1997), Performance And Cocktails (1999), Just Enough Education To Perform (2001), You Gotta Go There To Come Back (2003) and Language. Sex. Violence. Other? (2005).
Stereophonics have toured the world and sold in excess of 7 million records.
---
Language.Sex.Violence.Other?
Release date: : 14 Mar 2005
Format : CD Album with bonus DVD
It might be their fifth album, but Stereophonics view Language. Sex. Violence. Other? with the same excitement as a debut record.
It's a little under two years since You Gotta Go There To Come Back – Stereophonics' third consecutive Number One album – and the band have been busy touring America, supporting David Bowie and writing and recording. There's a new member – Javier Weyler replaces Stuart Cable on drums – new working practises, and, a new, super-affirmative attitude. 'This band is so positive right now,' says Kelly. 'We've made the most exciting record we possibly could.'
Indeed they have. Language. Sex. Violence. Other? is a magnificent album. Eleven tracks. All killer, no filler. The band agreed they wanted to make something that was very different from their last album. Something that captured the listener straight away, but something that also had a lot of depth. It's a record that's already been greeted with surprise by the select few – record company, family, and friends – who've heard it. The band happily admit that the common reaction has been amused bafflement, followed by delight. It's the Stereophonics, alright. Just maybe not as you knew them.
If people are surprised, perhaps that's because the band had very definite goals this time round. This would be a very 'up' record. It would be very concise. It would play like the best set-list the band could put together. The song titles would all be one word. It would have the energy of their first album, 1997's Word Gets Around, but it would use production tricks Stereophonics had learned along their way to becoming one of Britain's most successful rock bands. It would be a very modern record.
Just the other night, Kelly was listening to You Gotta Go There To Come Back. He came to a surprising realisation. 'I was thinking 'Fucking hell! Making this we were really, really stoned!'' he says. 'It just sounded so dense.'
'We put the spliff away for this one,' chips in Richard.
'Yeah,' says Kelly. 'This one was recorded with a lot more… energy.'
In many ways, Stereophonics' new mood is down to drummer Javier Weyler. The band met the sprightly Argentinean when they were recording demos for the last album. Javier was working in the studio and they soon became fast friends. When the time came for Kelly to demo songs for this new record, Javier got behind his drum kit and the pair started jamming. Kelly found playing with a drummer in the studio, rather than writing with a drum machine, a revelation. It gave him back a spark, and the songs quickly flowed.
Language. Sex. Violence. Other?, then. The title comes from the classification code used on the back of DVDs, and Kelly wondering if it meant that everything could be broken down into those four categories or, as he says, 'is there something more?'
It's conceived to be one album where you won't have to employ judicial use of your CD player's 'skip' button. The intention was to recall the days of the classic vinyl album, where you'd play one side, listen to all the songs, and were often inspired to put the needle back to the start of the record and listen to them all over again. These days, how often do bands fill up the maximum allotted 80 minutes on a CD with flab and noodle, just because they can?
And so… lead-off single 'Dakota' is up there with the very best Stereophonics songs – a happy-sad hook that grabs you and doesn't let go. 'Doorman' is an energetic, sarcastic romp with Kelly in full joker mode. And the punchy 'Superman' is a classic modern rocker, the first song Kelly wrote for the LP, leading him to think: 'Oh fuck. That's great. Now I've got to write another nine of them!'
Language. Sex. Violence. Other? comes with special artwork by renowned graphic illustrator Graham Rounthwaite, and marks another first for the band.
Which brings us back to the original point.
'Everybody involved in this record is brand new,' says Kelly. 'It's people we've never worked with before. It's a new beginning. Where we can go from here… is just so exciting.'
Check out the band on www.stereophonics.com or www.languagesexviolenceother.com
For more info call Kas on 020 8354 4111 or email kas@mercenarypr.com
Source: V2 website
---
---