Feature Highlights
Unlimited Undo and Redo & Offline Process History





With Cubase SX you can 'rewind' to at precise moment, anywhere, whenever you want. One of the new features included in Cubase SX is the off-line processing of individual audio files which allows effects to be 'stamped' onto them layer after layer. The off-line process history lets you can jump back to any individual process such as a reverb and edit it, remove it or replace it with any other effect you desire.
Sample Accurate Automation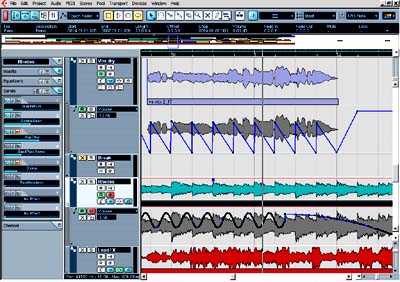 Added three automation modes: Touch fader, Auto Latch and X-over modes and also you can draw various waveforms and curves in the automation tracks. Not just audio effects and volume, even MIDI controller data and MIDI notes can be automated in seconds.
Adaptive Track Mixer



Steinberg has designed a brand new 32-bit floating-point mixer including comprehensive surround sound mixing and panning controls. So you can now mix any project to 5.1 surround format for DVD productions. And of course full mixer automation of every parameter is included.
Virtual Instruments & VST Effects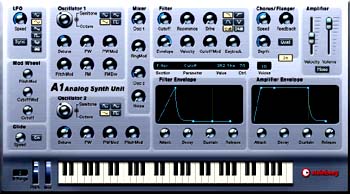 click over for larger image

Included a f new analog virtual synthesizer powered by Waldorf in addition to a 24 Bit drum machine and a bass synth. Cubase SX also features an extended range of high-quality VST virtual effect processors such as the SPL De-Esser and the QuadraFuzz distortion unit.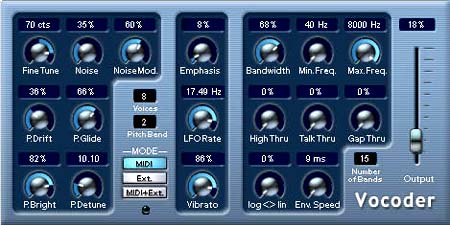 MIDI Plug-ins

Cubase SX offers real-time MIDI plug-ins such as Quantizer, Chorder, MIDI-Echo, Compressor and many more. Most of them can be inserted while playing on your MIDI keyboard . Just like any other parameter in the Cubase SX mixer, they can also be fully automated.
Professional Score Layouts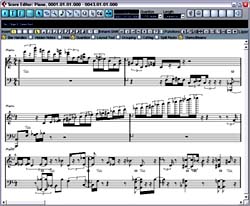 click over for larger image

Cubase SX includes all of the scoring and playback features of its older Cubase Score VST: high integration of score-writing, sequencing and music production.
---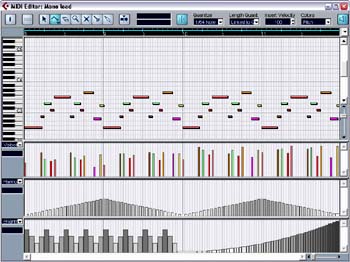 click over for larger image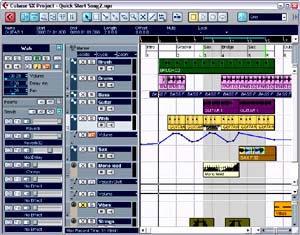 click over for larger image




click over for larger image


General Features
Interactive, real-time graphic editing
Unlimited Undo and Redo functions
VST System Link, platform independent, sample accurate networking of several computers running VST System Link-compatible host applications
Project Overview panel
Savable screen sets
User-definable keyboard shortcuts
Macro functions
Browser view for numerical editing
Best compatibility with Houston controller
Various Project Templates included
Cubase song-file import
Audio Features
Native audio, no additional outboard equipment required
Simultaneous playback of up to 200 audio tracks*
Adaptive and configurable track mixer ; three different selectable views
Track mixer channel order follows track order in the project window and vice-versa
Supports surround with freely configurable speaker setup with up to 6 discrete channelsand surround panning
Includes professional real-time VST effects and virtual instruments
Supports virtual instruments with multiple outputs (VST 2.0 standard)
Sample accurate automation with automation tracks for every audio, group track andplug-in
Apogee UV22HR dithering
8 insert effects and 8 Aux sends per channel
Effect rack for 8 send effects and 8 master insert effects
4 EQs with graphic display per channel
TrueTape recording technology for tape saturation
Up to 64 sub-groups with the same EQ and effect features as a normal audio channel
Non-destructive Part Editor
Destructive Sample Editor with offline process history
Sample accurate in-place editing of audio on Project level
Destructive rendering of virtual effect processors into parts from the Project Window (with process history)
Quick and efficient parts bouncing
Automatic creation of new version of files after destructive operations on audio materialused by several parts simultaneously
Integrated audio processes: Acoustic Stamp, Crossfade, Envelope, Fade-Ins and Outs,Gain Change, Normalize, Phase Reverse, Pitch Shift and Timestretch (MPEX algorithm), DC Offset removal, Reverse, Stereo Flip
Offline Process History allows modification, replacement or deleting of audio processing and effects already rendered into audio files
Audio / Tempo analysis, Audio / Groove analysis
Slice and Stretch for audio loops, automatic tempo matching
CD audio grabbing
Non-destructive, editable crossfades
Analysis functions , Statistically and FFT-based spectrum analysis
Scrubbing forwards and backwards
A/B selection for professional 4-point editing
Creation of 16/24/32 Bit files with a sample rate of up to 96 kHz
MP3 file support
ReWire 2 support
ASIO soundcard support for low latencies, e.g. Steinberg Nuendo 96/52
MIDI Features
Recording modes: Cycle, Mix, Overdub, Step, Punch
Editors: Key (piano keyboard), Drum, List, SysEx, Score, Logical
Direct access to MIDI controllers through MIDI plug-ins from the Inspector
Supports LTB for high-precision MIDI timing e.g. with Steinberg Midex 8
Tempo Track for graphic editing of the song tempo
Soft Quantization and Analytic Quantize
MIDI timecode synchronization
Sends MIDI clock and MIDI timecode
Supports Steinberg and Cakewalk MIDI plug-ins
Multi-lane controller editing
Score and Printing Features
32 staves per page
8 voice polyphonic
Page layout and editing
Scalable page view and printing
Text and song text modes
Drum notation
Guitar tablature
Hiding & Moving of any object
Automatic layout options
Over 100 symbols
System requirements
Minimum system requirements PC
Processor: Pentium III
Processor speed: 500 MHz
RAM (Cache): 256 MB
Hard disc: fast E-IDE
Operating system: Windows 2000, Windows XP Home and Professional
Sound card: Supports Windows MME & DirectSound spec for standard sound cards
Other Components: USB Port required
Recommended system requirements PC
Processor: P III / Athlon
Processor speed: 1 GHz or faster
RAM (Cache): 512 MB RAM
Hard disc: Even Faster EIDE/Ultra DMA or SCSI Hard Drive
Operating system:Windows 2000, Windows XP Home and Professional
Sound card: Supports ASIO 2 spec for high-end multi-channel audio cards
Other Components: USB Port required
Steinberg VST System Link

VST System Link is a system for networking computers using Steinberg Virtual Studio Technology (VST) software and Audio Stream Input Output (ASIO) hardware. VST System Link enables the transfer of synchronization, transport, and audio data between two or more workstations equipped with compatible software and hardware over standard digital audio cabling systems such as ADAT, TDIF, AES/EBU, S/PDIF etc. And because it uses the audio stream itself, synchronization is completely sample accurate, even across multiple workstation configurations.
How does VST System Link work?
VST System Link uses a single bit of the audio stream as a carrier for transport and synchronization information, plus (optionally) other bits of the audio stream for MIDI information. Several computers can be linked in a daisy chai configuration, each one passing on the accumulated information to the next via standard digital audio cables, with routing to the various systems controlled by a master software "patchbay" running on the first computer in the chain. VST System Link can also carry literally hundreds of MIDI channels down the same single channel of a digital audio cable. Once you hook up your keyboard to the computer system via a standard MIDI interface you'll never need to use MIDI cables again. Any computer in a VST System Link network can be accessed from any other, so one keyboard can play any VST Instrument loaded on to any of the other computers on the network. Don't have enough power to run 8 synths on this computer? Then run some of them on another machine and access them just as if you had a hardware synth rack in your studio. VST MIDI doesn't suffer from the same timing and bandwidth problems of traditional MIDI. VST MIDI has sample accurate timing.
What can you do with VST System Link?
Anything you can do on one computer, only doubled or tripled or quadrupled or whatever, depending on how many computers you've got. Since any audio stream can be sent to any machine, you can configure audio routing and processing in an almost infinite number of ways. You can run audio tracks on one computer, run virtual instruments on a second computer, do virtual effects processing on another computer, and mix it on a fourth computer. All you have to do is link their ASIO soundcards with the appropriate digital audio cables.
Is VST System Link cross-platform? Cross-application? Can you use it on a laptop?
Yes. It's no problem to network both Windows and Macintosh machines with VST System Link. The VST engine doesn't care which OS it's running, it just sends data via the cross-platform ASIO protocol. And it's also cross-application; both Nuendo and Cubase can be networked seamlessly together as one system. If your laptop has some kind of digital I/O (for example the new Nuendo Audiolink 96 interfaces) you can also network it with your desktop computer. So for example someone using a Titanium PowerBook for field recording can bring the machine into the studio, link it with the Windows machine there, and start working immediately without needing to wait to transfer files or burn a CD ROM. The two systems (running VST System Link-compatible host applications) will automatically co-exist as one.
VST System Link applications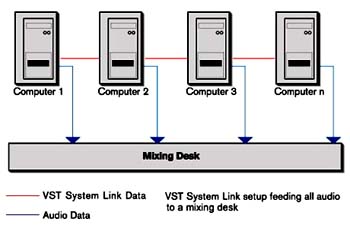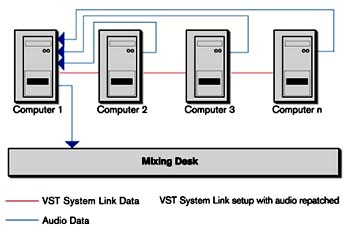 Post Production
In this scenario, several engineers and producers can work on different areas of the same project. For example, one workstation can be configured to do sound effects, another can be doing dialogue editing, and another can be working on background music. Each machine canstream its output to the master mixing console, all the streams being time locked by VST System Link's sync protocol. Or they can all stream to yet another computer for virtual mixdown. Of course yet another machine can be used to run digital video in perfect synchronization too, with a lockup time of only a few milliseconds.
Musik Recording
Here one workstation can be the virtual tape machine, while another is dedicated to just running virtual instruments. This allows the keyboard player to layer up huge synth sounds and samples on his own computer without affecting the tracking engineer's ability to record lots of audio tracks quickly; yet still have all the data from both of them locked together instantly, and without having to run mounds of audio cables around the studio: all you need is one digital audio cable to handle it all.
Music Mixing
This setup has one machine as the virtual mixer, one as an effects rack, and another is running virtual instruments. The mixer station handles audio playback with lots of EQ and dynamics processing; virtual instruments are running on a second machine; then both audio and virtual synth tracks run together to the third computer for adding reverbs, flangers, etc. For mixes with lots of audio tracks, tracks can be split across computers to give a pseudo RAID effect. In this scenario there is no latency in mixing the virtual instruments, nor is there any timing fluctuation; and the full 32 Bit resolution of the virtual synths and the effects outputs is passed directly to the mixing computer.
Project Studio
How many times have you upgraded your computer and wondered what to do with the old one? Now it just becomes another processor in your system. Use it as a dedicated keyboard rack full of virtual synths, or load up HALion and use it as a powerful sampler, or add that new surround reverb effects processor without having to worry about it hogging your main machine's processor. An old computer can be invisibly hooked into a project system with very little effort and cost, and give great results in whatever capacity you need.
---
Steinberg Media Technologies:
Neuer Hoeltigbaum 22-32, 22143 Hamburg (D)
Phone: +49-40-21035-215 - e-mail

Selected worldwide contact:s
Italy - Midiware, Roma e-mail
Steinberg Australia - A Division of Musiclink Australia, Victoria e-mail
Austria -KS Music, Spielberg e-mail
Netherlands - BMI Groothandel, Den Haag e-mail
Bulgaria - Almar, Sofia e-mail
China - Tom Lee Music, Hong Kong e-mail
Denmark - New Musik, Aarthus e-mail
Steinberg France - Roissy e-mail
Greece - Philippos Nakas Music House, Athens e-mail
India - Audio Media, Chennai Tamil Nadu e-mail
Switzerland - SDS Music Factory, Zurich e-mail
Spain - Adagio, Montcada I Reixac /Barcelona e-mail
Russia - A&T Trade Music, Moscow e-mail
New Zealand - Music Works, Auckland e-mail
Malaysia - Digimedia, Ampang Selangor e-mail