Minimum

PC Version

Processor

Pentium / Athlon 800 MHz (Pentium / Athlon 1.4 GHz or faster recommended)

RAM : 384 MB (512 MB recommended)

Operating System

Windows 2000, Windows XP Home or XP Professional

Sound Card

Windows MME compatible audio hardware (ASIO compatible sound card recommended)

Other

USB component connector required, Display Resolution 1024 x 768 pixels (Display Resolution 1152 x 864 pixels, dual monitor setup recommended)

Mac Version

Processor

PowerMac G4 867 MHz (PowerMac G4 Dual 1,25 GHz or faster recommended)

RAM : 384 MB (512 MB recommended)

Operating System

Mac OS X 10.2.5 or higher

Sound Card

CoreAudio compatible audio hardware

Other

USB component connector required, Display Resolution 1024 x 768 pixels (Display Resolution 1152 x 864 pixels, dual monitor setup recommended


Steinberg have released Cubase SX 2.0, which is a major update containing over 100 new features such as the new VST audio engine with 32-bit floating point audio resolution, Freeze function for VSTi's, real multi-channel surround, Stacked Recording mode and the freely configurable user interface. And because Cubase SX is a native application, users can choose which audio and control hardware they wish to work with.


Main New features


Complete multi-channel audio path

Insert and Send effect routing



full size

Instead of just mixing mono or stereo sources into a multi-channel bus, Cubase SX 2.0 offers true multi-channel surround capabilities with up to six channels across its entire signal path. A single audio track can hold a multi-channel audio file, sends and inserts can include up to six discrete channels.


Full latency compensation

Cubase SX 2.0 plug-in properties window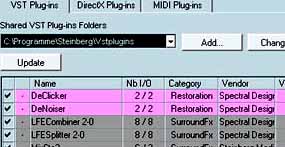 full size


The new full plug-in delay compensation in Cubase SX 2.0 ensures sample-accurate timing along the entire audio path, including aux sends, group channels and FX return channels , even when using effects from DSP cards such as the Universal Audio UAD-1 or TC Works' Powercore.


FX return channels

A close-up of the Cubase SX 2.0 return channels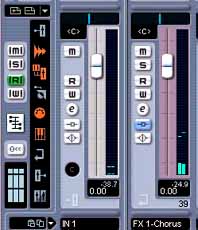 full size

The VST effects rack has been replaced by FX return channels. Each send effect now has its own return channel, offering the same tools as any other audio cannel , including EQ, inserts and automation. A reverb can now have EQ. A single aux send can now run the signal through a whole line of effects. ,


User-definable Input and Output busses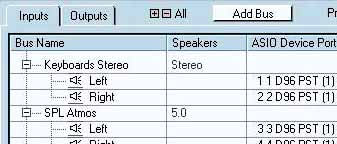 full size

In the new VST Connections window, users can define their own input and output bus objects. Any source connected to the audio hardware can be defined as an input object in the VST mixer. This object can then be used as a source for an audio track. Useful for defining complex multi-channel objects which can then be assigned by a single click.


New "Freeze" function for VST Instruments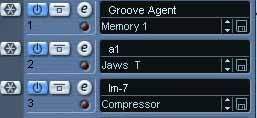 full size

The new Freeze function in the VST instrument rack improves CPU performance. With just a single click, VST instruments can be rendered into simple audio files, freeing up computer's CPU power for more effects, instruments and tracks. The "frozen" VST instruments can be edited at any time without the need to keep multiple versions of the same song.


Mixer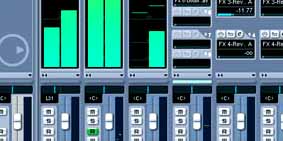 full size

The new, freely configurable mixer is the command center for the mix. Implementing the latest VST 2.3 standard, each mixer channel can run up to 6 audio channels, ready for full 5.1 surround productions. New, additional views for the top half of the mixer include enlarged VU meter, EQ curve and surround panner. New options such as new panning modes, phase reverse and gain trim per channel .


Part Editing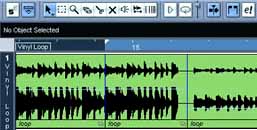 full size

With the new Stacked Recording mode for audio, consecutive or cycle recordings can be made on the same audio track with passes displayed directly in the Project Window on separate lanes, ready for editing and compiling. Now, a single keystroke collapses the final edits into a single lane. In addition, multiple audio/MIDI parts from different tracks can be opened within the same editor window.


Transport Bar




full size

The new Cubase SX 2.0 Transport Bar offers a range of new features and display information. A new scrub dial, Direct access to markers, VST and Disk Performance displays, VU meters for audio input and output as well as a volume control for playback are all now available directly from the Transport Bar. All elements can be displayed or hidden as desire



---
---
How do you update?

From Cubase SX 1.0 to Cubase SX 2.0
From Cubase SE/SL to Cubase SX 2.0
From Cubase VST to Cubase SX 2.0

Together with your software CD and extensive user manual, you also receive your authorization code. With this code, you can activate your current copy protection device (dongle) for Cubase SX 2.0; this is done quickly and easily either online or through email.

Where can you get this update?
Your Steinberg distributor gives you the choice of getting your update directly over the internet or through your local dealer. Whichever you decide on, please first make sure that you are already registered as a customer with Steinberg.

Please note: Steinberg distributors have special upgrade offers for customers who bought their Cubase SX 1.0 after the 1st August 2003. Contact your Steinberg distributor for details.

---
---
---
---
---
---
---
---
---
Steinberg Media Technologies:
Neuer Hoeltigbaum 22-32, 22143 Hamburg (D)
Phone: +49-40-21035-215 - e-mail

Selected worldwide contact:s
Italy - Midiware, Roma e-mail
Steinberg Australia - A Division of Musiclink Australia, Victoria e-mail
Austria -KS Music, Spielberg e-mail
Netherlands - BMI Groothandel, Den Haag e-mail
Bulgaria - Almar, Sofia e-mail
China - Tom Lee Music, Hong Kong e-mail
Denmark - New Musik, Aarthus e-mail
Steinberg France - Roissy e-mail
Greece - Philippos Nakas Music House, Athens e-mail
India - Audio Media, Chennai Tamil Nadu e-mail
Switzerland - SDS Music Factory, Zurich e-mail
Spain - Adagio, Montcada I Reixac /Barcelona e-mail
Russia - A&T Trade Music, Moscow e-mail
New Zealand - Music Works, Auckland e-mail
Malaysia - Digimedia, Ampang Selangor e-mail