Switchable HDV/DV Recording
The HDR-FX1 is capable of recording and playing back both high-definition and standard-definition video recorded on standard MiniDV cassettes.

Real-Time HD Codec Engine
Sony developed a real-time MPEG encoding/decoding system with reduced energy consumption and a compact size to fit inside a personal camcorder. Provides efficient MPEG-2 compression and recording and playback of clear HD images at the same bit rate of the DV format, so that high-definition video can be recorded on the same cassettes as are used for MiniDV recording.



Technical Specifications:-

Imaging Device: 3- 1/3" 16:9 1120K Pixel Advanced HAD™ CCDs
Video Actual: 1070K Pixels
F: 1.6 – 2.8
Focal Distance: 4.5 – 54.0mm
35mm Conversion: 32.5 – 390mm
Filter Diameter: 72mm
Optical Zoom: 12X
Focusing: Full Range Auto/Manual (Ring) / One Touch
Minimum Illumination: 3 lux
NightShot Infrared System: N/A
Shutter Speed: 1/4 – 1/10,000 (in AE Mode)
Viewfinder: Color, Precision 16:9 (252K pixel)
LCD: 3.5" 16:9 (250K) Precision Hybrid Color1
Accessory Shoe: Yes (Cold)
Video Input/Output: Yes (Composite (Mini) and S-Video/Yes (Component, Mini, and S-Video)
Audio Input/Output: Yes/Yes (Stereo, Mini)
i.LINK2 DV Interface (IEEE1394): Yes
USB: N/A
USB Streaming: N/A
Headphone Jack: Yes (Stereo, Mini)
Mic. Input: Yes (Stereo, Mini)
White Balance: Auto/One-Push (A)(B)/Preset
Iris Control: Yes, Gain Independent
Power Consumption (VF/LCD/VF+LCD): 7.4W / 8.0W / 8.4W

Dimensions (WHD):
6" x 7 1/8" x 14 3/8"
cm. 15 x 18 x 36
Weight: 4 lbs 4 oz
Kg. 1, 940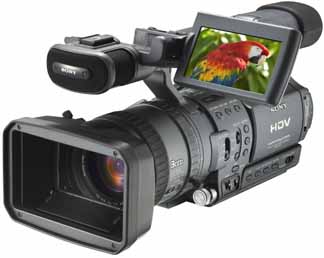 MPEG-1 Audio Layer II
The HDR-FX1 records audio in MPEG-1 Audio Layer II while recording in HDV format. This provides outstanding sound quality even when compressed. In the standard DV format, audio is recorded in either 12- or 16-bit PCM digital stereo for audio quality that rivals that of a CD.

i.LINK2 DV Interface (IEEE1394)
High-speed, bidirectional digital video/audio communication between two compatible devices equipped with IEEE1394 interfaces, including camcorders, digital VCRs, and PCs.

Manual Iris Control
By turning the iris dial on the side of the camera, the user can manually adjust the amount of light entering the lens. The iris is adjustable from f1.6 to f11, in 24 steps.

CineFrame Recording
Provides the option of recording video at either 25 frames per second or the filmlike 25 fps

Analog/Digital Conversion with Pass-Through
Convert or record any analog PAL video source to digital video via the analog inputs. Analog PAL video can also be passed through the digital handycam directly into a computer via the i.LINK2 interface--in real time, for easy computer editing of your analog footage.

What's in the Box?
The HDR-FX1 camcorder, an AC-L15 power adapter/in-camera charger, an NP-F570 InfoLithium rechargeable battery, a RMT-831 Remote Commander wireless remote control, a AA battery, a lens hood, a lens cap, a multi A/V cable, a component video cable, a cleaning cassette, a shoe adapter, a large eye cup, and a shoulder strap.




Third party editing software

Along with the announcement of the HDR-FX1, Apple Computer is announcing support for the HDV spec with their popular video editing program, Final Cut. "Native HDV support in future releases of Final Cut will enable our customers to create high quality HD content with affordable HDV cameras, including Sony's much anticipated HDR-FX1 camcorder," said Rob Schoeben, Apple's Vice President of Applications Marketing.

Adobe has also stated that they will be releasing an HDV plug-in for their popular Premiere editing system later this year. "The Sony HDR-FX1 is a milestone product, bringing HD-quality video at resolutions of up to 1080i at a price that will encourage widespread adoption of HDV across the industry. In keeping with our commitment to lead the HD revolution, Adobe plans to release a HDV Plug-in for Adobe® Premiere® Pro later this year," said Steve Saylor, Vice President, Digital Imaging and Video, Adobe Systems, Inc.

Avid, Canopus, Ulead and Pinnacle also announced support for HDV. Editing support has been a big issue for HDV in the past, with third party companies supplying solutions for Final Cut and Adobe Premiere.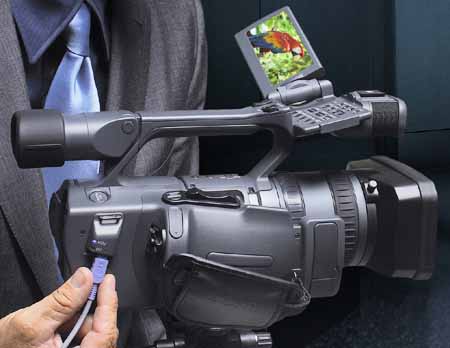 Audio
Audio dubbing a 12 bit Sì
Altoparlante incorporato Sì

Bluetooth
Profilo standard No
Profilo accesso remoto No
Profilo accesso generico No

Fotocamera
14bit DXP Sì
Tecnologia Advanced HAD No
Compensazione controluce Sì
Riduzione disturbi Sì
Messa a fuoco: Automatica (raggio d'azione completo) Sì
Messa a fuoco: Manuale Sì
Registrazione Intervallata No
Illuminazione minima (lux) 3
Illuminazione minima con NightShot (lux) 3
Messa a fuoco spot (Touch Panel) No
Esposimetro spot No

Dimensioni
Profondità (mm) 365
Altezza (mm) 181
Larghezza (mm) 151

Flash
Comparsa automatica No
Hologram AF No
NightFraming (inquadratura notturna) No

Connessioni
Ingresso Audio Sì
Uscita Audio Sì
Ingresso i.LINK™ (DV) Sì
Uscita i.LINK™ (DV) Sì
Ingresso i.LINK™ (MICROMV) No
Uscita i.LINK™ (MICROMV) No
Ingresso S-Video Sì
Uscita S-Video Sì
Terminale USB No
Ingresso Video composito Sì
Uscita Video composito Sì

Obiettivo / zoom
Otturatore lento a colori: Modalità Camera Sì
Diametro filtro (mm) 72
Zoom digitale di precisione No
Rapporto zoom (ottico) 12

Memory
Scatti in sequenza mod. Auto Exposure Bracketing No
Scatti in sequenza mod. Multipla 9 foto No
Riproduzione indice No
Memory Mix No
Compatibilità Memory Stick PRO™ No
Compatibilità Memory Stick™ R No
Scansione progressiva No
Sistema con otturatore progressivo No

Funzioni di Rete
Funzione album No
Funzione e-mail No
Funzione di rete No
Funzione di rete USB No
Browser No
Connessione senza fili con funzione Bluetooth™ No

Altro
Modalità 16:9 Wide (Ampio) Sì
Accessory Shoe Sì
Informazioni batteria Sì
Luce incorporata No
Tempo di registrazione continua con batteria fornita e mirino (min) 125
Modalità dimostrativa No
Sistema InfoLITHIUM Sì
Tempo max di registrazione continua con batteria opzionale e mirino (min) 390
Consumo energetico: LCD (W) 7.9
Consumo energetico: Mirino (W) 7.3
Modalità di registrazione progressiva No
Streaming USB No
Peso senza nastro / batteria 2000

Accessori in dotazione
Adattatore SCARTa 21 pin Sì
Copriobiettivo Sì
Tracolla Sì
Penna stilo No
Nastro / Nastro di pulizia Sì
Cavo USB No
Driver USB No
Cinturino da polso No

Mirino / LCD
LCD ibrido Sì
LCD: Pixel (punti) 250880
LCD: Dimensioni (pollici) 3.5
Touch Panel No
Mirino: Pixel (punti in migliaia) 252

VTR
Cassette Memory No
Riproduzione Hi8/Video8 No
Registrazione LP Sì
Riproduzione NTSC su TV PAL Sì
Playback Zoom No
Funzione conversione segnale Sì




---
---
---
---