The DMX-R100 features latest technology from Sony, a fully professional digital mixer designed for the production of high quality stereo and surround sound projects. It offers extensive features and processing quality.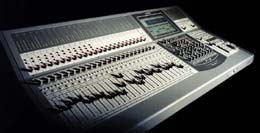 The control surface of the DMX-R100 is based on the same principles of 'positive assignability', developed for the large scale Sony OXF-R3 mixer. Freelance engineers will find the DMX-R100 highly fast and intuitive to operate.
It has been designed to handle a wide range of audio production tasks, including DVD sound tracks, high quality music recording, surround sound TV production.
The DMX-R100 has extensive snapshot and dynamic automation. The snapshot system allows operating modes to be 'instantly' recalled, so minimising down time between projects. The dynamic automation provides a complete set of creative tools for the mixing process. Many standard integration features reduce the need for external interface devices. This makes the mixer simple to install and reduces the overall system cost. These features include an internal wordclock generator, video reference input, comprehensive machine control, timecode reader/generator and ports of PC ports for keyboard/mouse/VDU.
All of the DMX-R100 components are contained in the mixer unit. The mixer is highly compact (weighs 55 Kg, width 1.2 metres) and power consumption is only 200 W and very importantly the DMX-R100 is acoustically silent.
Features
Surround Sound processing
DMX-R100 can be operated in both stereo and surround sound (5.1) modes. The comprehensive surround sound processing includes mixing, panning and a '6-way' control room monitor output. Surround panning is directly controlled by moving the cursor on a touch screen GUI, it can also be controlled by an externally connected PC mouse.
Standard and double sample operating mode
DMX-R100 can operate at standard (44.1 and 48kHz) and at double sample rates (88.2 and 96kHz). At double sample rates the number of processing channels is effectively halved (24 input channels and eight output buses). All of the analogue and AES/EBU I/O operates in both standard and double sample modes.
Audio processing
The 1.2 metre wide DMX-R100 offers a large amount of processing channels. The standard specification is 48 inputs channels (plus 8 simple aux return channels) and 18 output buses (8 multi-track, 8 Aux and the stereo PGM). There are a total of 66 EQ and dynamics processing sections, the input channels also offer HP/LP filters and a programmable delay (999milli-sec at 48kHz).
Analogue converters
All of the analogue inputs and outputs on the DMX-R100 are 24-bit and operate at both standard and double sample rates. All of the analogue I/O is also balanced (except the inserts). As standard the mixer is supplied with 24 mic/line inputs, 12 of which can be phantom powered (48v), and 18 analogue outputs. Additional analogue I/O can be configured into the four option slots.
Control surface : 25 high quality touch sensitive faders
The DMX-R100 has a highly intuitive control surface designed around the concept of 'positive assignability'. An experienced sound operator will find the DMX-R100 simple and fast to operate. The DMX-R100 features 25 high quality touch sensitive faders that provide 10-bit control resolution. The touch sensitivity provides significant operational advantages in automatio modes.
Internal audio routing matrix
The internal audio matrix not only provides extensive crosspoint switching for virtually every input and output but also eliminates the need for an external patch bay. The crosspoint settings of the matrix can be stored in mixer snapshots, allowing the studio to quick re-configure between sessions.
Audio I/O configurations
In addition to the standard audio I/O, the DMX-R100 has four option slots that can be configured from seven types of audio interface cards. These four slots allow a total of 32 input and output signals to be interfaced. Audio interface formats support are: analogue, ADAT, TDIF and AES/EBU, there is also a sample rate converter option for non-lock digital sources (AES/EBU and SPDIF).
Machine interfacing
DMX-R100 can be directly interfaced into virtually any multi-media machine control system. The standard machine control features include: timecode reader/generator, two RS-422 ports and midi (In, Out, Thru and MTC). The mixer can accept a wide range of international timecode modes. Cut switches and Pan can also be read and controlled from the midi ports, allowing the mixer to interface with PC based audio editors.
Multiple synchronisation modes
A high precision internal reference generator can be used as the studio master reference. Additionally, the mixer can be synchronised to an external video, wordclock reference or any of the digital audio input sources. The mixer always generates a wordclock output sync signal.
Reliability
The DMX-R100 is designed for critical audio installations that demand trouble free operation. The mixer is supplied with extensive diagnostics features and it is back up by the Sony service organisation.

Supplied Accessories:
Power cable, Operating manual
Optional
DMBK-R101: 8 channel analogue input card
DMBK-R102: 8 channel analogue output card
DMBK-R103: AES/EBU I/O card (8 mono inputs and 8 mono outputs)
DMBK-R104: Digital input card with sample rate converter (AES/EBU and SPDIF)
DMBK-R105: Analogue insert cards
DMBK-R106: ADAT interface card
DMBK-R107: TDIF interface card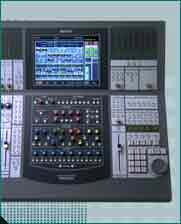 Technical specs
AUX RETURN: 4 ch, AES/EBU, XLR-3-31 type (x 2)
Digital Outputs PGM OUT: 2 ch (stereo), AES/EBU, XLR-3-32 type (x 1)
Analogue Inputs Analog IN-A 12 ch / +24 dBumax., 4.7 ko, balanced, XLR-3-31 type (x 12)
Analogue Outputs PGM OUT: 1/4" TRS jack and XLR-3-32 / +4 dBu (+24 dBu max.), 10 ko load, output impedance 150o , balanced
Analogue Insertion: Signal INSERTION (SEND/RETURN): unbalanced, 1/4" TRS jack (x 12) / 12 ch, 0 dBu (+20 dBu max.), 10 ko load, input impedance: 10 ko, output impedance: 150 o,
Control Signal Inputs/Outputs : Word Sync IN/OUT Duty 50 %, TTL Compatible, 75 o, BNC (x 1, each)
Signal Processing 32/40-bit floating point
Equalizer High Frequency (Peak/Shelf) 1 Fs : 622 Hz to 19.9 kHz (61 points)
Filters High Cut Filter 1.48 kHz to 22.35 kHz (48 points)
Dynamics Compressor/Ducking
Oscillator Frequency 20 Hz to 20 kHz (28 points),
32 Signal level meters 20 segment LED
Snapshot Automation - Contents: Input routing,delay, phase, triming, input mode, filter, equalizer, dynamics, pan, assign, cut, fader, AUX
Dynamic Automation - Contents: Filter, equalizer,dynamics, pan, assign, cut, fader,AUX
Fader Resolution 10-bit (1024 steps)
Audio Frequency Response : LINE IN to PGM OUT 20 Hz to 20 kHz, 0.2 dB (typical)
Total Harmonic Distortion: LINE IN to PGM OUT 0.01%, at +4 dBs, 1 kHz (typical)
Noise Level
LINE IN -104 dBu, 600 terminated (-80 dB , 4 dB standard) (typical)
Crosstalk Between Input and Output Channels 90 dB at 1 kHz
Dynamic Range LINE IN to PGM OUT104 dB
A/D Converter 24-bit, x 128 oversampling
D/A Converter 24-bit, x 128 oversampling
Total Delay 2.5 ms (between LINE IN and PGM OUT), Fs = 48 kHz
Power Requirements AC 100 V (J), 120 V (UC), 240 V (CE), 50/60 Hz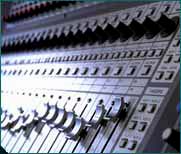 ---

DMX-R100

Console digitale di missaggio audio a 48 canali
Mixer digitale a 8 bus di livello professionale

Il DMX-R100 mette a disposizione degli operatori o proprietari di studi audio la tecnologia Sony più avanzata, un mixer digitale di livello professionale realizzato in particolare per progetti stereo e Surround Sound di elevata qualità.

Il banco di controllo del DMX-R100 si basa sugli stessi principi della assegnabilità positiva , sviluppata per il mixer Sony OXF-R3 di formato più grande. Tecnici freelance noteranno che il DMX-R100 è veloce e il suo funzionamento intuitivo.

Il DMX-R100 è stato realizzato per gestire un'ampia gamma di attività di produzione audio, comprese tracce audio DVD, registrazioni musicali di alta qualità e produzioni televisive Surround Sound.

Il banco di controllo è stato realizzato in modo che non vi siano barriere per operare sulla console. Ad esempio, è presente un gruppo completo di comandi per l'elaborazione dei canali su un pannello assegnabile (30 a rotazione e 50 selettori). I comandi sono molto sensibili e ad alta risoluzione, per creare una sensazione analogica . L'elaborazione audio del mixer e' affidata ai circuiti digitali e analogici ad alte prestazioni.

Il DMX-R100 presenta un elevato grado di automazione dinamica e per istantanee. Il sistema per istantanee consente di richiamare

istantaneamente le modalità operative, in modo da ridurre i tempi morti fra i progetti. L'automazione dinamica prevede una gamma completa di strumenti creativi per la fase di missaggio.

Il DMX-R100 presenta molte funzionalità per l'integrazione standard che non richiedono l'uso di apparecchiature per interfacce esterne. Pertanto il mixer è semplice da installare con costi generali ridotti. Tali funzionalità comprendono un generatore wordclock interno,ingresso di riferimento video, controllo completo del sistema, lettore/generatore del codice temporale e porte per tastiera/mouse/VDU.

Tutti i componenti sono alloggiati nel mixer. Il mixer è compatto (pesa 55 Kg ed è largo 1,2 metri, il consumo energetico è di soli 200 W.

Caratteristiche

Elaborazione Surround Sound

Può funzionare nelle modalità Stereo e Surround Sound (5.1). L'elaborazione Surround Sound comprende missaggio, panning e un'uscita monitor di regia a 6 vie . Il surround panning è controllato direttamente mediante spostamento di un cursore su una GUI a sfioramento, ma può essere controllato anche da un mouse esterno collegato a un PC.

Campionamento standard e doppio

Ppuò funzionare a frequenze di campionamento standard (44.1 e 48kHz) e doppie (88.2 e 96kHz). A frequenze di campionamento doppie, il numero di canali di elaborazione viene di fatto dimezzato (24 canali in ingresso e 8 bus in uscita). Tutti gli AES/EBU e I/O analogici funzionano nelle modalità di campionamento standard e doppio.

Elaborazione audio

Il DMX-R100, largo appena 1,2 metri, offre molti canali di elaborazione. Le specifiche standard sono 48 canali in ingresso (più 8 canali di ritorno aux) e 18 bus in uscita (8 multitracce, 8 Aux e PGM stereo). Vi sono in tutto 66 sezioni EQ e di elaborazione dinamica, i canali di ingresso offrono anche funzioni di filtro HP/LP e ritardo programmabile (999 millisecondi a 48kHz).

Convertitori analogici di alta qualità

Tutti gli ingressi e le uscite analogiche del DMX-R100 sono a 24 bit e funzionano alla frequenza di campionamento standard e doppia. Anche tutti gli I/O analogici sono bilanciati (ad configurazione standard, il mixer è completo di 24 ingressi mic/linea, 12 dei quali possono operare a potenza Phantom (48 v), e 18 uscite analogiche. E' possibile configurare I/O analogici supplementari nei quattro slot opzionali.

Banco di controllo ergonomico con 25 controlli dissolvenza a sfioramento di elevata qualità

Il DMX-R100 ha un banco di controllo molto intuitivo realizzato attorno al concetto di assegnabilità positiva . Un tecnico audio esperto noterà che il DMX-R100 è facile da operare ed è veloce. Ha 25 controlli dissolvenza a sfioramento di alta qualità per una risoluzione di 10 bit. La sensibilità dello sfioramento offre notevoli vantaggi pratici nelle modalità automatiche.

Matrice interna di routing audio

La matrice audio interna del DMX-R100 non solo fornisce una commutazione crosspoint per tutti gli ingressi e le uscite, ma elimina la necessità di un vano di connessione esterno . Le impostazioni crosspoint della matrice possono essere memorizzate in istantanee, in modo da consentire la riconfigurazione rapida in studio fra le varie sessioni.

Configurazioni I/O audio

In aggiunta all'I/O audio standard, il DMX-R100 è provvisto anche di quattro slot supplementari che possono essere configurati da sette tipi di schede per interfaccia audio. Questi quattro slot consentono di interfacciare un totale di 32 segnali in ingresso e in uscita. I supporti per i formati di interfaccia audio sono: analogico, ADAT, TDIF e AES/EBU; è inoltre presente un'opzione per convertitore di frequenza di campionamento per sorgenti digitali non sincronizzate (AES/EBU e SPDIF).

Interfacciamento

Il DMX-R100 può essere interfacciato direttamente con qualsiasi sistema di controllo multimediale. Le funzioni di controllo standard comprendono: lettore/generatore del codice temporale, due porte RS-422 e midi (In, Out, Thru e MTC). Il mixer può accettare un'ampia gamma di codici temporali internazionali. E' possibile leggere e controllare selettori Cut e il p

Modalità di sincronizzazione multiple

Il DMX-R100 ha un generatore di riferimento interno di elevata precisione che può essere usato come il riferimento master in studio. Il mixer può inoltre essere sincronizzato ad un video esterno, ad un riferimento wordclock o ad una delle sorgenti in ingresso audio digitali. Il mixer genera sempre un segnale sync di uscita wordclock.

Affidabilità

Il DMX-R100 è stato realizzato per installazioni audio complesse che richiedono un funzionamento esente da problemi. Il mixer è completo di molte funzionalità di diagnostica ed è supportato dalla rete di assistenza Sony.

Accessori forniti :

Cavo di alimentazione , Manuale di funzionamento

Accessori opzionali

DMBK-R101: scheda ingresso analogico a 8 canali

DMBK-R102: scheda uscita analogica a 8 canali

DMBK-R103: scheda I/O AES/EBU (8 ingressi mono e 8 uscite mono)

DMBK-R104: Scheda di ingresso digitale con convertitore della frequenza di campionamento (AES/EBU e SPDIF)

DMBK-R105: Schede insert analogiche

DMBK-R106: Scheda interfaccia ADAT

DMBK-R107: Scheda interfaccia TDIF anning dalle porte midi, per consentire l'interfacciamento con programmi di editor audio per PC.