Only 1.5kg including media and battery.

Records in most broadcast formats, including linear .wav and mpeg layer 2, providing instant compatibility with most studio editing and broadcast systems.

Uses PCMCIA hard disks or flashcards.

No need for audio dubbing - plug the PCMCIA card into your PC and play out directly.

Built-in, sophisticated, easy to use editing functions.

No need to race back to the studio if you're in a remote location. To file reports, connect Courier to a modem or directly to your GSM mobile phone.



Carry out live reports with the optional ISDN version or with the CO-TBU telephone balance unit.
Anti-shock, robust packaging using strong shatterproof ABS plastic, with protection buffers to prevent damage.
Uses widely available rechargeable camcorder batteries, or optional AA cells, which can be changed whilst recording.

---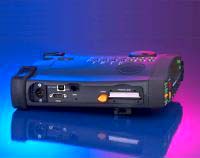 Now with USB Connection

The Courier has been enhanced with a USB connection so that fast downloads to the PC can be made. The USB port works in addition to the RS232 serial port and the optional ISDN connection. The new version of Courier has a USB B connector supporting USB 1.1 and enables downloads to the PC of up to 40 times real-time speed. Supplied with the new Courier is software to enable connection to Windows Explorer in Win 98 and Windows 2000. The USB connection allows the flashcard or hardisk used for recording to be permanently stored in the Courier without the need for removal. Files can be quickly downloaded to a PC by USB, the disk wiped and recording started again in a fraction of the time normally needed.

Portable Power With Hot-Swap Batteries

Courier's audible bleep reminds you when to change the widely available rechargeable camcorder battery, or the optional caddy with AA cells. The internal rechargeable battery will give over 1 minute of hot-swap time during which you can change the main battery. An optional cigar lighter adaptor provides power in the car and will recharge the Courier's batteries whilst on your way to the next crucial assignment. The integral international mains travel adaptor pack will also ensure that you can operate and charge your Courier from anywhere in the world.

Control At Your Fingertips

All the controls for Courier are designed for your ease of use. Large, readily identifiable keys have been used with added benefits such as accidental switch-off prevention. A confidence monitor confirms that your recording is safe and a backlit LCD display gives you information on the recording levels, battery and disk time remaining. A software controlled limiter can be switched in together with a high pass filter for use in noisy surroundings and there are "over level" LEDs for an instant visual check on recording levels.

Record in Style with no more audio dubbing

'Record Styles' makes your report perfectly compatible with the majority of editing and broadcast playout systems. Simply define parameters such as sample rate, file format, compression used and whether mono or stereo, then give your recording style a name such as 'Radio' or 'CD'. Up to 20 personalised Record Styles can be configured into the Courier. Once you've selected your chosen Record Style and finished recording, plug the PCMCIA disk or flashcard straight into your editing or playout system for instant editing or playback. No need for audio dubbing.

Editing and transmission

Courier has sophisticated non-destructive accurate editing capabilities. By using the jog shuttle wheel, and watching the waveform on the graphical display, you can place multiple marks, and perform complex editing simply. A playlist can be compiled by taking pieces from any number of cuts, which can be saved in a number of different formats. Easier still, once you've finished your report, simply connect Courier to a modem and it sends your report as data down the phone line. Courier can even send your report over the digital phone network by directly connecting a GSM mobile phone.






Live Audio
Connect up the purposely-designed CO-TBU telephone balance unit and you're ready to broadcast down a telephone line, either by using the mic/line inputs or by playing pre-recorded cuts.

Hard Disk Storage Media
Courier operates with a Type III PCMCIA (PC Card) hard disk. The following types of disks have been tested and are supported by Courier :
Calluna 130MB hard disk (Type III).
Calluna 170MB hard disk (Type III).
Integral Viper 170MB hard disk (Type III).
Calluna 260MB hard disk (Type III).
Calluna 260MB hard disk (Type II).
Calluna 520MB hard disk (Type III).
Calluna 1040MB hard disk (Type III).
Kingston Technology 2GB hard disk (Type II).
Flash Card Storage Media
Courier can also record to a Type II PCMCIA Flash Card and operates more quickly than when using a hard disk. Any flash card that conforms to the PC Card Standard '95, is PCMCIA 2.0/2.1, JEIDA Ver 4.1/4.2 compatible, or uses the words "ATA Flash" should operate with Courier. The following types of disk have been tested with Courier :
Kingmax Kingdisk 20MB ATA Flash Card.
SanDISK Inc FLASH disk SDP5, SPD5A equivalent.
Fujisoku 160MB ATA Flash Card.
Simple Technology ATA Flash Card.


---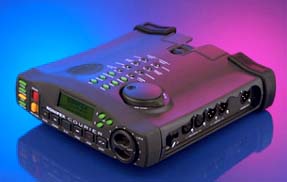 Physical Specification
| | |
| --- | --- |
| External Dimensions | 24cm (W) x 8cm (H) x 26cm (D) |
| Operational Weight | 1.5kg |
Audio Specification
| | |
| --- | --- |
| Input Impedance | > 10 k ohms balanced |
| Output Impedance | < 50 ohms balanced |
| Maximum Input Level | -40dB (mic input) variable to +20dB (line Input) |
| Maximum Output Level | +12dB (line output) |
| Headphone Output Level | Drives 150mW into 32-600ohm phones |
| Speaker Power | 500mW |
| E.I.N. for Mic Input | 124dB |
| Frequency Response | 20Hz - 20kHz +/-0.1dB (600ohm load, ref 1kHz) |
| Distortion | Less than 0.1% at 1kHz + 16dBu |
| Signal to Noise Ratio | 90 dB RMS A wtd. 22kHz bandwidth |
| Wow and Flutter | Unmeasurable |
| Phase Error at 10kHz | Unmeasurable |
| Low Frequency Roll-Off | 125Hz @ 6dB/octave |
| Limiter Threshold | +2dB to +10dB |
Connections
| | |
| --- | --- |
| Analogue Audio Outputs (2) | XLR 3 pin plug |
| Analogue Audio Inputs (2) | XLR 3 pin socket |
| AES-EBU Digital Audio Output | XLR 3 pin plug |
| ISDN | RJ45, 64kbit/sec, Euro-ISDN, S-bus or U-bus. MPEG L2 support. Contact Sonifex for G.722 implementation. |
| RS232 | 9 Way D-type plug |
| PCMCIA (PC Card) | Type III slot |
| Headphone | 0.25" (6.3mm) Jack socket |
| Power | XLR-4 socket for car battery or mains adapter, rechargeable battery pack |
Operational Controls
Display

Graphical LCD

Selection Controls

Power on/off
Battery and record duration status
LCD back-light select
Confidence monitor audio check

Front Panel Controls

Sliding record and record pause switches,
play, pause, stop, rewind, fast-forward, mark

Input Select Controls

Mic/line select(2), mic/line attenuation(2)
filter(2), phantom power select, limiter select

Edit Keys

Jog/shuttle wheel, delete, keep, mark/drag,
select, edit, menu

Menu Controls

Up, down and enter keys

Monitoring

Built-in monitor speaker
Additional Information
| | |
| --- | --- |
| Phantom Power | +48V available individually to left and right mic channels. |
| Sample Rates | 8kHz, 11.025kHz, 12kHz, 16kHz, 22.05kHz, 24kHz, 32kHz, 44.1kHz, 48kHz |
| File Formats | MPEG Layer .mp2 and .wav, Broadcast Wave File MPEG Layer 2 and .wav, 8 or 16 bit linear .wav, AIFF, Dave2000. Other proprietary header formats are supported, please contact Sonifex for details |
| Recording Types | Mono, stereo, dual level mono, Dalet mono, stereo mix |
| Batteries & Battery Life | 6V standard 8MM NiCd, NiMH camcorder batteries (for use with Sony, JVC, Sharp camcorders), AA cells can be used with the optional CO-AA6 AA cell caddy. Over 6 hours record time available on a 20MB flashcard and up to 5 hours on a 520MB hard-disk, using a fresh 3600mAh NiMH battery. |
| Features | Recording, record pause, playback, pause, rewind, fast-forward, stop, place mark. Varispeed shuttle wheel. Battery life & hard disk time remaining. Confidence monitor. Power on/off. LCD backlight on/off. Cut properties (duration, file size, date, time, sample rate, bit rate, mono/stereo). Sort display. Cut rename, delete & disk format. Recording styles (defining record modes, sample rates, etc). Auto-start recording with threshold set. Options & passwording of main setup menu. Help screens for novice users. Machine personalization with a machine ID, record ID & serial no. encoded into the recording format of broadcast wave files. Power-saving features: auto light-off, auto power off. Audible warnings on low battery & low disk time remaining. Read & write machine set-ups. Built-in diagnostics including RS232 test. Version information & lost password screen. Delete & keep editing and playlist creation. File creation (from an edl). Phonebook. Send data via modem or GSM mobile phone. Send data via ISDN. Send live audio via ISDN. |
Courier's Standard Accessories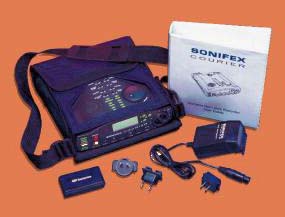 Working carry case provides protection for your Courier while allowing sufficient access for all functions to be performed without needing to remove Courier from the bag.
1200mAh battery runs Courier for approximately 90 mins. Larger battery sizes are available as an option.
Universal voltage mains supply/battery charger accepts voltage between 100V and 250V and powers Courier while charging the battery.
CCM Software.
Handbook.
Courier's Optional Accessories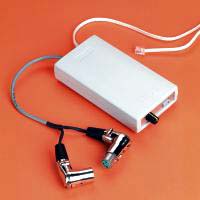 CO-TBU Telephone Balance Unit for live reporting.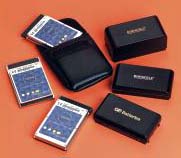 Batteries supplying between 60 minutes and 6 hours recording time.
PCMCIA cards up to 1.04GB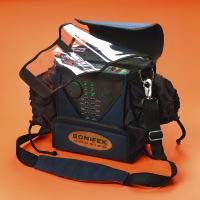 CO-PRO Professional bag includes editing cut out, rain shield, accessories pouch and place for a location mixer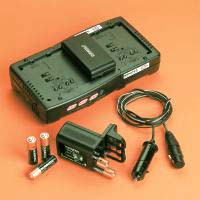 CO-MBC Multiway battery charger
CO-AA6 AA cell adaptor
CO-CGR Cigarette lighter adaptor