---
Each voice has its own sequencer. This allows wave-sequencing applications by gating sequences polyphonically from the keyboard. Each voice also has its own effects, such as feedback, distortion, and delay, which enables completely independent processing of each voice.
The stereo audio inputs go to all four voices, each of which can select to process or ignore the external signals, so you can do quad parallel processing of any audio source. Or, since there are stereo outputs on each of the four voices, you can route the output of one voice to the input of another voice for some interesting effects.


Poly Evolver : Editor

The Poly comes with a free stand-alone editor that runs on both a PC and a Mac and it also works with a regular Evolver. You will be able to edit both Programs and Combos quickly and easily. It is possible to program sounds completely from the Poly's front panel, but for heavy editing, the editor will be faster.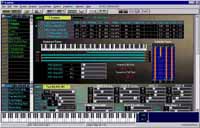 larger size

Evolver / Poly Sound Editor for PC Version 2.0

The new EvolverPC version 2 is designed to control Evolver and also PolyEvolver .The EvolverPC 2.0 not only fully implements Poly's Combo-Multi Voice mode but also offers many improvement in editing Evolver programs.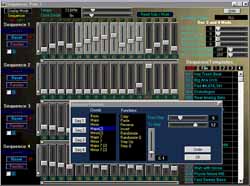 larger size

New added features in EvolverPC 2.0 also include many functions in Sequence Editing window that help to create complex musical sequences.





The following specs are for one of the voices:

Four oscillators in total: two analog, two digital

Analog Oscillator waveshape are Sawtooth, Triangle, Saw-Triangle, and Pulse (with voltage-controlled analog Pulse-Width modulation)

Digital Oscillators select from 96 wavetables from the Prophet-VS (128 x 12 bits), and 32 user-loadable (via MIDI) Wavetables (128 x 16 bits). The Digital Oscillators get trashy as the frequency gets higher, as with the original VS.

Hard Sync on the analog oscillators

FM and Ring Mod on the digital oscillators

Separate Glide per oscillator, with two glide modes

Real voltage-controlled analog lowpass filters - not digital recreations. 4-pole/2-pole switchable, fully resonant (in 4-pole mode). There are two separate filters, one for the left channel and one for the right.

Analog Voltage Controlled Amplifiers (VCA), again one for each channel.

Dual digital 4-pole Highpass filters (one per channel); place before or after analog electronics.

Stereo audio inputs; Noise generator

Envelope Follower and Peak Detect from External Input to use as modulation sources

External Input can be used to gate envelopes and/or step the Sequencer

Three snappy ADSR envelopes

Four LFOs (sync with sequencer and MIDI)

Dual (left and right channel) tunable feedback loops; modulate frequency and amount

Delay with 3 taps; each with separate time and amount modulation. Syncs to sequencer/MIDI. Normal feedback and additional feedback path through analog filters

Distortion! Digital, one for each channel, can be placed before or after analog electronics

3 Banks of 128 Programs for 384 total Programs - dump to/from MIDI

16 x 4 Analog-style sequencer - syncs with MIDI

Extensive Modulation capabilities, including audio-range modulation. Bipolar (+/-) modulation.

Easy to program matrix-style front panel with 8 endless-turn rotary encoders

MIDI stuff

The internal controllers and DSP chips can be reprogrammed via MIDI, for easy feature additions

The Poly Evolver is 19" wide, 6" deep, and 1.75" high (27 x 15 x 4 cm).


Power
The Poly's universal power supply runs virtually anywhere; 100 - 240 V AC, 50-60 Hz.

All Polys are shipped with Euro adaptor plugs. Customers in the UK and Australia who buy direct will need to get an AC adaptor locally. If you buy from a store, the cables/adaptors will be included.


Price
$ 1,395.00, includes free shipping in the USA. California residents add 7.25 %.

$1,435.00 Export price, includes free UPS Worldwide Express shipping (takes 2-3 days).

Editors: the Poly comes with a free Mac/PC standalone editor



---
---
---
---
Listen to PolyEvolver
sample 1
sample 2
sample 3
sample 4
sample 5
sample 6
sample 7
sample 8


---
---
---
---
---
---

larger size
---
---
---
---
---
---