---
---

ROLAND VS 2400 CD
Digital Studio Workstation
24-track recording and CD burning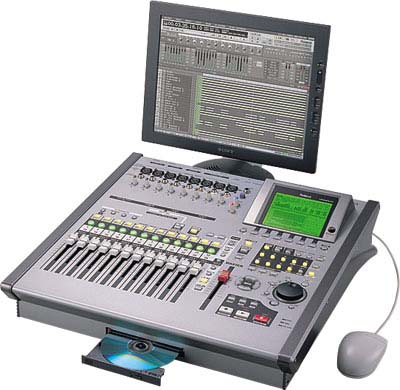 This compact recording workstation inherits many features from the VS-2480CD (like premium analog components, motorized faders and powerful software control) while adding new features of its own such as RSS 3-D panning and V-LINK for integrating Edirol video products. Onboard effects and an internal CD drive let you mix, master and burn like a pro.

Features

Self-contained 24-track/24-bit/96kHz recording workstation with onboard effects, CD-RW drive and 40GB hard disk.
At sampling rates of 96kHz, maximum 8-track recording is possible.
CD-RW drive can also be used to import .WAV files directly into a song.

24-track playback; 16-track simultaneous recording with 384 Virtual-Tracks

48-channel (16-channel Input mixer, 24-channel Track mixer and eight effect returns), fully automated digital mixer with 13 motorized faders.

VGA Monitor output for fast, software-style editing with mouse

Intuitive drag-and-drop editing via included mouse and optional ASCII keyboard

New RSS 3-D panning creates a 3-Dimensional sound field for mixing

V-LINK function for synchronizing or controlling video equipment (V-LINK requires Edirol DV-7PR Digital Video Workstation , sold separately, with software version 1.5 or later)

Premium analog components including 8 XLR/balanced TRS inputs and Hi-Z input

Import .WAV/AIFF files direct from CD-ROM; export files in .WAV format

2 stereo effects (expandable to 4 stereo, 8 mono) including COSM Mic, Speaker and Guitar Amp Modeling, plus Mastering Tool Kit

8-channel R-BUS port for expandable I/O in a variety of analog/digital formats


New RSS 3-D Panning and Onboard Effects

A new RSS Panning function provides dedicated 3-D panning without complicated editing. Using this function, you can create a 3-D sound field with up to six mono sources and write it into the Automix. The VS-2400CD also sports dedicated 4-band EQ and dynamics on 32 channels, plus two stereo effects processors with 36 high-quality Roland/BOSS algorithms. These include everything from reverb and delay to Lo-Fi and vocoder effects, plus guitar amp modeling, mic modeling and mastering tools. Two additional stereo effects can be added via an optional VS8F-2 Effects Expansion Board.

Expandable I/O and V-LINK

If you need additional inputs, the 8-channel R-BUS port is available. For example, the VS-2400CD can be connected with another VS-2400CD, VS-2480 or even to a computer with the RPC-1 R-BUS Interface Card. This allows you to expand input channels and recording tracks, or exchange eight channels of 2-way audio and MIDI data between your V-Studio and a PC. And with V-LINK, musicians can trigger video clips by creating MIDI events on any of the VS-2400CD's recording tracks, or use the V-Fader function to control video parameters such as color balance and brightness.
---
---
---



VS-2400 rappresenta una versione "compatta" del VS-2480, che garantisce identiche prestazioni operative ed audio in un formato dalle dimensioni ridotte e dal prezzo contenuto. Infatti anche VS-2400 consente registrazioni digitali di qualità professionali a 24 tracce e masterizzazione CD.

E' anch'esso dotato di componenti analogici di prima qualità, fader motorizzati, uscita video VGA e software di controllo di immediato utilizzo cosi come il fratello maggiore.

Le novità invece sono rappresentate dall'integrazione di un nuovo effetto di panning RSS 3-D e dalla tecnologia V-LINK che consente il collegamento ed il controllo di apparecchiature video Edirol.

Caratteristiche

DAW 24-track/24-bit/96kHz con effetti integrati

8 XLR/balanced TRS inputs e Hi-Z input (premium analog components)

1 x R-BUS

CD-RW drive e hard disk da 40GB

24-track playback; 16-track in registrazione simultanea

48-canali (8 x analog, 8 x R-BUS, 8 x returns, 24 x tracks)

Automazione e 13 faders motorizzati · VGA Monitor output

Software-style editing with mouse

New RSS 3-D panning e V-LINK function


---
---
---
---
---
Contacts
Roland Italy: tel.(++39)02937781 , info
Brasil e-mail, e-mail
Austria Tel.: 0512 264426 , Fax: 0512 266485 , e-mail
Canada phone: 604-270-6626, fax: 604-270-6552, e-mail
Finland e-mail
France Tel : 01.60.07.35.00 , Fax : 01.60.07.35.08 , e-mail
Germany 040 526 009 - 0 , e-mail
Hungary e-mail
Norway e-mail
Portugal Tel: 226 080 06, Fax: 226 080 075 , e-mail
Spain Tel: 933 081 000 , Fax: 933 074 503
Sweden e-mail


---