---
---
---
---
Roland
TD 20

Percussion Sound Module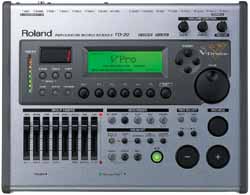 larger size
---
Euro 1,480

---

This flagship module features over 500 new sounds, all-new sounds, enhanced COSM modeling-based V-Editing (includes modeled snare buzz, kick beater selection, and greater cymbal customizing i.e. size, "sizzle," mic positions), a new digital output and an expansion slot for future upgrades, improved dynamics and sensitivity, CompactFlash storage and V-LINK (V-LINK requires the Edirol video products like the DV-7PR Digital Video Workstation with software version 1.50 or higher, or P-1 Photo/Audio/MIDI Player, sold saparately), 15 dual-trigger inputs, 10 audio outputs and digital output, 8 group faders and built-in sequencer, Mastering Room and more

The CompactFlash slot can be used for storing custom drum kits and sequencer patterns with optional memory cards. An expansion bay located on the underside means there's room for upgrades . Using an optional DV-7PR Video Presenter from Edirol, drummers can trigger images or change cameras from the pads or kick.


---

Sound Generator
Variable Drum Modeling

Maximum Polyphony
64 Voices

Instruments
Drum Instruments: 560, Backing Instruments: 262

Drum Kits
50

Drum Kit Chains
16 chains (32 steps per chain)

Instrument Parameters
V-EDIT (KICK): Shell Depth, Beater Type, Head Type, Head Tuning, Muffling, Snare Buzz, Mic Position
V-EDIT (SNARE): Shell Material, Shell Depth, Head Type, Head Tuning, Muffling, Strainer Adjustment, Mic Position
V-EDIT (TOM): Shell Depth, Head Type, Head Tuning, Muffling, Snare Buzz, Mic Position
V-EDIT (HI-HAT): Cymbal Size, Add Tambourine, Mic Position, Fixed Hi-Hat
V-EDIT (CYMBAL): Cymbal Size, Sizzle Type, Sustain, Mic Position
EDIT: Pitch, Decay

Ambience Parameters
Room Type, Room Size, Wall Type, Mic Position, Room Shape

Mixer Parameters
Volume, Pan, Minimum Volume, Output Assign

Effect Types
Pad Equalizer (each pad), Pad Compressor (each pad), Multi-Effects: 14 types, Master Compressor, Master Equalizer, Reverb (for backing part), Chorus (for backing part)

Percussion Sets
8

Sequencer
User Patterns: 100, Preset Patterns: 100, Parts: 6, Play Type: Oneshot, Loop, Tap, Tempo: 20--260, Resolution: 192 ticks per quarter note, Recording Method: Realtime, Maximum Note Storage: approx. 20,000 Notes, Click Instruments: 20

Display
64 x 240 dots (backlit graphic LCD), 7 segments, 3 characters (LED), Trigger Level Indicator (LED)

Faders
8
Preview Button

Connectors
Trigger Input Jack x 15, Hi-Hat Control Jack (VH-12, FD-7, FD-8), Master Output Jacks (L/MONO, R), Direct Output Jack x 8, Digital Output Jack (COAXIAL), Headphones Jack (Stereo 1/4 inch phone type), Mix in Jack (Stereo 1/4 inch phone type), MIDI Connectors (IN, OUT/THRU), Foot Switch Jack (1/4 inch TRS phone type), CompactFlash Card Slot, AC Inlet

Output Impedance
1.0 k ohms

Power Supply
AC 117 V, AC 230 V, AC 240 V (50/60 Hz), AC 220 V (60 Hz)

Power Consumption
16 W

Accessories
Owner's Manual, Power Cord
Size and Weight

Width
307 mm
12-1/8 inches

Depth
256 mm
10-1/8 inches

Height
105 mm
4-3/16 inches

Weight
2.9 kg
6 lbs. 7 oz.






larger size
---
---
---
---
---

Contacts
Roland Italy: tel.(++39)02937781 , info
Brasil e-mail, e-mail
Austria Tel.: 0512 264426 , Fax: 0512 266485 , e-mail
Canada phone: 604-270-6626, fax: 604-270-6552, e-mail
Finland e-mail
France Tel : 01.60.07.35.00 , Fax : 01.60.07.35.08 , e-mail
Germany 040 526 009 - 0 , e-mail
Hungary e-mail
Norway e-mail
Portugal Tel: 226 080 06, Fax: 226 080 075 , e-mail
Spain Tel: 933 081 000 , Fax: 933 074 503
Sweden e-mail


---