---
---
---
---
Roland
SP 606

Sampling Workstation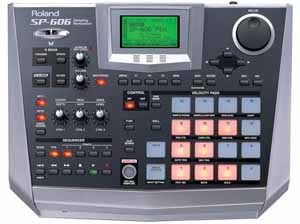 larger size
---
Euro 659
---

Standalone phrase sampler with PC-based virtual groovebox
Lightweight, packed with heavy grooves, the SP-606 sampling workstation extends the features of the BOSS SP-505, offering 4x4 velocity pads, D Beam and V-LINK control and USB and CompactFlash compatibility. Bundled with Cakewalk's new P606 phrase generator/virtual groovebox for sample library and editing capabilitie.


The SP-606 packs 4x4 velocity sensitive pads, new effects, D Beam and V-LINK control, USB capabilities (with USB audio I/F functionality), a CompactFlash card slot and S/PDIF I/O into a compact, stand alone unit, with an external sequencer sampling and new phrase generator/virtual groovebox P606 software. .

Sample, Edit and Play
The SP-606 features stellar 8-voice, CD-quality audio with extensive slice and dice editing of samples via the onboard Chop function. Additionally, a powerful 18,000 notes 4-track MIDI sequencer with BPM Sync feature creates the ability to time stretch audio phrases. An easy-to-read graphic LCD with waveform display allows you to zoom in while editing Start and End points.

Increased Rhythm Programming and Realtime Control
New velocity sensitive pads are laid out intuitively in a 4x4 grid for greater control over rhythm programming and phrase audio operation. Additionally, Roland's D Beam controller and V-LINK video control features have been added to enable phrasing and real-time effects generation during playback. When used with Edirol's DV-7PR or P-1, you can trigger video clips in sync with playback.

Enhanced Effects Processing
There are 40 multi effects onboard, including SP-505 effects such as Isolator, Filter + Drive, Slicer, Reverb and Tape Echo as well as new effects and an independent Mastering Effect for final mixing. Effect settings can be added and tweaked in realtime via the SP-606's front panel knobs, or you can re-sample to another pad in realtime.

Enhanced Sampling Capabilities
The External Sequence Sampling feature allows you to capture audio loops generated by MIDI-based machines with ease. Simply connect the SP-606 to an external MIDI workstation, such as the MC-909, and press the Sampling button. Using MIDI information, the SP-606 is able to detect the start and end points of the audio loop and perform a perfect capture.

More Storage and Output Options
A CompactFlash memory slot with up to 512MB capacity is available for storing audio samples and for importing/exporting .wav/.aiff files. An onboard USB port facilitates transfer of MIDI data, audio files & audio stream downloading as well as .wav/.aiff files. In combination, the CompactFlash and USB port enable importing or exporting of .wav/.aiff files without requiring a separate CompactFlash reader/writer. Additionally, a coaxial S/PDIF I/O is included.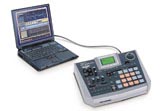 The SP-606 comes bundled with P606 software from Cakewalk, eliminating the need for a static CD library. PC-based P606 software functions as a phrase generator/virtual groovebox, integrating with the SP-606 via the USB MIDI/Audio interface. Three kinds of software synthesizers - analog modeling, groovesynth and ACIDized file player - are offered, as well as a loop sequencer, eight effect plug-ins and onscreen control over Mix. As a master controller, the SP-606 can seamlessly import, edit and playback P606 tracks.


---