---
---
---
---
Roland SP 404
Portable Sampler with FX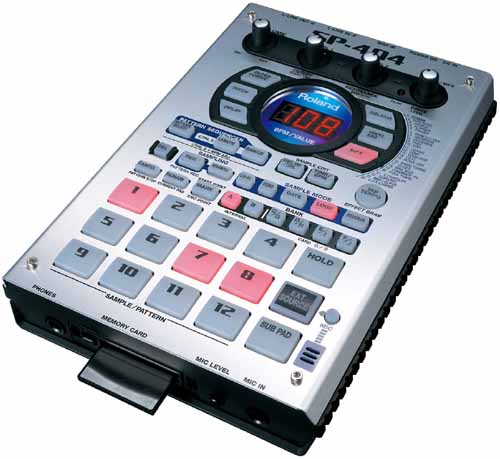 ---
price should be around euro 450,00

---


12 large pads, three control knobs, jumbo display, same friendly operation as SP-303

29 effects, including new Subsonic, BPM Looper, and more

Built-in microphone for quick sampling

CD-quality sound

Expanded sampling time

12-voice polyphony

Realtime loop recording

Sample-editing tools

Import/export .WAV/AIFF via CompactFlash card slot; supports up to 1GB card

Runs on battery or AC power


Maximum sampling time
(mono approx)




Two Sampling Modes
You can record audio directly into the SP-404, or import/export industry-standard .WAV and AIFF files via CompactFlash card.Lo-fi lovers: the SP-404 also provides a Lo-Fi sampling mode, so you can scorch, roast, and crunch your audio if desired.

Realtime Pattern Recording
After the SP-404 is loaded with the audio of your choice, the fun begins by creating custom beats and tracks via onboard pattern sequencer. This easy-to-use sequencer allows up to 8,000 notes to be recorded in real time at a resolution of 96 TPQN. Your pattern data can be quantized to the note value of your choice. Up to 24 patterns, each 1–99 measures long, can be stored in the internal memory simultaneously. On CompactFlash cards, you can save 96 additional patterns with 8,000 notes of recording capacity per card.

Quick Sampling & Editing
If you need to capture audio fast, the SP-404 provides an easy, efficient sampling engine; just connect an audio source or external microphone or use the built-in mic. The SP-404 can house up to 24 samples in memory simultaneously. On CompactFlash cards, you can store up to 96 samples. The SP-404 provides sample-editing tools for setting start and end points, adjusting levels, and more.

29 Onboard Effects
Twist, bend, and animate your audio with the SP-404's expressive effects, and manipulate them in real time using the front-panel control knobs. Shake the walls with Subsonic. Drive the dancefloor wild with the BPM Looper (grab a region on the fly and loop it) and DJFX Looper (change speed and reverse audio to get a turntable scratch-like sound). Also offered: reverb, flanger, delay, Voice Transformer, distortion, filter, Slicer, Isolator, Vinyl Simulator, and more. Best of all, the SP-404's effects can be applied to multiple samples simultaneously or live input signals. You can also select the multi-effects directly by pressing the MFX button and the corresponding pad at the same time.

Onboard Microphone & I/O
An external microphone can be plugged into the SP-404's mic input and used to capture audio, but those who want to sample fast and spontaneously will love the built-in microphone. Just arm, point, and record. If you want to sample pre-recorded sounds, simply connect your CD player or sound source to the SP-404's line input jacks (L, R) and sample away. For playback, the SP-404 offers line outputs (L, R) as well as a headphone output for privacy. A MIDI input connector is provided for controlling the SP-404 externally.

CompactFlash
The SP-404 comes equipped with an industry-standard CompactFlash slot that accepts cards of up to 1GB capacity. You can even import .WAV and AIFF files into the SP-404 via CompactFlash, and vice versa. CF cards are handy, reliable, and readily available on the mass market.



Specifications

Maximum Polyphony
12 voices

Internal Memory

Samples
24 (12 samples x 2 banks) * Including Pre-loaded Samples
Patterns
24 (12 patterns x 2 banks) * Including Pre-loaded Patterns

Memory Card (CompactFlash)

Samples 96 (12 samples x 8 banks)
Patterns 96 (12 patterns x 8 banks)

Sampling Frequency
44.1 kHz

Data Format
SP-404 original format (.WAV/ AIFF import/ export possible)

Sampling Mode
STANDARD/ LO-FI

Sample Edit
Start Point, End Point, Level, Truncate



Pattern Sequencer

Maximum recordable notes
Internal Memory: Approx. 8,000 notes (Including Pre-loaded Patterns)
Memory Card (CompactFlash): Approx. 8,000 notes

Resolution 96 ticks per quarter note

Pattern Length 1-99 measures

Recording method
Realtime Loop Recording (with quantize function)



Effects 29 types

Signal Processing
AD Conversion 24 bit
DA Conversion 24 bit


Display 7 segments, 3 characters (LED)

Onboard Mic Mono x 1

Connectors
LINE INPUT Jacks (L, R), LINE OUTPUT Jacks (L, R), Headphones (PHONES) Jack (Stereo 1/4 inch phone type), MIC Jack, MIDI IN Connector, AC Adaptor Jack, Memory Card Slot (CompactFlash)

Power Supply DC 9 V (Dry Battery LR6 (AA) type x 6 or AC Adaptor)

Expected battery life under continuous use
Alkaline: 6 hours * These figures will vary depending on the actual conditions of use.

Current Draw 300 mA

Accessories Owner's Manual, AC Adaptor (PSB-1U)


Size and Weight
Width 178 mm - 7 inches
Depth 257 mm - 10-1/8 inches
Height 72 mm - 2-7/8 inches
Weight 1.3 kg - 2 lbs. 14 oz.






---
---
---
---
---
Contacts
Roland Italy: tel.(++39)02937781 , info
Brasil e-mail, e-mail
Austria Tel.: 0512 264426 , Fax: 0512 266485 , e-mail
Canada phone: 604-270-6626, fax: 604-270-6552, e-mail
Finland e-mail
France Tel : 01.60.07.35.00 , Fax : 01.60.07.35.08 , e-mail
Germany 040 526 009 - 0 , e-mail
Hungary e-mail
Norway e-mail
Portugal Tel: 226 080 06, Fax: 226 080 075 , e-mail
Spain Tel: 933 081 000 , Fax: 933 074 503
Sweden e-mail


---