---
---

ROLAND VR 760
Performance Keyboard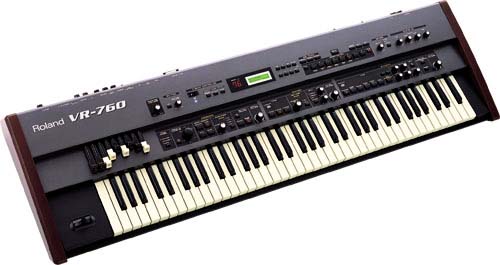 VR-760 features quality sounds for the modern such as Roland's Virtual ToneWheel organs, FP- and RD-Series pianos, all-new electric pianos with COSM Amp Modeling, and SRXpandable synth sounds.

76-note keyboard, new controllers including a D Beam, Active Expression and V-LINK.

The organ sounds are derived from Roland's VK-Series Combo Organs. Onboard COSM Amp and Rotary Speaker Modeling complements the organ sounds.

For pianos, the VR-760 takes its lead from Roland's popular FP and RD-Series instruments. Everything from expressive acoustic grand pianos to bright pop pianos can be found by COSM Mic Modeling for improved ambience and tone. The VR-760 even sports a new selection of electric pianos complete with COSM Amp Modeling.

The VR-760 also incorporates a variety of expressive controllers: with the D Beam, players can adjust functions like rotary speed, octave or glide using an infrared light beam. Active Expression makes it possible to slowly fade in a layered sound using an optional expression pedal. And with V-LINK, musicians can trigger video clips from the keyboard when used with the Edirol DV-7PR Digital Video Workstation (sold separately).

VR-760 connection include stereo 1/4-inch outputs, stereo XLR outputs, Control Pedal and Expression Pedal inputs, a Hold Pedal jack, stereo Headphone jack, and MIDI In/Out/Pedal In jacks.




---
---
---



La VR-760 è uno strumento unico nel suo genere, progettato per coprire tutte quelle sonorità di base necessarie al tastierista live. Tra i timbri inclusi in questo strumento troviamo infatti gli stessi organi di tipo Virtual Tone Wheel della serie VK , pianoforti della serie FP ed RD, nuovi pianoforti elettrici che utilizzano la COSM Amp Modeling ed anche timbri di sintetizzatore.

La VR-760 può essere anche espansa con due schede della serie SRX. Tastiera a 76 note di tipo waterfall, polifonia totale per il timbro di organo, 128 voci per i timbri di piano e synth, D-beam controller, Active Expression e connessione V-Link per eventuale sincronizzazione con il video completano le caratteristiche di questo prodotto.

Caratteristiche

Organo con polifonia totale, 128 voci di polifonia per pianoforte e sezione synth

Sezione organo basata sul" Virtual Tone Wheel" della serie VK con COSM AMP e Rotary Speaker Modeling

La sezione piano incorpora timbri di pianoforte elettrico di derivazione COSM Amp Modeling, Timbri di pianoforte acustico stereofonici derivati dalle serie FP ed RD con COSM Mic Modeling

La sezione synth include 6 categorie di toni con 3 variazioni per ognuna, editing dei timbri intuitivo per mezzo delle manopole sul pannello.

Espandibile con 2 schede della serie SRX

D-Beam controller con LED multicolore

Expression per ottenere grande espressività per mezzo del pedale opzionale EV-7

Funzione V-Link per la sincronizzazione di video clips (usato con Edirol DV-7PR Digital Video Workstation) durante i concerti

---
---
---
---
---
Contacts
Roland Italy: tel.(++39)02937781 , info
Brasil e-mail, e-mail
Austria Tel.: 0512 264426 , Fax: 0512 266485 , e-mail
Canada phone: 604-270-6626, fax: 604-270-6552, e-mail
Finland e-mail
France Tel : 01.60.07.35.00 , Fax : 01.60.07.35.08 , e-mail
Germany 040 526 009 - 0 , e-mail
Hungary e-mail
Norway e-mail
Portugal Tel: 226 080 06, Fax: 226 080 075 , e-mail
Spain Tel: 933 081 000 , Fax: 933 074 503
Sweden e-mail


---