---
---
---
---
Roland MV-8000 PRODUCTION STUDIO
Arranger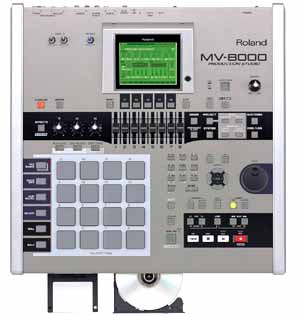 Larger Size
---
euro 1.900,00

---


From making beats to sampling and CD-burning, the MV-8000 Production Studio does it all fast. Sample your own sounds or import libraries including Roland S-700, Akai MPC2000/4000, ACID, .WAV and AIFF, then arrange it all using 16 velocity/ aftertouch-sensitive pads and Roland's audio/MIDI sequencer, complete with realtime time stretch. Onboard a selection of COSM effects, mastering tools, a built-in CD-RW drive and USB port.

Self-contained production studio with sampling, sequencing, effects and CD-burning
16 velocity/aftertouch-sensitive pads for programming beats and arranging audio
128MB RAM; expandable to 512MB for 101 minutes of recording (when in mono)
Powerful 136-track sequencer (128 MIDI tracks + 8 stereo audio tracks) with easy software-style operation and realtime timestretch
Large icon-based LCD and realtime control knobs for easy operation
Sampler compatible with a variety of audio formats: Audio CD, .WAV/AIFF, ACID, Akai MPC2000/4000 Series and Roland S-700 Series
Independent reverb, chorus/delay and MFX processors, plus mastering tools
Onboard CD-RW drive, floppy drive 3.5
V-LINK function for controlling Edirol video equipment (sold separately)
Stereo Mic/Line and Phono inputs, plus stereo analog and digital Master outputs
Optional MV8-OP1 adds 6 analog outputs, a digital input and R-BUS port for 8 channels of simultaneous digital output and 2 channels of digital audio input
VGA monitor support and mouse operation planned for 2004

The MV-8000 offers compatibility with some of the biggest formats around, including the ability to import Akai MPC disks via the built-in floppy drive. Users can load Roland S-700 and Akai MPC2000/4000 libraries and.WAV/AIFF files from CD-ROM or via USB transfer, and "rip" audio directly from CD. The MV-8000 also loads ACID files and can automatically calculate the bars and BPM, making it easier to work with loops. Of course, user sampling is also provided, complete with Phono inputs for sampling records.

136 Tracks of Sequencing

The MV-8000's sequencer section boasts integration of audio and MIDI and up to 136 tracks of recording. These include 128 MIDI tracks (with 32-channel operation using external MIDI gear) and eight stereo audio tracks (16 mono) that can be used as a linear recorder. Program beats on the MIDI tracks and combine them with freestyle vocals or acoustic instruments on the audio tracks, including the ability to "punch in" at any time. TheMV-8000 can even sync audio to the sequencer's BPM.

Effects
MV8000 is a omplete studio in a box with four dedicated effects processors and an onboard CD-RW drive. The MV-8000 delivers 24-bit Reverb, separate Chorus/Delay and a versatile MFX (multi effects) processor with COSM effects made famous in Roland's V-Studios. These include algorithms like Isolator, Filter, Delay, RSS, Guitar Multi, Vocoder and Microphone Modeling—plus vintage effects like Roland's RE-201 Tape Echo, SDD-320 Dimension D Chorus and the SBF-325 Stereo Flanger.

40GB Hard Drive
While audio and samples are played back using the onboard RAM, the MV-8000 can store its sounds and projects to an internal 40GB hard disk. This makes it easy to manage large sound libraries once they've been converted to MV-8000 format; it's also a good way to load sequences quickly before a performance. When connected via USB, the hard drive can be accessed directly from a computer's desktop.
Note that it is not possible to record directly to the hard drive. Recordings are made using the internal RAM and then saved to the hard drive.

Options
By purchasing the optional MV8-OP1 expansion board, users gain six additional analog outputs, a digital input, plus an R-BUS port that can be used to transfer up to eight channels of digital audio to R-BUS equipped V Studios. And with Roland's V-LINK (V-LINK requires the Edirol DV-7PR Digital Video Workstation,sold separately, with software version, 1.50 or higher) technology inside, the MV-8000 can trigger and manipulate video clips when used with optional Edirol video equipment. In 2004, a major upgrade is scheduled that will add VGA monitor support and mouse-based operation.



Size and weight
Width
480 mm
18-15/16 inches
Depth
482 mm
19 inches
Height
136 mm
5-3/8 inches
Weight
9.8 kg
21 lbs. 10 oz.
Maximum Polyphony
64 voices
Wave Memory Slot
1 (168pin DIMM PC66/100/133 CL2/3)
Projects
Unlimited (depends on the space of HDD)
Samples
Max 9,998 per project
Songs
Max 16 songs per project
Patches
Max 16 per song (called INSTRUMENTS)
Partials
Max 96 per PATCH
Audio Phrases
Max 512 (16 pads x 32 banks) per project
Signal Processing
AD Conversion
24 bits, 64times oversampling
DA Conversion
24 bits, 128times oversampling
Data Format
16 bits (linear)
Sampling Rate
44.1 kHz (fixed)
Sampling Section
Importable format
Audio CD
Windows(R) WAVE files
AIFF files
ACID WAVE files library from Sonic Foundry
AKAI MPC Sound library
Roland S-700 library
Exportable format
Audio CD
Windows(R) WAVE files
Memory Size
128 MB (standard) or 512 MB (expanded)
Sampling Time
128 MB (standard) mono : 25 min.approx., stereo : 12 min.approx.
512 MB (expanded) mono : 101 min.approx., stereo : 50min.approx.
Sequencer Section
Type
Linear Sequencer
Tracks
8 audio tracks for AUDIO PHRASES
128 MIDI tracks for both internal INSTRUMENTS and
extenal 32 MIDI devices
Max Events
300,000
Recording Type
Event Real-time / Event Step / Audio Direct
Editing
Event List Editor, Piano Roll Editor for MIDI event editing
Others
Recording Quantize / Play Quantize / Quick Loop / Audio Direct Recording
Effects Section
Effect Channels
3 (2 loop effects + MFX)
Loop Effects
2 (Reverb and Delay/Chorus)
MFX algorithms
24
Others
Mastering Tool Kit
Pads
Type
16 Velocity Pads, aftertouch sensitive
Banks
32 banks (AUDIO PHRASES)
6 banks x 16 part (PATCH)
Storage Section
HDD capacity
40 GB
CD-R/RW drive
Built in (Read : 32 times speed / Write : 8 times speed / Rewrite : 8 times speed)
Others
FDD (3.5 inch, 2DD or 2HD)
USB for file transfer to PC/MAC
Connectors
Analog Input
1 pair of MIC/LINE (1/4 inch TRS)
1 pair of PHONO (RCA pin type)
Digital Input
A (coaxial) / B (optical) /
R-BUS on optional I/O expansion board
Analog Output
1 pair of Master Out (1/4 inch TRS)
1 Phones (Stereo 1/4 inch phone type)
Multi Output (6 x 1/4inch TRS) on optional I/O expansion board
Multi Output
(6x1/4 inch TRS) on optional I/O expansion board
Digital Output
A (coaxial) / B (optical)
USB port
B type / USB 1.1 / Mass Storage Class
MIDI
IN / Out A / Out B
Foot SW
1/4 inch phone type
Display
320 x 240dots Graphic LCD (with backlight)
Power Supply
AC117V, AC230V or AC240V
Accessories
Owner's Manual
Demonstration CD (CD-ROM)
AC cord
Options
DP-2 Foot Switch
MV8-OP1 Audio I/O Expansion
Expansion Memory (DIMM)
Media and file format compatibility
Import
Audio CD
audio
CD-ROM
.wav/AIFF, ACID wave files, S-700 Series, SMF
USB
.wav/AIFF, ACID wave files, AKAI MPC2000/4000, SMF
Floppy disk
AKAI MPC2000/4000, SMF
Export
Audio CD
audio
CD-ROM
.wav, MV-8000 native data (Project etc.)
---
---
---
---
---
Contacts
Roland Italy: tel.(++39)02937781 , info
Brasil e-mail, e-mail
Austria Tel.: 0512 264426 , Fax: 0512 266485 , e-mail
Canada phone: 604-270-6626, fax: 604-270-6552, e-mail
Finland e-mail
France Tel : 01.60.07.35.00 , Fax : 01.60.07.35.08 , e-mail
Germany 040 526 009 - 0 , e-mail
Hungary e-mail
Norway e-mail
Portugal Tel: 226 080 06, Fax: 226 080 075 , e-mail
Spain Tel: 933 081 000 , Fax: 933 074 503
Sweden e-mail


---