Antonio Puntillo likes to say that he "inherited his musicality": in every generation of his family there has been someone with a great musical talent.
Born in 1964 in Verona - Italy, Antonio began his artistic career from an early age (14 years old). He starts playing as supporter to the performances of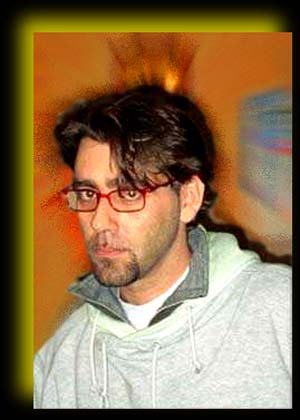 his uncle Tony. Antonio studied guitar and piano since he was 8 years old but his feeling was much more oriented toward writing music than performing.
The credit for the development of his creativity can be given to his mother (teacher), who leaded him to write simple melodles for her school recitals.
His most exciting experience is probably the first important production: 1989 - BLUE TATOO - "Love Can Do". This single has been licensed in many countries over the world: USA, Japan, France, Germany and many others. He is attracted to new technology that allowed him to increase his potential to compose with variety of newly developed electrical sound equipment.
At the beginning of 1990 he's already involved in the producdon of Hi-Energy products licensed in Japan by leading companies such as Avex and Alfa: Toby Ash - "Are You Ready" and and Majo & Co. - "Black Power".
In the middle of 1990 he meets Roby Arduini. They work on a common project. Since then, they started closely working with each other. Many companies use their creativity. The results of their fruitful professional relationship are many hits all over the world such as:
Antico - "We Need Freedom"
Zappalà and DJ Professor - "We Gotta Do It"
RAF - "We Gonna Get"
DJ Professor - "Rock Me Steady"
49ers - "Move Your Feet" / "The Message" / "Got To Be Free"
Cappella - "U Got 2 Let The Music"
Clubhouse - "Light My Fire"
and many more such as Sharada House Gang, Mars Plastic, Mig 29, Antares to name just a few.
In 1993 Antonio and Roby began the initial preparations for an independent company and so Union Records and La Matta publishing was born. After some year and some changes Union Records and La Matta will become a part of SAIFAM Publishing Group in order to exploit to the best the own productions: pop dance oriented, through SAIFAM consolidated commercial organization.
ANTONIO PUNTILLO
INFO IN A FLASH:




| | |
| --- | --- |
| Birthday | June 07, 1964 |
| Zodiac | Gemini |
| Hobbies | Tennis, Ski, Computers, Football, Nature |
| Marital Status | Single |
| His Car | BMW 320 Coupe - Black |
| Style | Casual - Armani Style |
| Colors | White, Linen, Rainbow |
| Favourite Instruments | Roland Jupiter 8 - Stainway Piano |
| Favourite Sport Team | Milan Football Club |
| Favourite Music | The Doors, James Taylor, Pat Metheney, Oscar Peterson and ... himself |
| He Plays | Piano, Keyboards, Guitar |
| His Dream | To become a farmer |
| He Says | "I wanna live with the sun and die with the moon" |