192
24-Bit / 192 kHz, Multi-Channel Audio Interface
(Price in U.S.Dollars: $ 3,995.00)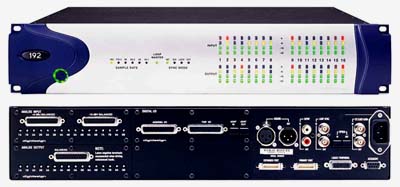 ---

FEATURES

50 possible inputs and outputs

Supports up to 16 simultaneous channels of high definition I/O

Extremely flexible analog and digital I/O

Card option bay for analog or digital I/O expansion with 192 AD, 192 DA, or 192 Digital cards

24-bit / 192 kHz A/D & D/A conversion

Sample rates supported: 192, 176.4, 96, 88.2, 48, and 44.1 kHz

Comes with a wide range of digital I/O, including 8 channels of AES/EBU I/O, 8 channels of TDIF I/O, 16 channels of ADAT I/O and 2 additional channels of AES/EBU or S/PDIF I/O

Word (1x) and Slave Clock (256x) input/output

Switchable, real-time sample rate conversion on digital inputs on the 192 Digital card allows easy streaming of digital signals at any sample rate

Soft-Clip Limiter allows higher levels to disk for punchier, hotter recordings

Expansion Port allows for direct connection of another 192 I/O or 96 I/O

Legacy Peripheral port allows for connection of 888/24, 882/20, 1622, or 24-Bit ADAT Bridge I/Os (at 48 kHz or lower sample rate)


---
With 24-bit/192 kHz, dynamic range at 120 dB (A-weighted), 192 I/O's sonic performance measures up to the highest quality audio interfaces available. Also featured a built-in Soft-Clip Limiter circuit, which begins limiting the audio signal once it reaches -4 dBFS. Designed to prevent momentary overloads, the Soft-Clip Limiter may also be used to achieve an analog tape saturation effect.
With eight channels of AES/EBU, TDIF, and ADAT digital I/O on a single digital card, 192 I/O allows Pro Tools to easily integrate with any digital device in the studio. 192 I/O also includes an additional 8 channels of ADAT I/O, 2 more channels of AES/EBU and S/PDIF digital I/O on the main enclosure of the interface, and Word Clock I/O on the rear of the unit. The digital inputs on the Digital I/O card can utilize the on-board sample-rate converter chips for hardware-based sample-rate conversion, allowing you to stream digital signals at any sample rate into your Pro Tools sessions.
One of the most aspects of 192 I/O is the ability of the unit's I/O capacity to be expanded, allowing you to easily customize 192 I/O according to your needs. The unit itself comes stock with 8 channels of analog input, 8 channels of analog output, and multiple digital I/O options (8 channels of TDIF, AES/EBU and ADAT I/O). One vacant bay is available for adding more analog outputs, inputs or digital I/O.
To expand the analog I/O capacity of 192 I/O, you can add either a 192 AD card, providing 8 more channels of high-definition analog input, or the 192 DA card, which gives you 8 additional channels of analog output. 192 I/O can also be outfitted with the 192 Digital card, which adds 8 channels of AES/EBU, TDIF, and ADAT I/O connections.
HD Core (basic card for ProTools HD systems) and HD Process cards support up to 32 channels of I/O using Digidesign audio interfaces. Both the 192 I/O and 96 I/O audio interfaces have been designed to allow for daisy chaining, taking full advantage of the expanded I/O count permitted with HD Core and HD Process cards. The Expansion Port on the rear of 192 I/O enables DigiLink connection to another 192 I/O or 96 I/O for 16 more channels of high-definition input and output. A Legacy Peripheral Port is also provided, enabling you to expand your I/O capacity at 44.1/48 kHz using legacy MIX audio interfaces .
The newest Pro Tools software supporting Pro Tools HD systems incorporates a new auto-identification and auto-configuration scheme upon launch of Pro Tools software. This eliminates the need to declare which interface is being used with each HD Core or HD Process card, making installation, reconfiguration and system setup faster and easier than ever.
---

TECHNICAL SPECIFICATIONS

A/D

Sample Rate: 44.1, 48, 88.2, 96, 176.4, 192 kHz ±10%

Dynamic Range: 120 dB (A-weighted), 118 dB (unweighted); see notes 1 and 2

THD+N: 0.00035% (-109 dB); +21 dBu @ 997 Hz; see note 1

THD+N: 0.00035% (-109 dB); +21 dBu, 20 Hz &endash; 20 kHz; see note 1

Frequency Response: ±0.05 dB @ +2 dBu, 20 Hz &endash; 20 kHz; see notes 1 and 3

D/A

Sample Rate: 44.1, 48, 88.2, 96, 176.4, 192 kHz ±10%

Dynamic Range: 118 dB (A-weighted), 115 dB (unweighted); see notes 1 and 4

THD+N: 0.00056% (-105 dB); -1 dBFS @ 997 Hz; see note 1

Frequency Response: ±0.05 dB, -20 dBFS, 20 Hz &endash; 20 kHz; see notes 1 and 3

Sample Rate = 48 kHz, Noise BW = 22 Hz &endash; 20 kHz unless otherwise noted, Tamb = +25 C

Note 1 &endash; Measurement made using +4 dBu inputs or outputs
Note 2 &endash; ADC measured with analog input at -38 dBu @ 997 Hz
Note 3 &endash; Measured relative to level at 1 kHz
Note 4 &endash; Measured with digital input at -60 dBFS @ 997 Hz


---