---
---


Digidesign PROTOOLS 6.0 software
( Apple operating system OSX support)



---
SUPPORTED SYSTEM
Digidesign-approved Pro Tools TDM
(Pro Tools HD, Pro Tools 24 MIX, Pro Tools 24)

Pro Tools LE
(Mbox, ToolBox & Audiomedia III with AMCC chip "QC" or higher)
(support forDigi 002 to follow)

running Mac OS X

Windows XP support of the new features in Pro Tools 6, and OSX compatibility with AVoption XL, Unity, and MediaManager are scheduled for spring/summer 2003

---
---
---
---
---
---
---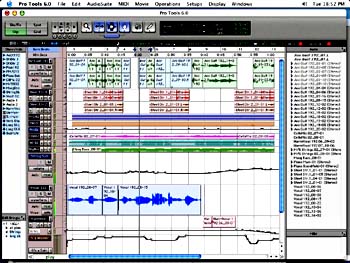 Pro Tools 6.0 software for Mac OS X adds new look, more organization, more MIDI, and more control
Premier amongst new features is support for Apple's OS X operating system, providing improved, solid interaction between the Pro Tools environment and Power Mac G4s. New look for the Mix, Edit, and Transport windows. New multi-user login functionality enables individual users to save custom display, operation, editing, automation, processing, compatibility, and MIDI preferences, providing a new degree of personalization with the Pro Tools environment.
Pro Tools 6.0 software also features the new DigiBase file management utility, enhanced MIDI functionality (including hi-res groove templates), additional Beat Detective features, new Import Session options, plug-in functionality enhancements, MachineControl additions.

DigiBase

Often, the larger your Pro Tools session, the more difficult it is to get your head around all the elements it contains. Media files may be located on different drives, both internal and external; and if you're working on multiple projects with multiple media sources (external drives, effects CDs, etc.), the possibility of confusion increases dramatically. Tools 6.0 software includes a new file management utility called DigiBase. Functionally, DigiBase is similar to Mac's Finder or Windows' Explorer, enabling you to manage all of the files on your system. Moreover, DigiBase allows you to view complete file information including duration, timestamps, and two user comments fields. Display layouts can be customized to focus exclusively on the information you need.
You can also audition files and view their waveform thumbnails before importing into Pro Tools, regardless of file format or sample rate. When you've determined a selection, theone-step drag-and-drop process from DigiBase to your session timeline includes automatic file copy and conversion, guaranteeing compatibility with your project. Moreover, Pro Tools 6.0 handles many tasks such as copying, conversion, and fade creation in the background so that you can continue to record and edit without interruption. A new Task Manager feature also enables users to monitor and manage background processes.

DigiBase Pro

Pro Tools 6.0 software for TDM systems also includes DigiBase Pro, adding extended functionality and file management options to the already powerful set of features included with DigiBase. DigiBase Pro provides for the creation and sharing of custom catalogs that reference files wherever they're stored, including on networks and offline media. You're also able to view, search and spot files from offline media such as sound effects libraries, CDs, etc. And you can pinpoint the files you need by searching on any combination of file information, such as file type, comment, and creation date.



More MIDI and Beat Detective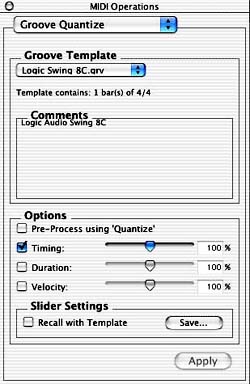 Pro Tools 6.0 software incorporates enhanced MIDI functionality, including full support for Mac OS X's Core MIDI Services. MIDI Time Stamping (MTS) support provides sample-accurate MIDI with Pro Tools-compatible software synths and samplers, eliminating the possibility of compromised sync and drift issues. Also, you can take advantage of up to sub-millisecond-accurate MIDI with Digidesign's MIDI I/O and other supported MTS-capable interfaces, rivaling any dedicated hardware sequencer.
Pro Tools 6.0 software's new MIDI capabilities also let you extensive manipulation of rhythmic content through powerful groove creation and modification tools. The Groove Quantize feature incorporates intelligent Bar/Beat adjustment as well as support for the new 960 ppq DigiGroove templates. The new Beat Detective functionality (TDM systems only), let to extract and generate DigiGroove templates based on audio performances and utilize both the timing and the dynamics of passages elsewhere in your composition. These DigiGroove templates are also compatible with new Feel Injector templates from Numerical Sound.
Pro Tools 6.0's MIDI implementation also features a new Restore Performance function, enabling you to return to an original MIDI-based performance at any time. Working in this non-destructive manner, you can always recover from adjustments made during the course of your project. Of course, if you've settled on changes, the Flatten Performance feature solidifies your edits and gives you a new, permanent basis from which to proceed.
Additional new features include a new Relative Grid option, a new keyboard shortcut for temporarily disabling Grid mode, and definable note duration when drawing notes (the Pencil tool now also trims notes). The Trim tool trims notes in Velocity view, MIDI Operations and Tempo/Meter Change are easily accessible floating windows, and Pro Tools now supports up to 256 MIDI tracks.



Mixing Options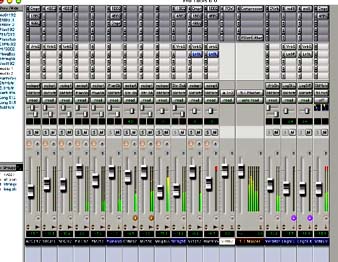 The mixing environment in Pro Tools TDM 6.0 offers new efficiencies; premier is the ability to import any track attributes from one session into another (TDM systems only). Specifically you can choose to import any combination of track data including audio playlists, MIDI playlists, mixer automation, routing assignments, plug-in instances and settings, and plug-in automation. Plus, you can choose to replace or overlay the data in relation to your existing session. This new Import Session Data capability can be used in a variety of ways: For instance, if you've perfected a set ofdrum tracks, or portions thereof, you can migrate only the channel attributes you want to another session's raw drum tracks. Or, if you need to scale down a mix to a smaller system, you can easily move sessions between systems with different I/O configurations by importing only the track data you choose on a per-track basis. And, analogous to changing tape out in a traditional analog environment, Pro Tools 6.0 supports the importing of audio/MIDI playlists while preserving the mixer layout, routing, and plug-in settings. Other improvements include the Selector tool's (I-beam) ability to select across multiple tracks as well as a definable Zoom for toggling track heights.
Machine Control
Machine Control option enhancements (TDM only) are also included in Pro Tools 6.0, providing post professionals with an even higher degree of workflow streamlining. A new Machine Profile utility enables you to create deck configuration profiles for controlling any Sony 9-pin controllable deck, and includes support for custom track name entry in each deck profile, for even easier operation when remotely track arming. 9-pin deck emulation operation now includes a "Remote LTC Mode" allowing you to chase LTC while receiving 9-pin record and track-arming commands. The result: support for higher track counts and faster operation when in deck emulation mode. You are also able to generate timecode while emulating a 9-pin deck.
A new Offset setting for MachineControl, chasing timecode, and MMC enables you to compensate for minor differences in source tape versions. You can create a single session with multiple VOs and then quickly offset Pro Tools compared to the tape for each layback performed. Additionally, the Set Timecode Position function allows you to select a location in your timeline and re-enter its timecode position, relatively resetting the entire timeline.


---
May 2003
update of ProTools to 6.0.1 and new CoreAudio drivers for most of Digidesign hardware

New and improved interoperability with Avid Unity MediaNetwork and AVoption/XL, DV Toolkit for Pro Tools LE, the new AVoption/V10 video I/O peripheral for Pro Tools TDM, support for Avid's new Mojo box, Advanced Authoring Format (AAF) support, Windows Media Audio 9 support, and ReWire support.


Pro Tools 6.1 software offers Window XP and Mac OS X users increased productivity with the industry-standard digital audio production platform. Including near feature parity across Windows XP- and Mac OS X-based Pro Tools systems, enhanced Avid interoperability options and post production feature support, ReWire support, and new compatibility options.

While Pro Tools users running Windows XP can look forward to many of the new features added in Pro Tools 6.0 software for Mac OS X systems such as a streamlined new look for the Mix, Edit, and Transport windows, the powerful DigiBase file management utility, enhanced MIDI functionality and Beat Detective features, Mac OS X users will also be treated to a host of powerful new features in Pro Tools 6.1 software as well. Pro Tools 6.1 software offers a new level of efficiency and flexibility in audio production tasks for professional music, post production, broadcast, and new media.

DV Toolkit for Pro Tools LE
DV Toolkit is an optional bundle that adds desktop post production functionality to the Pro Tools LE system. Specialized functionality gives users tools to edit audio with timecode functionality; support for the import and export of media files with other applications including new AAF interchange with Avid Xpress DV; and the ability to replace bad on-camera dialog and repair/restore poor field audio.
DV Toolkit adds the following features to PT LE:
AAF and OMF Import and Export (with bundled DigiTranslator option)
Timecode ruler in the Pro Tools LE interface for spot-to-timecode capabilities
One-of-a kind lip sync capability when replacing noisy location dialog with Synchro Arts VocALign Project
DINR AudioSuite noise reduction plug-in

AVoption//V10
Digidesign's new AVoption/V10 is a professional 10-bit video I/O peripheral that is fully compatible with Avid's new Media Composer Adrenaline media and provides high quality projection in the highest profile environments. Adding AVoption/V10 to a Pro Tools TDM system will enable real-time playback of Avid video directly within the Pro Tools application.
AVoption/V10 can play back any resolution of video content that can be created by a broad range of Avid products, past and present, including Media Composer Adrenaline. Video resolutions include uncompressed standard definition video and DV25, as well as Avid's AVR and JFIF compression formats. Because AVoption/V10 works with the same video files as those on an Avid system, bringing a project into a Pro Tools TDM / AVoption/V10 system will be as easy as importing an AAF sequence.

Support for Avid's Mojo
Avid Mojo, the entry level FireWire DNA PERIPHERAL scheduled for a late-2003 release, offers both Pro Tools TDM and LE systems 8-bit video compatibility. Customers can add Avid Mojo to their TDM systems and enjoy video playback of DV25, offline JFIF, and 1:1 via Avid's Xpress Pro, and 14P( 24P) resolutions. Pro Tools LE users can add Avid Mojo to their systems for Avid media support. With both Pro Tools TDM and LE systems, capture and conform is accomplished with Avid's Xpress DV or Xpress Pro.
Avid Mojo lists for US$1,695.

Advanced Authoring Format (AAF) Support
Pro Tools 6.1 software adds support for Advanced Authoring Format (AAF) via the DigiTranslator option. AAF is a media interchange file format that enables content creators to easily exchange sequence information, digital media, and metadata across platforms and between systems and applications. AAF simplifies project management, saves time, and preserves valuable metadata that in the past was typically lost when transferring program material between applications.
Avid, a founding member of the AAF Association, will now support AAF interchange across the entire Avid and Digidesign product line.
The DigiTranslator option lists for US$495.

Windows Media Audio 9 Support
Microsoft's Windows Media Format is the optimal digital media format available for streaming and download-and-play
applications on PCs, set-top boxes, and portable devices. Soon, Pro Tools users will be able to take advantage of this powerful
format using the new Pro Tools Windows Media Audio Encoder. The Windows Media Audio Encoder allows Pro Tools TDM and
LE users to both import and export WMA files in the simple and familiar Pro Tools environment
---
---
---
---
---
---
---
---
---
---
Digidesign Italy: Avid Technology E-mail - Tel.+39.02.5778971

Product Information
United States & Canada 1.800.333.2137
North & South America 650.731.6102 (USA)
Europe (England) 44.1753.658496
Asia (Japan) 81.3.3505.7963

Australia - Eastside Productions - E-mail - Phone: +618 8363 7095
Belgium, Netherlands and Luxembourg E-mail - Phone: +31 (0)73.613.8080
Brazil: Astor Silva E-mail - Phone: +5511.6331.6726
China E-mail - Tel: (852) 2496.2200
Czech Repulic, Germany, Poland, and Slovakia : Avid Technology GmbH E-mail - Phone: 49 (0)811.5520.555
UK: Avid Technology E-mail - Phone: 44 (0)1753.653.322

---
---
---