---
---

Super Audio CD

DSD
Direct Stream Digital
technology


---
---


Philips


---


Sony


---
---
WHAT IS SUPER AUDIO CD?
At the time of its launch. the Compact Disc (CD) was one of the most exciting developments ever in music reproduction.But in recent years the music industry and audiophile listeners have been demanding even higher reproduction quality. To meet their wishes, Philips and Sony - who together invented the CD - have created a new, evolutionary format - Super Audio CD.
Using the latest DSD (Direct Digital Stream) technology, Super Audio CD delivers superior sound quality with the ability to render all the nuances of a live performance. This technology closely reproduces the original waveforms, producing a clearer, more natural sound which captures the musical atmosphere of the source material with outstanding realism. The result is an unmatched capability to reproduce the original source with state-of-the-art fidelity. With a sampling frequency 64 times higher than that of CD, Super Audio CD offers a frequency response of up to 100 kHz and a dynamic range of up to 120 dB across the entire audible range, ensuring incredibly pure and natural sound in both stereo and multichannel.

DSD TECHNOLOGY
Super Audio CD uses the DSD (Direct Stream Digital) technology to convert the music signal into digital form. DSD technology was originally developed for archiving precious analogue master tapes of historical recordings. Converting these analogue masters to DSD format preserves the original music for many years to come, and stops further degradation of the original tapes. Once converted to DSD, the music can be reissued on Super Audio CD in a way that includes a lot of added value and attractiveness for the consumer. DSD builds on the tremendous advances in digital signal processing, data encoding, data storage and laser optics made over the last 20 years. It is based on a revolutionary approach - a 1 bit representation of the audio waveform produced with 2.8224 MHz sampling (64 times higher than standard CD). This technology captures the total signal information from today's state-of-the-art analogue mixing consoles, delivering a performance that is unrivalled by any other system, whether digital or analogue. For the listener, DSD provides a unique impression of depth and fluidity that comes from its very wide frequency response and dynamic range. The accurate reproduction of transient leading edges generates harmonics which are inaudible as pure tones, yet which enrich the musical experience, giving DSD recordings a dimension unmatched by any other medium.

Direct Stream Digital Interchange File Format ( DSDIFF)
Creating a Super Audio CD (ScarletBook) follows similar steps as convential CD (RedBook) production - recording, editing, sound mastering and authoring. But Super Audio CD is using DSD or DST sound formats instead of PCM. To allow interchange of these sound formats between systems, a new file format has been defined. This document describes the definition of the DSDIFF file format. This file format is intended for storage of DSD or DST material.
WHY SUPER AUDIO CD?
Super Audio CD is the logical evolution of the standard Audio CD. It brings outstanding benefits to consumers thanks to its unmatched audio reproduction quality that offers them studio master sound at home.And it also offers brilliant new opportunities to the music industry at all levels.
To performing artists. SACD gives them even more creative freedom, with the ability to take full advantage of the format's multichannel capabilities. These can totally immerse the listener with an all-round audio experience, delivering involving, emotional surround sound.
To music producers who can now work on authentic, original performances with virtually no restrictions in terms of the achievable fidelity of the production.
To the recording industry, who now have a new tool that enables them to deliver an even more complete and emotional audio experience that will satisfy the demands of the most discerning listeners.
To retailers, with a compelling proposition for audio consumers: a new format that combines breakthrough sound quality plus backwards compatibility with existing Audio CD collections.
BENEFITS OF SUPER AUDIO CD
For consumers:
Unmatched quality, with studio master sound in the home for the first time ever
Multichannel, with 6 separate channels that immerse the listener in an emotional surround sound experience
Super Audio CD players also play all standard Audio CDs
Hybrid SACD discs can also be played on standard Audio CD players and DVD players
For the music industry:
Unrestricted ability to recreate authentic, original performances and ambience
Excellent protection with built-in measures against illegal copying and piracy
For the music retailers:
Hybrid SACD discs meet the needs of all consumers, whether they wish to buy CD or SACD discs
SUPER AUDIO CD TECHNOLOGY
To meet the defined quality objectives, an entirely new approach to audio recording and reproduction has been developed for Super Audio CD.
Based on the revolutionary new DSD (Direct Digital Stream) technology, Super Audio CD delivers superior sound quality with the ability to render all the nuances of a live performance. Using a sampling frequency of 2.8224 MHz - 64 times higher than that of CD - Super Audio CD offers a frequency response of up to 100 kHz and a dynamic range of up to 120 dB across the entire audible range.
Thanks to its DSD technology, Super Audio CD is able to offer audio reproduction of unmatched quality to both audiophile consumers and the music industry.

HYBRID DISC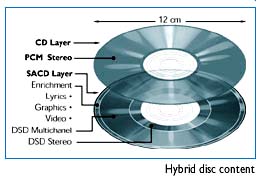 The Hybrid Super Audio CD disc offers maximum compatibility because it consists of two layers. One layer carries the Super Audio CD content, while the other carries the same content in standard CD format.
It can be played both on any CD and DVD player and on Super Audio CD players. From the outside, the hybrid disc looks like a CD, with a diameter of 120 mm and a thickness of 1.2 mm. However closer inspection shows that the disc is like a DVD disc, with two bonded 0.6 mm layers.
Because of its compatibility, Philips recommends that the replication industry adopts the Hybrid Super Audio CD disc. Hybrid Super Audio CD discs make it easier for consumers to migrate to the Super Audio CD format for all their new disc purchases. And they give disc retailers and distributors the benefit of one single disc that will meet the needs of all consumers, whether they wish to buy CD or Super Audio CD discs.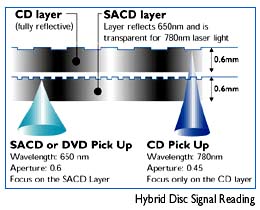 MULTICHANNEL SOUND REPRODUCTION
Multichannel sound reproduction is one of the most distinctive and significant benefits of Super Audio CD technology.
The sound of Super Audio CD is available in both stereo and multichannel on a single disc. As well as the standard 2-channel stereo information, a Super Audio CD disc also carries up to 6 totally separate, full-bandwidth DSD channels. Each of these channels delivers a discrete audio signal of full Super Audio CD quality level.
AUTHORING
Super Audio CD disc authoring is the process that takes the studio output and processes it to create an Super Audio CD disc image suitable for replication, through which the final Super Audio CD discs are manufactured.
The following input data is required: Audio master tape in DSD format ,Track marker information defining the start and stop time codes for each track , Table Of Contents (TOC) information, including album, disc and track identification data and (optional) Super Audio CD text information which can be displayed during playback

TEXT EDITOR
Text editing is the process that creates the (optional) text content which can be displayed during playback of a Super Audio CD disc. The information displayed can include items such as performer, composer name and other relevant items.
This can be performed conveniently using the SuperAuthor TOC Editor software, a limited version of the SuperAuthor Super Audio CD authoring package which is intended specifically for entering text items. This provides a clear, user-friendly interface which makes the task of entering, editing and managing Super Audio CD text information easy and efficient.
Textual information on Super Audio CD can be provided in up to 8 separate text channels, each of which is defined with a specific language and character set. The text can also have a phonetic version, intended for non-Western languages such as Katakana or Hiragana.
At the album level, the text information can include a catalogue number, up to 4 musical genres as well as the text information itself in up to 8 languages. At the disc level the text contains a catalogue number, date, another 4 genres and text in 8 languages.
CONTENT PROTECTION
To protect the interests of both copyright owners and consumers, Super Audio CD provides effective measures to prevent piracy and counterfeiting. These measures include the use of a sophisticated encryption (scrambling) algorithm and key-hiding technology, which prevents that playback of so-called bit-by-bit copies will not be playable.
The scrambling algorithm is made available in hardware only, and never in the form of software which could allow unauthorized copying. As an additional measure, the Super Audio CD formatting and encoding equipment will not be made available on the open market, preventing remastering of Super Audio CD titles by non-licensed manufacturers.



---
---
---
SUPER AUDIO CD PLAYERS
Professional products
intended primarily for use in the SACD recording and mastering process
dCS
AD Converter 904/905
DA Converter 954/955
DD Converter 972/974



EmmLabs
AD Converter ADC-8
DA Converter DAC-8
Genex
AD Converter GX-A8
DA Converter GX-D8
8-channel DSD recorder GX-8500



Merging Technologies
8-channel DSD workstation Pyramix Virtual Studio
SADiE
2- channel DSD workstation DSD2
8-channel DSD workstation DSD8
Sonic Studio
8-channel DSD workstation DSD HD Workstation
Tascam
2-channel DSD recorder DS-D98




---
---
---
---
SUPER AUDIO PLAYERS
Philips consumer

LX8000SA



DVD/Super Audio CD Digital Home Entertainment System
All-in-one Integrated Super Audio CD / DVD, Digital Surround Sound Receiver
Superior Video Quality with Faroudja Progressive Scan (excl. Europe)
Hi-Frequency ribbon Tweeters in support of Super Audio CD sound
DVD-Video, DVD+RW, SACD, CD, CD-R, CD-RW and CD-MP3 playback
LX7000SA
DVD/Super Audio CD Digital Home Entertainment System
All-in-one Integrated Super Audio CD / DVD, Digital Surround Sound Receiver
DVD-Video, DVD+RW, SACD, CD, CD-R, CD-RW and CD-MP3 Playback
DVD963SA
Progressive Scan Super Audio CD
108 Mhz/13bit Video Processing
CD upsampling to 192 Khz/24bit
Enhanced Super Audio CD Bass Management for optimised bass response
DVD-Video, DVD+RW, SACD, CD, CD-R, CD-RW, CD-MP3, VCD and S-VCD Playback
DVD763SA
Multi-Channel Super Audio CD
Super Audio CD Bass Management for optimised bass response
DVD-Video, DVD+RW, SACD, CD, CD-R, CD-RW, CD-MP3, VCD and
S-VCD Playback
CD / Super Audio CD text
SACD1000


Multi-Channel Super Audio CD
Separate Audio and Video Circuit
Separate Power Supply units
Linear Toroid Transformer
DVD-Video, DVD+RW, SACD, CD, CDDA, CD-R, CD-RW, VCD and S-VCD Playback


---



Sony SuperAudio players CD consumer


Sony CD-XA777ES




Top ES (Extremely high Standard-range Multi channel Super Audio-CD player for music perfectionists Multi channel and Stereo Super Audio CD/CD/CD-R/CD-RW playback with SACD/CD text
6 SADAC converters, Multi channel Audio output, Tri powered DAC system, Twin R-Core Transformers, Bass Management function, Optical & Coaxial digital output, FL display (dot matrix), 2 mode repeat (track/disc), 32 step programme play, Headphone jack/volume, Gold plated audio terminal, Off centre insulator, Bass & Pillar chassis, Remote control, Front loading tray

Sony SCD-XB770

Sony SCD-XE670



Sony SuperAudio players DVD consumer

Sony DVP-S9000ES




Super Audio CD Playback, Precision drive with Advanced Sony Smooth Scan, MPEG Image Processor and Super Video Equaliser, 10 bit/54 MHz Video D/A Converte, 96 kHz/24 bit Digital Audio Out,
Video Off, Tray Down Loading System,
Dolby Digital 5.1ch, MPEG and DTS Stream
Out:Optical & Coaxial, RGB/ S-Video/ Composite Output, Anti Resonance Rigid Chassis, Current Pulse Audio D/A Converter, Isolated Audio Circuit Boards, Twin R-Core Transformers, Component Output, 2 Scarts, Audio Master Clock

Sony DVP-NS900V
Sony DVP-NS700V
Sony AVD-S50





---
---
---
---
---
---
---
---
---