.
---
Peaches has big, deep, blue eyes. You probably wouldn't know that, because she keeps their keen
gaze under tuff girl aviator shades. She makes, mixes, and mutilates her own music. She has a
crotch gallery on her website where you can make her pelvis wiggle with a
mouse-click. She could eat you for breakfast.
So Peaches took her pants and groovebox (significantly nicknamed "the MC5") and went on tour in Europe with Gonzales, delighting the hip and distressing the inhibited as she went. Set to whiplash beats and relentless proto-hip hop bass, Peaches' tunes-cum-mating cries were called things like 'Diddle My Skittle' and 'Fuck The Pain Away' and managed to be utterly inspirational while leaving very little to the imagination. With her fearlessness and humour, her tongue lapping her cheek lasciviously, she joined the ranks of artists like Madonna, Lil' Kim, Kathleen Hanna and Lydia Lunch who've succeeded in bending the complex sexual energies of pop to their own cultural ends.
When Peaches reached her spiritual home (the capital of decadence, Berlin) her unbridled live passion and her fruity verbal flow made lots of people want to fuck. And dance. And cast off their inhibitions. And laugh. And then do it all again. So Berlin's Kitty-Yo label released Peaches' "Lovertits" EP in summer 2000, a lust-warped, dancefloor-savvy call to disrobe that further cemented Peaches' (bad) reputation as the hottest talent around. One thing led to another, as it so often does when wearing pink latex, and Kitty-Yo released Peaches' motherlode, the "Teaches Of Peaches" full-length, to the lucky people of Europe in September 2000. Produces and recorded entirely by Peaches herself, fusing the nihilist gutter-tronics of Suicide with the carnal knowledge of a wanton hussy, Teaches Of Peaches thrilled critics and soundtracked clubs, fashion shows, house parties, pole-dances, DJ sets, fetish scenes, gay discos, intimate soirees, gallery openings and furtive
assignations for many, many months thereafter.
Did Peaches imagine she'd end up as "audio couture"? As a lesbian icon in Paris? As a favourite among rockers Queens Of the Stone Age? As a fellow traveller of Elastica's Justine Frischmann, who, after touring with Peaches, dissolved indie rock darlings Elastica and bought a groovebox?
Did she, fuck. She just wanted to shake her ass to some electro-punk she had made. In the process, Peaches ended up being photographed by designer Karl Lagerfeld for the fashion magazine V. She went to a party in LA, ended up playing live in a Black Rebel Motorcycle Club video shoot and, in true Rock'n Roll style, blew out all the power. Madonna expressed her approval. Designer Bella Freud told her friend, the actor and director John Malkovich, about The Peach. Soon, Peaches was cast in a Malkovich film project, The Hideous Man.
The Teaches of Peaches remixes have been flying all over the place. 'Set It Off' spawned numerous remixes, including a forthcoming booty video. To date, these people have done it to Peaches: Kid 606, DJ Assault, Tobi Neumann, Punkers, Arthur Baker and Soulwax/TooManyDJs... Peaches, meanwhile, has done it to these people: Basement Jaxx (see 2002's hit single, Get Me Off), Jeans Team (in a ZZ Top electro style) etc. Ever-ready to spread the love, Peaches has also gotten over friendly with these people: Gonzales on several singles ('Red Leather', 'Joy Of Thinking') and albums (she produced tracks for his Entertainist album), with Louie Austen on 'Grab My Shaft', with Mignon for her debut album and a Lexoleum EP out on Warp, Taylor Savvy on his debut album, Bitch LapLap and 7 Hurtz for the Prince tribute album ('Sexy Dancer' on If I Was Prince), and many more ...
Inevitably, major record labels came calling too, when word of Peaches' de rigueur bump 'n' grind
reached their cultural sentinels. A competitive bidding battle ensued, and XL Recordings / Beggars
Group won. Finally, this hard-to-find gem, The "Teaches of Peaches" was available.


---
---
---
DISCOGRAPHY


2003 current realises

'Operate / Shake Yer Dix
single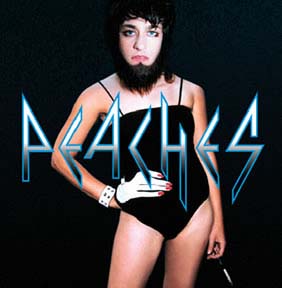 ---



'"FATHERFUCKER"
album
(It is written and produced entirely by Peaches and features guest
appearances by Iggy Pop, Gonzales, Taylor Savvy and Mignon)

Tracking list
I DON'T GIVE A..., I'M THE KINDA, I U SHE, KICK IT (FEAT. IGGY POP), OPERATE , TOMBSTONE, BABY, SHAKE YER DIX (FEAT. MIGNON), ROCK'N'ROLL (FEAT., FEEDOM), STUFF ME UP (FEAT., SAVVY), BACK IT UP, BOYS, THE INCH, BAG IT



---

2002

THE TEACHES OF PEACHES
CD
XL Recordings (2002)
Fuck the Pain Away / AA XXX / Rock Show / Set It Off / Cum Undun / Diddle My Skittle / Hot Rod / Lovertits / Suck and Let Go / Sucker / Felix Partz
Bonus Disc - Keine Melodien / Casanova / Sex / Felix Partz (Remake w/ Gonzales) / Fuck the Pain Away (Kid 606 Going Back to Bali Remix) Set It Off (Radio Mix by Tobi Neumann)
Enhanced Videos - Set It Off (Toby Neumann Remix Version) / Set It Off (Peaches Original Super 8
Video

THE TEACHES OF PEACHES
LP
XL Recordings (2002)
Fuck the Pain Away / AA XXX / Rock Show / Set It Off / Cum Undun /Diddle My Skittle / Hot Rod / Lovertits / Suck and Let Go / Sucker / Felix Partz / Keine Melodien / Cassanova (feat. Mignon) / Sex (I'm A) / Felix Partz Remake) / AA XXX (Acapella) / Lovertits (Acapella) / Fuck the Pain Away (Acapella) / Rock Show (Acapella)



---
---
---

Peaches on stage

13.09.03 Sankey's Soap, Man., UK
14.09.03 Rescue Room, Nottingham
16.09.03 The Arches, Glasgow
18.09.03 London, Heaven
19.09.03 Concorde 2, Brighton
20.09.03 Nighttown, Rotterdam
21.09.03 Le Botanique, Brussels
23.09.03 Fabrik, Hamburg
24.09.03 Gebaude 9, Koln
26.09.03 La Trabendo, Paris
27.09.03 Osospheres, Strasbourg
01.10.03 Five Club, Wash., DC
02.10.03 Ottobar, Baltimore, MD
03.10.03 Trocadero, Phila., PA
04.10.03 Plaid, NY, NY
05.10.03 Bowery Ballroom, NY, NY
06.10.03 Middle East, Boston, MA
08.10.03 Club Soda, Montreal, QUE
09.10.03 Guvernment, Tor., ONT
10.10.03 Andy Warhol M. Pitts., PA
11.10.03 Little Brothers, Col., OH
12.10.03 Headliners, Louisville, KY
13.10.03 Echo Lounge, Atlanta, GA
14.10.03 Young Ave.Deli, Mem., TN
16.10.03 Oberlin College,Ober. OH
17.10.03 Metro, Chicago, IL
18.10.03 Triple Rock, Minn., MN


---
---
---
---