SYSTEM FEATURES & FUNCTIONS


Advancements in storage and processing technologies: a single removable hard drive provides record time of over 40 minutes of 24-bit, 24-track audio from a 9 GB drive.
Extended record and playback times are available by simply hooking up multiple drives via the unit's external SCSI port.
Multiple RADAR IIs can be linked together using RADAR Link. The enhanced RE-8 II Controller provides track arming and optional metering of up to 48 tracks of digital audio.
RADAR II locks to all standard SMPTE/EBU timecode rates and formats, video composite (NTSC and PAL) and word clock.
Sampling rate is variable between 32 and 48 kHz. Varispeed, MIDI I/O and RS-422 serial control are also standard, makin interfacing RADAR II with existing studio equipment an easy operation.
RADAR II's Rear Panel contains the various analog and digital I/O connectors, MIDI In/Out, word-clock and sync ports, plus RADAR®View connections.
Other Key Features:
24 A-to-D and 24-bit D-to-A Converters for enhanced audio record/replay quality.
24-Bit Architecture Throughout, to maintain sonic fidelity from multichannel analog/digital input to multichannel analog/digital output.
24-Track Digital I/O using 25-pin D-Sub connectors, for simple system hookup.
48-Track RE-8 II Controller/Remote with Removable Meterbridge, to simplify system operation and level display.
8mm Exabyte tape for fast system back up.
16- or 24-Bit operation, for compatibility with earlier systems.
Compatibility with older-generation RADAR I systems, to allow users to migrate to 24-bit operation.
Multiple Project Management, to streamline inload and offload of sessions.
User Definable Macro Keys, for the speed user expect from random-access record and playback.
RADAR II software update: released v2.12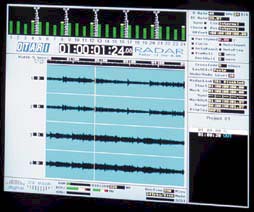 Feature enhancements in v2.12 include Waveform Display, the implementation of DVD-RAM, Mammoth, and AIT Backup drives, Seagate and IBM 9GB, 18GB, and 36GB qualified SCSI hard drives, Selectable Digital Inputs, Macro Keys, Auto Offset Calculate, and improved Backup and Restore implementation.
A hardware upgrade is required in order to run Waveforms, and includes a faster Pentium processor, 64MB of RAM, and new key caps for your RE-8II remote. The full upgrade kit, with release notes, can be obtained directly from Otari.
V2.12 Feature Enhancements in Detail
The revision includes several useful new featuresIn addition, Otari has announced the qualification of three new hard drives for use with the RADAR II: Seagate's ST39103LW 9GB and ST318203LW 18 GB drives, IBM's DMVS18V 18 GB drive, and IBM's DMVS-36U 36 GB drive.
36 GB represents 168 minutes of 24-track, 24-bit recording.
The new revision enables the display of waveforms for audio levels above the "Wave Noise Floor" defined in the Project and Preference menus. These can be viewed in detail using new ZOOM and SCROLL keys defined for the RE8-II remote. There is also a "ZOOM SOLO" feature that allows zooming to non-sequential track groupings. This feature can be used independently of track soloing, or the "Solo Zoom Audio" preference can be enabled. In this mode, only tracks selected for Zoom Solo will be heard.
A new menu item under the DIG I/O menu routing section offers digital track assignment. This enables the user to select which tracks to input from the multichannel digital inputs (TDIF or AES-Multi). Tracks that are not selected as digital will remain as analog inputs. The user can set all tracks to digital by choosing the ALL option, or select specific tracks by choosing SELECT and then using the Track Arm buttons.
A new internal/external SMPTE display mode has been included for use when the RADAR II is controlled by an external transport such as a VCR or audio deck. In this mode, the first line of the display shows the RADAR's internal time as usual, while the second line displays timecode plus the sync offset. This latter value also appears on the RADAR view screen as the main time counter. If the sync offset is set to the difference between the RADAR and external timecode values, the displayed value will correspond to the time code of the external device. A new display button has been added to the RE-8II controller to access this feature.
The existing "auto reclaim" button has been replaced by a "capture" button, which reads the incoming timecode, compares it to RADAR internal time, and sets the sync offset accordingly. If fine-tuning is required, an offset calculator can be called up to manipulate the time code values as required.
The new software revision includes the features added in v 2.06, which included the ability to undo IN and OUT markers, and the automatic error-checking feature that warns users if a damaged project is loaded and allows the errors to be fixed or logged for later action.
Future RADAR II updates include an AES/EBU (24 channel) Multichannel card; MADI; 96k Turbo card; Remote back-up station and a RAID Array.
Future RADAR II updates include an AES Multichannel card; MADI; 96k Turbo card; Exabyte Mammoth Drives; Remote back-up station and a RAID Array.
---

Video Sync Reference &emdash;Connections for video sync reference, with 75-ohm terminator.

---

AES/EBU Connections &emdash; Connections for two track digital audio transfers with AES/EBU-compatable systems.

---

S/P DIF I/O Connections &emdash; Connections for two-track digital audio transfers to other SPDIF-compatable systems.

---


MIDI Connections &emdash; connections for MTC interface with MIDI-compatable system

---
Time Code Connections &emdash; Connections to external time code for external SMPTE/EBU format.

---

Digital I/O Sync (Word Clock) &emdash; Connections for video sync reference, with 75-ohm terminator.
---


TDIF Connections &emdash; Connections to multi-track audio recorders/mixers and other TDIF-compatable systems, in groups of eight channels.

---

Controller & SCSI Connections &emdash; Connections to RE-8 controller (upper) and external SCSI-compatable hard drives for extended record time.

---

VGA CONNECTOR &emdash; Connection to an external VGA compatable monitor.

---

RADARLINK & 9-pin Serial Connectors &emdash; Connections to RADARLINK (upper) and 9-pin Serial Controllers (lower).

---

Analog Inputs &emdash; 12 Analog connections for up to 24 tracks of balanced analog inputs (+4 dBv) in groups of eight tracks each per DB-25 port.

---

Analog Outputs &emdash; Connection for up to 24 tracks of balanced analog outputs (+4 dBv) in groups of eight tracks each per DB-25 port.

---
---