---
---

Numark DM-950-USB DJ Mixer
---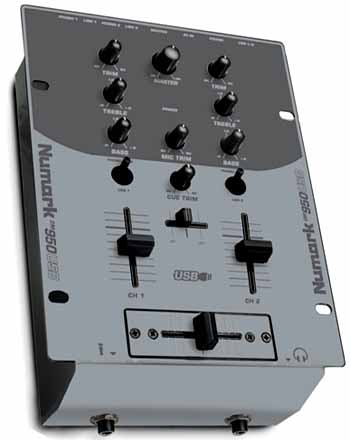 ---
---


The DM950USB is an affordable two- channel mixer with two USB audio ports built into the mixer. USB technology allows audio files to be transferred to and from your computer. Mix your computers music files with vinyl, CD, DVD or a microphone. Incorporate MP3, WMA, WAV, and other digital music files in the mix from any USB-equipped PC or Mac. Two USB ports are included so you can take advantage of the multiple sound card feature found in most DJ mixing software. Record your mix at the same time as you play back. The DM950USB from Numark is a way to get into the modern world of computer music while still using a traditional mixing platform.

Gain control on inputs
Replaceable crossfader
Slider cuing
Inputs for 2 line, 2 phono, 2 USB, 1 mic
2 USB input/output channels for playing MP3 (or other audio) files from a computer or for recording your performance to a computer
USB cables included
No software drivers needed with Windows XP or Mac OS X
Works with almost any Windows or Mac audio recording or playback software


---


FAQ

Why use USB rather than the computer's built-in sound card?
A: Most laptops and desktops come with a single minimal quality sound card which is unsuitable for live use. The DM950 USB gives you a digital connection from your computer to your mixer, so the sound quality is excellent.

Is this a computer control surface?
A: The mixing controls on the DM950USB do not control software on your computer. The mixer receives streaming audio from your computer, and the mixing controls work on that audio in real time. This is better than a control surface, since the latency (response time) is much lower than if the mixing was done inside your computer.

Are ASIO drivers available?
A: Third-party ASIO drivers are available. However, since the mixing controls are operating on the audio in real time, the response to your mixing moves will be instantaneous. When you use this mixer with your computer it's no different from using this mixer with an analog source. So, when you move the crossfader on the DM950USB, the delay will be much less than if you move a crossfader on a computer mixing surface, regardless of what kind of drivers it uses.


What software is included?
A: DM950USB currently includes a demo version of Alcatech BPM Studio, which is a DJ program for playing music files. Additional software titles will be included in the future. The DM950USB will work with virtually any Mac or PC software program that supports dual sound cards.


---


ESOUND , Corso Persiani 77 , 62019 Recanati , Italy
Tel: +39 0733 226271, Fax: +39 0733 226546 , e-mail


---
more info
---
World Headquarters
Numark Industries, LLC
200 Scenic View Drive
Cumberland, RI 02864 - USA
401 658 3131 tel
401 658 3640 fax

Numark Deutschland GmbH
Karl Arnold Strasse 2A
Willich D-47877, Germany
+49 2154 8143 0 tel
+49 2154 8243 27 fax

Numark Japan
Pro Audio Japan K.K., Central Nogizaka 1F
Roppongi 7-2-28, Minato-ku
Tokyo 106-0032 , Japan
+81 3 5414 7239 tel
+81 3 5414 0763 fax

Numark UK LTD
Unit 9, The Christy Estate ,Ivy Road
Aldershot Gu124TX , England
+44 1252 341 400 tel
+44 1252 353 810 fax

Numark Taipei
10th Floor, NO. 165, Naking East Road , Section 4
Taipei 105, Taiwan
+886 2 2717 2389 tel
+886 2 2717 2734 fax

Numark Europe
+32 3 226 4665 tel
+32 3 232 9742 fax

Numark Asia-Pacific
Block 816, Woodlands Street 82 , #07-445 , Singapore 730816 , Singapore
+65 9 789 2710 tel
+65 9 363 4750 fax



Electric Factory , 188 Plenty Rd, Preston 3072, Australia, e-mail
Audia , BP40 / 2 rue de Milan Parc d'Activities des Petites Landes, Thouare 44470, France e-mail
SDS Music Factory , Hohlstrasse 608, Zurich 8048, Switzerland
DISCO-STORE , Austria , e-mail
Bofex , Smartinska 152 Hala 6, Lublijana Slovenia e-mail
Lexon ,Gresolet 14, Barcelona 8034, Spain, e-mail



---