Numark HDCD1

rack-mountable, dual CD player with built-in 80 GB hard drive,
developed specifically for the professional DJ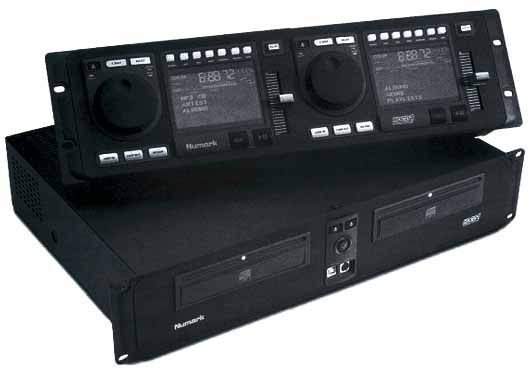 ---
---
suggested retail price : $2.199,00

---
availability: Q2 2005

---

The HDCD1 can store an entire DJ collection for very useful organization and portability. MP3s and uncompressed audio files can be ripped from either of the built-in CD players, transferred from computer via USB, and even recorded from turntables and other sources through the unit's analog line inputs.
With an 80 GB internal hard drive, the new HDCD1 can store a tremendous amount of music, particularly if those files are in the popular MP3 format. The HDCD1 features dual jumbo displays with dedicated controls, making system navigation and file search quick and simple. There is an onboard CDDB database for instant recognition of song title, artist, and genre when using commercial CDs. The HDCD1 even includes a standard PC-style keyboard that facilitates easy searches. Songs and playlists can be searched by title, artist, album, or genre. Additionally, the HDCD1's included software enables upload and back-up download of music files, song and playlist data editing, plus the ability to export song lists as text.
This music playback system features dual CD transports and can operate as a standalone professional dual CD player, featuring full compatibility with CD, CD-R/CD-RW, and Data (MP3) disc formats.
The new HDCD1 provides all the functionality professional DJs demand, including pitch control, instant start, relay start, and seamless looping with stutter start. Play modes include single, continuous, random, repeat single, and repeat continuous. Playlists can be made and stored while the unit is operating. This way, sets can be made on the fly, saved, and then used at future events.



---


ESOUND , Corso Persiani 77 , 62019 Recanati , Italy
Tel: +39 0733 226271, Fax: +39 0733 226546 , e-mail


---
more info
---
World Headquarters
Numark Industries, LLC
200 Scenic View Drive
Cumberland, RI 02864 - USA
401 658 3131 tel
401 658 3640 fax

Numark Deutschland GmbH
Karl Arnold Strasse 2A
Willich D-47877, Germany
+49 2154 8143 0 tel
+49 2154 8243 27 fax

Numark Japan
Pro Audio Japan K.K., Central Nogizaka 1F
Roppongi 7-2-28, Minato-ku
Tokyo 106-0032 , Japan
+81 3 5414 7239 tel
+81 3 5414 0763 fax

Numark UK LTD
Unit 9, The Christy Estate ,Ivy Road
Aldershot Gu124TX , England
+44 1252 341 400 tel
+44 1252 353 810 fax

Numark Taipei
10th Floor, NO. 165, Naking East Road , Section 4
Taipei 105, Taiwan
+886 2 2717 2389 tel
+886 2 2717 2734 fax

Numark Europe
+32 3 226 4665 tel
+32 3 232 9742 fax

Numark Asia-Pacific
Block 816, Woodlands Street 82 , #07-445 , Singapore 730816 , Singapore
+65 9 789 2710 tel
+65 9 363 4750 fax



Electric Factory , 188 Plenty Rd, Preston 3072, Australia, e-mail
Audia , BP40 / 2 rue de Milan Parc d'Activities des Petites Landes, Thouare 44470, France e-mail
SDS Music Factory , Hohlstrasse 608, Zurich 8048, Switzerland
DISCO-STORE , Austria , e-mail
Bofex , Smartinska 152 Hala 6, Lublijana Slovenia e-mail
Lexon ,Gresolet 14, Barcelona 8034, Spain, e-mail



---