---
---

Native Instruments
---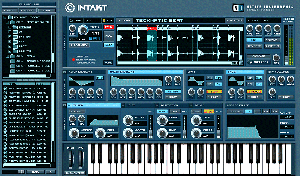 ---
INTAKT
Specifically designed for rhythmic loop playback.
INTAKT is based on the KONTAKT engine

---

One-screen interface features sound shaping abilities. Using multiple algorithms, INTAKT automatically syncs to tempo, while a library of loops from Zero-G and East West provides sample source material for nearly any musical style. Naturally, INTAKT provides a wealth of sound shaping options, including a multimode filter, an envelope follower, two LFOs, effects, and more.




Three Algorithms

INTAKT features three sample playback algorithms to ensure maximum sound quality for a variety of source material.

Using an advanced peak-detection algorithm, the Beat Machine divides the imported audio into individual hits. Each hit can have individual settings for pitch, playback direction, pitch envelope, amp envelope, distortion, delay, and more. A MIDI file can be easily exported so that groove, accent, and feel can be manipulated in any host sequencer. The Beat Machine can directly open REX files which already contain marker information.

The Time Machine time-stretches or compresses the sound in realtime. By first analyzing the source sound, Time Machine can dynamically adapt itself to a wide variety of source sounds, from sustained vocals to polyphonic percussion.

The Sampler mode plays back the source sound like a standard sampler, by linking pitch with time. INTAKT uses a sophisticated interpolation to ensure high sound quality, with extreme pitch shifts too.


Shape and Create

Not only does INTAKT sync, stretch, and pitch, but it filters, effects and modulates as well. A sound-shaping filter, flexible envelopes, syncable LFOs, and distortion, delay, and lo-fi effects let to manipulate any loop.

Library

Zero-G and East West have compiled a library of thousands of loops covering a broad range of pop, hip-hop, and electronic styles. Acoustic drums, ethnic percussion, vintage jazz kits, and rhythmic guitars have been meticulously recorded in the world's finest studios and are ready for any production. Powerful drum and bass, kicking techno, driving funk, and the latest in synthetic rhythms give INTAKT's Library a stunning breadth and modern edge.

Even though INTAKT ships with enough loops to produce hundreds of tracks, it also imports WAV, AIFF, REX1 and REX2 files, Gigasampler, AKAI, HAlion, EXS, BATTERY, and KONTAKT instruments.