---
---

Native Instruments
---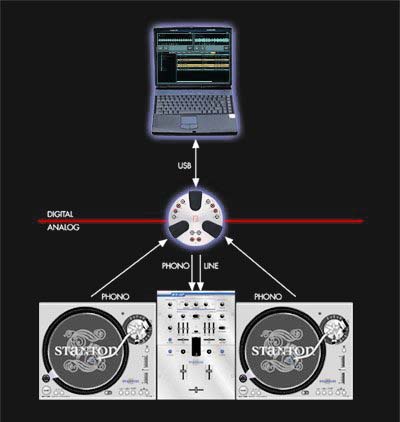 ---
TRAKTOR DJ Studio Basic FS
Digital DJ Mixing
Software system for Final Scratch on Mac OS X platform, new Linux, Windows version (coming soon)

TRAKTOR Basic FS will be released at the beginning of April 2003.

---
Stanton's Final Scratch System is powered byTRAKTOR's professional-quality audio engine.

Thanks to a new partnership between Stanton and Native Instruments hardware control and software performance are fused into a new entity.
A Vinyl-based control of digital files (MP3, WAVE, audio CDs including)

The result is a new software system for Final Scratch, and a new level of performance and flexibility for DJs looking to mix their digital files with hands-on, vinyl-style techniques.

Final Scratch

Final Scratch is a hardware interface that allows real-time, hands-on manipulation of digital files using all the techniques familiar to vinyl DJs, like pitching, cueing, spinning and needle dropping. It uses a highly specialized time-code on special vinyl records to control and manipulate the digital music files located on a computer's hard drive.

TRAKTOR Basic FS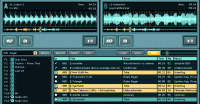 The first outcome of the cooperation between the two companies is "TRAKTOR Basic FS" the first major update for the software used by Final Scratch. The new software brings the Final Scratch System to the Mac OS X platform.

All users of the current Linux version can upgrade to a new Linux version that uses the TRAKTOR playback engine.



A Windows version of TRAKTOR Basic FS is expected later this year.
TRAKTOR Basic FS on Mac OSX offers many improvements: an enhanced and ultra-fast database search function, pre-listening of tracks on a third output, full drag and drop support and a structured, tree-like view of the musical archive. For better track visualization, the graphical waveform is split into two colors separating bass from treble. Sophisticated de-emphasis modeling combined with a high-end interpolation algorithms, produces warm bass sounds and realistic scratching.
Future Developments
TRAKTOR Basic FS will be released at the beginning of April 2003. Later this year, the full version of TRAKTOR DJ Studio will be made compatible with Final Scratch as well. Furthermore Native Instruments and Stanton Magnetics, Inc. are working on further products that merge intelligent software with innovative hardware control to satisfy the demanding needs ofthe DJ.