---
---

Improved

mproved and expanded with many new performance features. New modules and interface elements, integrated browser, graphical sample mapping and new preset functions. The new library, created by top sound designers, offers an extensive selection of instruments for nearly every type of application in music production.

Improved snapshot handling- A floating snapshot window can generate random patches, and can morph between any two patches.

Improved VST support (unlimited instances, smart window sizes, automation)- Mac users have now multiple VST instances, with support for VST automation as well.

Graphical sample handling- The sampleMapping has been improved: now the user has the choice of two views: list view and graphical view. List view is similar to previous Reaktor versions but with more data and the sample waveform displayed. Graphical view is essentially the Kontakt mapper, but without overlapping zones or crossfades. New feature: velocity splits are now allowed. Samples (WAV, AIFF, and SDII) up to 32 bits are supported (R3 supported only 16-bit samples).

Sound Modules : Improved oscillators from Pro-53 , Grain Cloud Delay - with freezing and live sampling , Mod diffusor delay (allpass) - audio input for delay time , Unit Delay (based on optimized module processing order) , 1-Pole Allpass filter , Advanced Saturator, Sample lookup module now has select , Resizable Select (replaces crossfader, scanner, audio relays)(2-16 inputs Event/Audio, 1 output; Control by Event or Audio; Step and Crossfade/Scanning mode; Smoothing-Time) , Resizable Router (replaces event router 16, stereo pan)( 1 input, 2- 16 outputs Event/Audio; Control by Event or Audio; Step and Panning mode; Smoothing-Time

Graphical Modules : All lamps are resizeable , RGB lamp - three inputs (R, G, B), continually changing color possible , Background bitmap, all controls have alpha channel , Movie (if multiple bitmaps are arranged into a single bitmap, like a film reel, the input to this module determines the offset /frame that is displayed in the panel.

User interface modules
List: text list that sends out numerical values. Can be displayed in panel as a pop-up menu, matrix list (like preset display of FM7 orAbsynth), or as radio buttons.
Send/Receive: audio and event can be tranmitted without cables, and the user can select receive destinations from the panel (matrix synths made easy). 4 Views: Radio-Button, Up/Down, List, Menu.
Multi text: essentially a multi-comment with an input to control which comment is displayed.
Panel objects (knob, fader, button, selector) can be controlled through a new internal communications protocol, supporting OSC on all platforms
Snapshots can be controlled through structure/panel with full support for morphing (Patch A, Patch B select, morph index)

Constructing instruments

REAKTOR makes it possible for you to invent and realize your own virtual instruments. Select from more than one hundred modules and function blocks (macros), such as oscillators, filters, LFOs, samplers, sequencers and effects, and create your own instruments by "cabling" the various elements together. Existing instruments can be combined and enhanced, or take out parts of them to use in building other instruments. The control surface can also be custom designed, from the size and layout of the knobs and displays to the integration of images and graphics..

Since everything is modular in REAKTOR, each instrument can easily be modified and improved. It's even possible to create completely new instruments from elementary modules or from the comprehensive Macro Library. You can add new filters, a delay and distortion, an envelope to modulate the filter cutoff; combine an existing drum machine with a lead synthesizer and loop sampler or your own creations, and modify instruments to fit your individual needs; change the size and position of knobs, faders and displays.





Construction basics

Reaktor provides more than 200 basic modules which are the source material for creating any sound generator or effect-processor: numerous "analog" and sampling oscillators, various filters and envelopes, shapers, delays, sequencers and more. The user can interconnect all the modules freely in the structure window.
Macros are used as "shortcuts" to quickly recall a set of modules or structures and give your designs a more clear and organized layout. You can even have macros within macros. They also make it easy to reuse building blocks.
Instruments consist mainly of macros but also modules as well. Instruments have their own MIDI parameters, program memory, and a separate panel window for the controllers. On the highest level of the REAKTOR hierarchy (which is called an ensemble) several instruments can be combined together in a "multi-timbral"-like environment, giving you virtually the power to create entire songs with Reaktor alone.
How to start-In the Native Instruments first steps Tutorials section you can learn about modifying and constructing

Instruments

The newly designed library for REAKTOR 4 includes an extensive collection of synthesizers, samplers, drum machines, loop tools, step sequencers, live performance machines and effects units, each one with thousands of presets. All instruments can be played standalone or as a Plug-In in compatible professional sequencers.

The Core Library

The complete spectrum of classic and futuristic sounds are included, from rich analog basses to leads, from sequenced percussion to exotic soundscapes. A selection of samplers opens up the worlds of granular textures and independently-controllable pitch, formant, and time.
An intuitive live performance environment combines tempo-synced loops, complete scene recall, and dynamic effects.
Available multiband compressors, sophisticated spatializers, surround reverbs, a vocoder, and studio tools.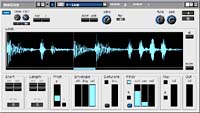 The sampler and transformers included in REAKTOR 4: from sampling to a full granular workout.
Several resynthesis instruments can independently vary speed and pitch independent of each other, while others can completely freeze the sound in time. Samples can easily be loaded via drag and drop into a graphical sample mapper.
This tool, just one of several samplers, slices a loop into multiple "chunks" based on an intelligent peak-detection algorithm. It allocates each single hit onto a separate key, with individual control over pitch, filter, and tone of each sample.
Synthesizers
The REAKTOR 4 library offers a renowned collection of synthesizers from analog-modelling to FM, from wavetable to additive. Each synthesizer includes many presets sounds. The fourth-generation DSP algorithms of the REAKTOR 4 engine ensure a hi-sound quality.


The Instrument, "Metaphysical Function", is an experimental synthesizer that produces evolving soundscapes and drones. The red shape in the center is a animated representation of the sound.
Live Performance and Sequencers
REAKTOR 4, with configurable MIDI control and latencies significantly lower than hardware (with a high-performance ASIO or Core Audio soundcard), is an excellent tool with which to perform live. Naturally, any synthesizer, sampler, or effect can be played live, but a number of dedicated live performance tools are also included.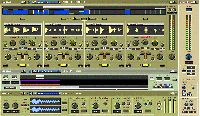 The loop-based live performance environment features realtime seamless scene transitions, MIDI control over every parameter, and dynamic, tempo-synced effects. Available a time-compression/expansion algorithm designed for rhythmical loops.
Effects
REAKTOR 4 includes several studio-ready effects: reverbs, vintage delays, an amp simulator, granular freezing effects,vocoders, and more. Thesurround reverb is the big brother to the Rev-6 reverb. It offers a two-dimensional spatializer, and full five-in, six-out operation with LFE management. Like all of REAKTOR 4 instruments and effects, it includes a range of professionally designed presets.



---
---
---
---
---
---
---
---