Minimoog Voyager Anniversary Edition
In honor of 50 years of Bob Moog's 50 years designing timeless electronic musical instruments, Moog Music presented the Minimoog Voyager Anniversary Edition, a limited edition version of the award-winning Minimoog Voyager.



---

The Minimoog Voyager Anniversary Edition is a limited edition of the award-winning Minimoog Voyager analog synthesizer housed in a black lacquered wooden cabinet with an amazing blue backlit front panel.

The Minimoog Voyager is an all-analog monophonic synthesizer designed by Bob Moog, which features the REAL MOOG SOUND and includes extensive modulation routings, MIDI and patch storage capabilities, with 3 ultra-stable analog oscillators, dual Moog filters, and analog envelope generators.

The Anniversary Edition features a new bank of presets from outstanding Moog players such as Aron Magner (with Disco Biscuits), Chad Hugo (with the Neptunes), Darrell Diaz (with Herbie Hancock), Frank Lucas (with the Neil Zaza band), Fred Wreck (with Snoop Dogg), Gabrial McNair (with No Doubt), Geoffrey Keezer (with Christian McBride), Herbie Hancock, Khari Simmons (with Indie.arie), James Lumb (with Electric Skychurch), Jamie Muhoberac (session ace), Joseph Rivers (of the Audio Playground Synthesizer museum), Neil Palmer, Printz Board (Black-Eyed Peas), Randy Cantor (Keyboards on Ricky Martin's hits), Rick Wakeman, and Roger Manning, Jr. (with Beck, the Moog Cookbook), plus a selection of presets cooked up at the Moog factory.
The Anniversary Edition is a limited edition of the Minimoog Voyager. Shipments have begun in February 2004. The Anniversary Edition is available through authorized Moog dealers.


---

The Voyager works from 100-250 VAC, 50-60 Hz.

Dimensions (centimetres) 76,327 Wide x 45,72 Deep x7,62 High (when flat), 30,48 when fully upright
Weight (kilos) 18,144

Price: 2,673 Euro

---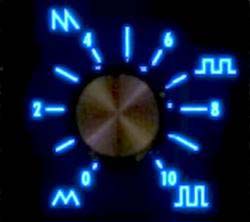 Close up of Waveform Knob






The left side of the Voyager's back panel : Power and MIDI connections







Voyager I/O
Minimoog Voyager Anniversary Edition has many input and outputs. The 10 red jacks signify a CV/expression input; the 4 blue jacks signify gate inputs; plus there's the external audio in, the mixer send/ filter in insert jack, the audio outputs and finally the Accessory port, which carries the Voyager's CV outputs to the optional VX-351 CV expander.